VIX - Market Sentiment:
Wednesday S&P futures were mostly flat heading into the much anticipated ADP payroll number. I mentioned both on Monday (here) and Tuesday (here) this should be high priority on your radar and be prepared. Sure enough, the multiple negative numbers were released across the board. The payroll numbers came in almost 50K light against an expected 203K number, and ISM PMI came in at 54.4 versus an expected 55.9. This sent futures lower across the board, which weighed on the markets. Specifically, a report out of Dow Jones sent the markets headed lower, claiming North Korea Army has final approval to launch a nuclear attack on the United States. Volatility in response popped higher on the day as those who were not hedged for a pullback look for protection.
The spot CBOE Volatility Index (VIX) and futures were up sharply on the day and continued as futures and markets continued to hit new lows with 2 hours left to trade. Volatility ETF (NYSEARCA:VXX) initially did not trade higher, but saw some bids roll in as the VIX crossed the 14.00 level. As I mentioned yesterday, VXX saw some short-term call buyers and profits being taken on put positions. Today, this theme again reversed as puts were overall bought and calls were flat to overall net sold on the trading day. The largest trade of the day was a buyer of the April weekly 19.5-18.5 puts spread 1:3 paying .22 on the day. This trader has until next Friday for VXX to trade below 19.18 for this trade to work.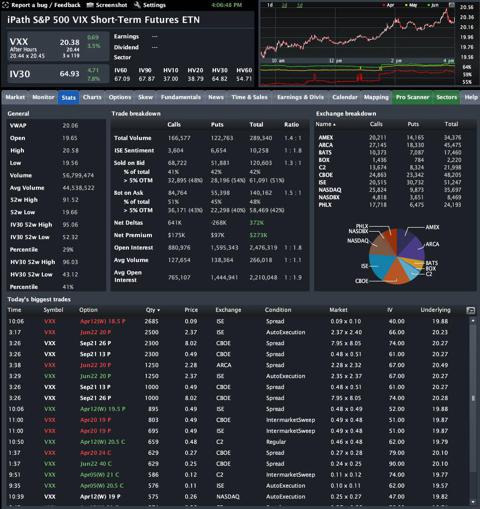 Statistics and Screenshot Provided By LiveVol
VIX futures are listed below.
Yesterday
· April VIX futures 13.90
· May VIX futures 15.30
· June VIX Futures 16.35
Today
· April VIX futures 14.55
· May VIX futures 15.68
· June VIX Futures 16.55
Options Paper:
On Monday, for those who follow me and my trades on Twitter, I exited Endo Health Solutions (NASDAQ:ENDP) on a calendar spread I took a pounding on. I followed some bullish paper looking for a run prior to May expiration some time ago, and sure enough, the stock has ripped higher ever since I sold. Today the bulls continued to pile in, buying the May 35 strike calls more than 9K times, driving premiums from .80 all the way to 1.35. Additionally, some buyers of the April 35 and April 40 strike calls also stepped in today, looking for a short-term pop in the name. ENDP moved higher 4.4% on a terrible tape and the bulls just won't give up. More than 13.6K calls traded today, which is more than 6.5x average daily volume. Of these, 94% were bought OTM looking for ENDP to move higher prior to May expiration. Calls outnumbered puts 77 to 1 on the day, with more than 200K in call premium overall purchased on the day.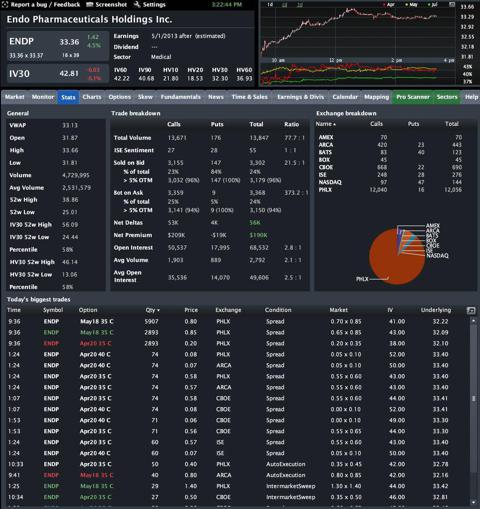 Statistics and Screenshot Provided By LiveVol
NovaGold (NYSEMKT:NG) is a name that has made its onto the sonar a few times before. Today long-term call buyers stepped in, buying the January 4 strike calls 5K times for .75, pushing IV higher on the session 5.9%. This name typically only trades 1.2K contracts total, and today saw 7x average daily volume as 8.6K contracts traded. This single trade made up 60% of all the contracts and is a bull looking to bet long the beaten up gold miner north of 4.75 as of January 2015. NG was crushed on the day and the trade is below open interest, so we will need to check tomorrow to make sure OI increases from 7.7K to 12.7K to show it is an opening position. Calls outnumbered puts almost 2 to 1 on the session.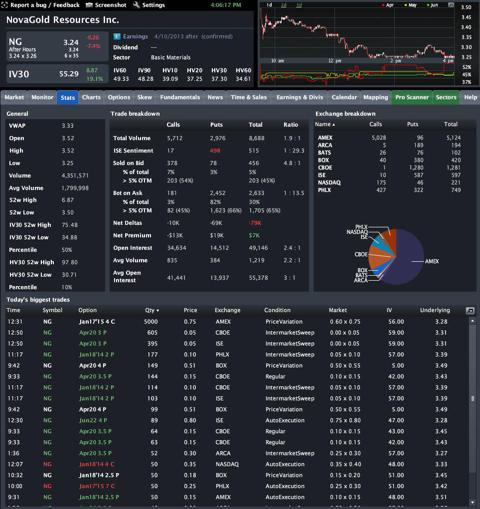 Statistics and Screenshot Provided By LiveVol
Volatility Explosion:
Chimera Investment Corp (NYSE:CIM) is a REIT that has seen plenty of movement in the stock price. Today volatility spiked higher by more than 156% after buyers of the April 3 strike calls came in looking for short-term upside. Although I typically am not a fan of such moves, I did decide to buy some common stock today, looking to add on weakness as my hedges more than made up for my long losses today. CIM was nowhere near average daily volume today, but the thinly traded name did cause volatility to spike as the call buyers continued to come in. Keep an eye on open interest, as this could be a tell as to where CIM could go in the short term. Calls outnumbered puts 7 to 1 on the day.
Volatility Implosion:
MagicJack VocalTec (NASDAQ:CALL) screamed to the upside today after reporting record full year financial results. In response, volatility collapsed more than 25% in this name on extremely heavy option volume. CALL moved north of 17.00 today before being sold back down to the high 15s as the day went on. Option sentiment showed bulls won the day with call premiums north of 100K and put premiums net sold over 32K. Options volume was more than 10x average daily volume, with calls outnumbering puts 2 to 1 on the day. This name still seems fundamentally expensive to me, but nonetheless, some players continue to press both long and shorts in this name.
Popular ETFs and equity names with bullish/bearish paper:
Bullish Option Flows - ISE and % OTM calls bought on offer
iGATE Corp (NASDAQ:IGTE) - Large 2K block of April 20 strike calls bought looking for large move in next 2 weeks
International Game (NYSE:IGT) - 5.7K OTM calls bought on offer
Sotheby's (NYSE:BID) 5.4K OTM calls bought on offer
Bearish Option Flows - ISE and % OTM puts bought on offer
Dean Foods (NYSE:DF) 88% - 5.9K OTM puts bought
Star Scientific (STSI) -76% of 3.7K OTM puts bought on offer
Sotheby's - 74% of 2.7K OTM puts bought on offer
Disclosure: I am long AGNC, BA, BAX, CBB, CONE, DNDN, DRYS, IOC, JCP, NBR, TLM, and I am short ASH, EMR, LULU, SPY.
Trades Today: Added to TLM & NBR longs. Bought Long LNG, CIM, NQ, and HEK. Sold SDS calls (SPY hedge).
I wrote this article myself, and it expresses my own opinions. I am not receiving compensation for it (other than from Seeking Alpha). I have no business relationship with any company whose stock is mentioned in this article.
Disclaimer: The opinions in this document are for informational and educational purposes only and should not be construed as a recommendation to buy or sell the stocks mentioned or to solicit transactions or clients. Past performance of the companies discussed may not continue and the companies may not achieve the earnings growth as predicted. The information in this document is believed to be accurate, but under no circumstances should a person act upon the information contained within. I do not recommend that anyone act upon any investment information without first consulting an investment professional as to the suitability of such investments for his or her specific situation.