Cameco (NYSE:CCJ) is a Canadian company best known for mining uranium and accounting for 16% of world uranium production from its operating mines in North America and Kazakhstan. Cameco has a market capitalization of $7.85B and is listed on Yahoo Finance with a forward P/E of 15.51. Trading just below $20.00 at the time of writing, analysts have put out a median target price of $26.41.
In a recent news item, it was reported that Cameco had engaged two banks to advise on its interest in Urenco, a uranium enrichment firm owned jointly by the British and Dutch governments and two German utility operators EON (OTCPK:EONGY) and RWE (OTCPK:RWEOY). Present owners have apparently signaled their interest in selling their respective stakes and have also employed advisors to facilitate a possible deal. In a more recent news release, Cameco has indicated that a decision whether or not to bid for Urenco is still pending.
Besides mining uranium, Cameco also provides fuel processing services turning yellowcake (U3O8) which is typically produced at uranium mines into uranium trioxide (UO3) at the Blind River Refinery. The refined uranium trioxide is turned into uranium hexafluoride (UF6), or alternatively into uranium dioxide (UO2) at the Port Hope Conversion Facility. Both plants are operated by Cameco.
Uranium dioxide is used in the type of nuclear reactors common in Canada and some other regions, the so-called CANDU reactors. In fact, Cameco has a 31.6% stake in the four Bruce B reactors that burn uranium dioxide.
The second product made at the Port Hope facility (UF6) is delivered to so-called enrichment plants, which serve to process this material into enriched UF6 containing 3% to 5% U235 isotopes used as a fuel for light water nuclear reactors. Urenco provides these enrichment services using highly specialized centrifuges, which are connected in series forming so-called centrifuge cascades. Gaseous UF6 is rotated in these centrifuges and heavier U238 isotopes are separated from the desired U235 isotopes. Urenco maintains several facilities within the European Union and the U.S. and sells enriched UF6 to nuclear utilities in the U.S., Brazil, South-Africa, China and several European countries.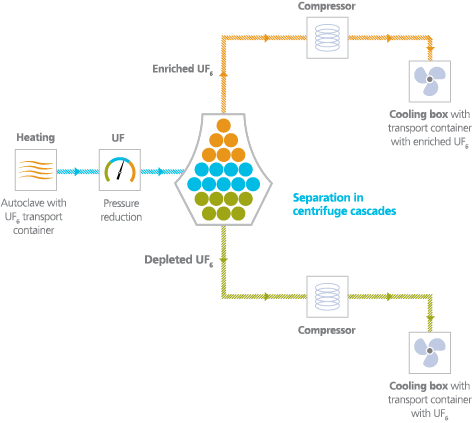 In providing these enrichment services, Urenco competes with Areva (OTCPK:ARVCF) in the U.S.A. Areva has launched a project to build an enrichment plant near Idaho Falls. The project has been placed on hold pending decisions regarding financing. There is also USEC Inc. (USU), which has just completed its commercial demonstration facility as a result of a cooperative research project with the U.S. Department of Energy. The company recorded cost overruns of $1B. The described technology also competes against newly developed laser-based enrichment technology used by GE Hitachi Nuclear Energy (GEH) which received a license to build a world-first facility of this kind in the U.S. in September last year.
A fair degree of secrecy surrounds certain aspects of uranium enrichment technologies developed within Urenco since potentially its equipment can also serve to produce weapon grade uranium. This aspect will likely present obstacles in a possible sale of Urenco. While the revenue from such a sale would be welcome, the loss of control over these technologies is perceived as a considerable security risk.
Urenco would certainly represent an interesting fit for Cameco since it would allow it to move one step further along the supply chain and provide even more added value to the products it pulls out of the ground at its mines. The financial implications of such a deal would be mind-boggling, however, considering the potential valuation of Urenco- which has been put as high as $12B. Cameco would most certainly need a partner if the company decided to bid for Urenco. So far Cameco has declined to comment on rumors concerning potential partners, including speculation on the Canadian Pension Fund being interested in joining Cameco in a bid for Urenco.
We believe that this story will take several months to play out. A decision to sell Urenco has political implications that will need to be sorted out between the European owners. While an acquisition of Urenco would broaden the scope of Cameco, it would also change the nature of the business as it stands today. We suspect that a decision to bid for Urenco will probably cause a (temporary?) weakness in the share price and might present an entry opportunity for investors wishing to speculate on a positive outcome of the bidding process and subsequent successful integration of the enrichment business into Cameco.
Disclosure: I have no positions in any stocks mentioned, and no plans to initiate any positions within the next 72 hours. I wrote this article myself, and it expresses my own opinions. I am not receiving compensation for it (other than from Seeking Alpha). I have no business relationship with any company whose stock is mentioned in this article.