Gastar Exploration (NYSEMKT:GST) had a big day recently, when it announced a huge well result. It also announced that it settled its litigation with Chesapeake Energy (NYSE:CHK) for $1 million, eliminating a potential $150 million liability. And also announced a material acquisition - it is buying 157,000 net acres in the Hunton Oil Resource play, along with $33 million in proved developed producing properties, for $74 million. And it is buying back 6.8 million shares for $9.8 million.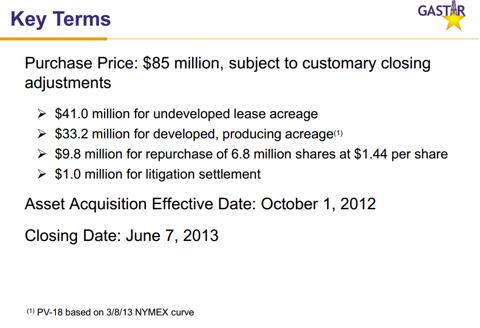 In reaction to the news, the stock rose more than 10% that day and is up further since then. After falling to $0.70 towards the end of 2012, the stock is now hovering in the $2 range. This is a considerable move, but there may be more to come. And it makes the 6.8 million share buyback particularly impressive - it works out to $1.44/share, versus a current share price of ~$2. It is rare for E&P companies to buy back stock, and even rarer for them to buy back stock at a big discount to the share price (a 28% discount to the $2, post announcement price).
Since the news came out, analysts have raised their price targets on GST to $3 - $4 per share (MLV, Iberia, Johnson Rice, and other banks had positive notes out about the transaction). And they have pointed to additional potential upcoming catalysts that could bias their targets to the upside.
It might be easy to miss in the announcement by the company, but in the midst of the buyback, litigation settlement, and acquisition, Gastar also announced a monster well result.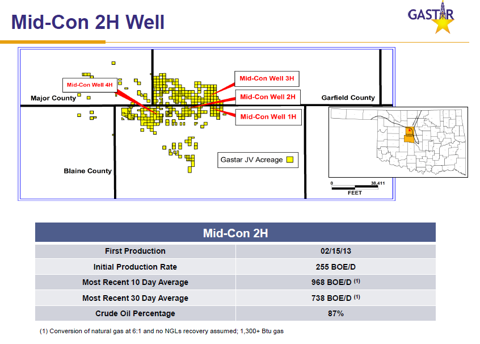 In a $4.3 million well, the well IP'd at 255 boepd, and then inclined to a most recent 30 day rate of 738 boepd and then inclined more to 968 boepd in its most recent 10 day rate. This is unusual and impressive, both that it is inclining rather than declining and in how much oil it is producing compared to the well cost. If Gastar can drill more wells like this, its stock could way outperform, and as investors begin to appreciate just how valuable this one well is to Gastar (it has a 50% WI in the well, and just that 50% WI in this one well may be worth up to $20 million), it may outperform even before additional results are announced. Two examples of companies that have outperformed under similar circumstances are Goodrich (GDP), which recently almost doubled after announcing a similar well in the Tuscaloosa Marine Shale (although GDP's well cost almost 4x what GST's well cost), and Crimson (NASDAQ:CXPO), which more than doubled on the back of its first Eagle Bine well that IP'd at over 1,000 boepd.
Gastar now has an additional 70,000 net acres that it considers highly prospective in this play - the acquisition gets its ownership up to ~95,000 net acres total that it considers highly prospective for this play.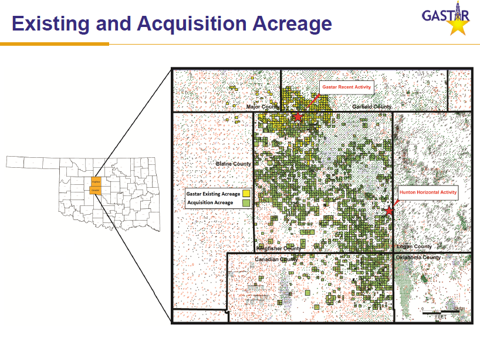 One upcoming catalyst is the potential sale of Gastar's E Texas gas field. On the conference call explaining the acquisition and settlement, managment indicated bids were submitted, and adding the $25 million of liquidity they said an E Texas sale will provide to the $20 million of bank borrowing base they said they are getting from the E Texas asset, they are guiding to a $45 million sale of the asset. This sale will substantially improve their liquidity, and will be highly accretive, as management had previously indicated cash flow of only $2-3 million per year from the property, implying a ~20x cash flow multiple on the sale of the property.
Another catalyst will be Gastar securing additional financing. I called a few investment banks and based on what Gastar's management was saying on the call, it sounds like Gastar should be able to do a $200 million bond offering in the range of 7.5-10% interest (highly speculative, not an offer to buy, etc). This would enhance the company's liquidity position and give them the chance to drill more highly economic Hunton and Marcellus wells.
And finally, the company discussed potentially JV'ing its Hunton oil acreage from the acquisition. If it gets $2,500/acre, which is what CHK got for their Miss Lime acreage with less impressive economics than GST's acreage, and if it sells 50% of the 71,000 net acres it just bought into the JV, it could more than fully fund the acquisition from JV money, and further free up capital to accelerate drilling, while reducing risk from the acquisition.
Overall, GST looks well positioned, has a number of catalysts going forward, has reduced its risk by settling litigation for ~1/150 of the potential liability, and has an exciting well result in a new play with considerable running room. I own stock in GST and it is one of my largest positions. I may buy or sell it or any other stocks mentioned at any time.
Disclosure: I am long GST. I wrote this article myself, and it expresses my own opinions. I am not receiving compensation for it (other than from Seeking Alpha). I have no business relationship with any company whose stock is mentioned in this article.