Yanzhou Coal Mining Limited (NYSE:YZC) has been suffering from the recent coal swoon. Anyone who was invested in coal mining stocks over the past year has suffered huge capital losses. YZC has lost about 1/3 of its value also during this period even though the company is located in China. The chart below depicts the decline. ( chart taken from Interactive Brokers )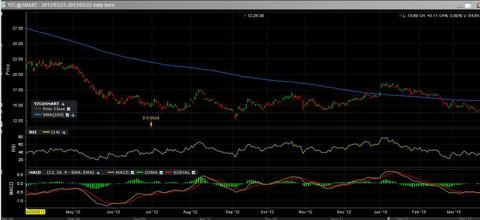 YZC Yanzhou Coal Mining Company Limited is principally engaged in coal mining, washing, processing and distribution. Its products include raw coal, commodity coal, coking coal and methanol, among others. The Company distributes its products within China and to overseas markets, including Japan, South Korea and Australia. (TD Ameritrade)
Chinese Consumption of Coal
While coal consumption is diminishing in the U.S., coal consumption continues to grow in the rest of the world. The IEA predicts that the world will burn around 1.2 billion more tons of coal in 2017 than it does today. The EIA maintains that China has accounted for 82% of the world's coal demand growth since 2000. Most of the new electric power plants in China are coal-fired. Coal consumption grew more than 9% in 2011 accounting for 325 million tons of 374 million ton global increase for the year.
Despite what the EIA predicts for coal consumption, the Chinese Coal Industry Association indicates that production only increased 4% in China and coal prices fell 22% in 2012 as compared to 2011. Jefferies maintains that China's coal consumption will grow less than 2% a year going forward. It predicts that coal use in China will peak in 2017 and fall from there. There is also concern that the price of coal will continue to drop with a concomitant reduction in profits for YZC.
Other studies indicate that China's need for coal is growing. In 2012 Chinese coal imports increased by 59% on an year over year basis. An IHS study projected that raw coal demand should peak around 2025 at about 5.1 million tons, up from 3.7 million in 2011.
What can one conclude from these different opinions? All the studies and projections maintain that China will be using more coal over the next 5 years and its need for coal could continue to grow over the next decade. All of them also project a decline in the growth of the need for coal. This means we can expect declining growth but increasing use of coal over the next 5 years. It is obvious that coal is not going the way of the buggy whip anytime soon in China or in other developing nations.
Diversification of YZC
YZC purchased Australia's Goucester Coal Ltd. last year. It plans to invest 600 Million Australian dollars to nearly double the coal output at this site over the next 5 years. The company is betting that demand from China, Korea, Japan and Taiwan will soak up this increased production.
YZC also bought 19 potash mineral exploration permits in Canada's Saskatchewan province in 2011. Potash is used as a key ingredient in fertilizer and has other industrial uses. Preliminary exploration has demonstrated that the area is rich in high-grade potash. Yanzhou Chairman Li Weimin said that the returns on potash are higher than coal because of tight supply in China. Development of these permits should lead to new avenues of profit for the company.
YZC Financials
(click to enlarge the income statement)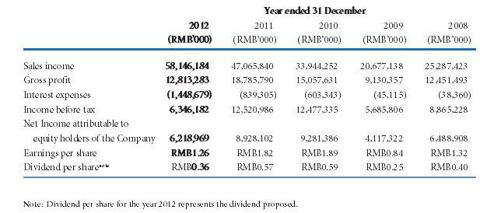 There are several things to take note on the income statement for 2012. Sales have increased, but gross profit decreased from 2011 to 2012. Interest expense has increased by 50% from 2011 to 2012. Net income has dropped 30% from 2011 to 2012.
(click to enlarge assets and liabilities)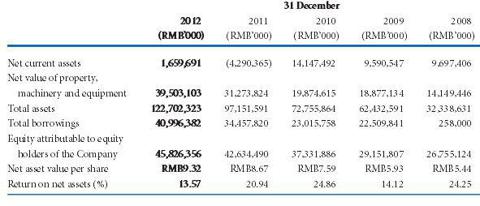 Looking at the company's assets and liabilities shown above reveals consistent growth in the Net Asset Value of the company over the past 5 years. But on the other hand, the return on assets has taken a 7.5% beating from 2011 to 2012. There are 2 reasons for this deterioration; lower prices for coal and a huge increase in interest expense.
(click to enlarge cash flow statement)

The cash flow statement shows the cash flows per share from 2011 to 2012 were more than cut in half. However the cash flow per share for 2012 was better than 2010.
Author's Conclusions
This raises the question; "Do the financials indicate a failing company or do they demonstrate something else?" I have concluded after looking at the facts that I am looking at a dynamic company with a bright future. It has suffered some financial setbacks as a consequence of lowering coal prices on the one hand and over expansion on the other. The company appears to be in a good position to pull things together over the next 2 years and move on to greater profitability with accompanying dividend growth. However 2013 will likely be a transitional year where the company must make adjustments and pull back some of its growth plans in the coal fields and increase its endeavors in the methane and potash fields. The company has adequate cash flows to implement these changes and should do so precluding a major financial meltdown.
Should we be buyers now? The stock appears to be oversold and should be near its bottom. S&P maintains a neutral rating on the coal industry especially because of the demand from developing economies. YZC's mines are positioned better than most companies to ship coal to the developing economies near and around Asia which should give it a competitive edge. Ford Equity Research maintains a buy on YZC because of its current low valuation.
It appears that the dividend for this year will be around $.45 a share or about half what it was last year. This is a 3.5% dividend at the current price of $13.00 per share. The dividend will probably remain about the same in 2014, but will likely begin to grow again in following years. If you buy the stock now, you will likely get this year's dividend in June since the company pays annually. Hence, I believe it offers a reasonable return to dividend growth investors at the current price.
Disclosure: I have no positions in any stocks mentioned, but may initiate a long position in YZC over the next 72 hours. I wrote this article myself, and it expresses my own opinions. I am not receiving compensation for it (other than from Seeking Alpha). I have no business relationship with any company whose stock is mentioned in this article.
Additional disclosure: I have in the money puts on YZC.