The shallow waters in the Gulf of Thailand are in the process of being reevaluated after Coastal Energy's (OTCPK:CENJF) discovery of the 150 million barrel Bua Ban North Field in 2011 in a region that had been previously regarded as being a natural gas play. Also in the western portion of the Gulf of Thailand, in 2008 Salamander Energy (OTCPK:SALDF) brought into production the BuaLuang Field, originally discovered in 1992, with proved and probable reserves regularly being upgraded and now at 46 million barrels of oil equivalents. In 2012, the Pearl Energy Division of Abu Dhabi's Mubadala Petroleum Company reached a milestone of producing 40 million barrels of oil from its Jasmine Field in the central Pattani Trough region of the Gulf, a field that first started production in 2005. Chevron also produces gas, NG liquids, and oil from its Patong II project and other fields in the Pattani.
Figure 1. Oil and Natural Gas Liquids Production, Gulf of Thailand (Thousands of Barrels/Day)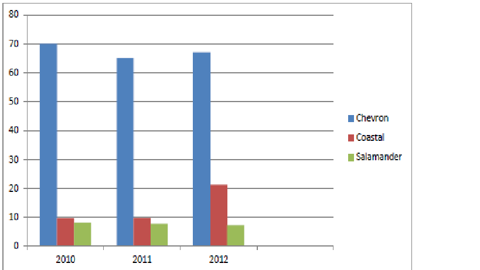 Click to enlarge
For 2013 Coastal Energy has given guidance of producing off shore oil at the rate of 27,000 barrels per day and Salamander is expecting oil production between 11,000 and 14,000 barrels a day.
Thailand: the Last Equatorial Shallow Water Frontier
Gulf and other shallow waters along the equatorial zone, including the Gulf of Aden and Venezuelan, Mexican, and U. S. sections of the Gulf of Mexico and Indonesia have proved to be rich in hydrocarbon deposits. Chevron (NYSE:CVX) and its merger partner Unocal have been heavily involved in the Pattani Trough of the Gulf of Thailand since 1971. However, the Gulf of Thailand has been generally late in development. Reservoirs in the Gulf are challenging for development as the geology of the Gulf is characterized by multiply-faulted small reservoirs in layered sands.
Low Drilling Costs
Because of the shallow water depths of the Gulf of Thailand which average 135 ft., the cost of drilling is reasonable. Coastal, for example, expects drilling costs of $19.00 per barrel in 2013. Typical time for well drilling, completion and production hookup for Salamander is 21 days. Chevron can complete and test a well in six days. The wells are inexpensive to drill, and production from these wells can hold the leases. The leases may overlay deeper large reservoirs.
Chevron
Chevron is the operator of 13 off-shore blocks in the Gulf of Thailand. In 2012 Chevron drilled 6 exploratory wells in the Pattani Basin, with 4 being successful. Chevron's net oil production in the gulf was 67,000 bopd in 2012, an increase of 3% over the 65,000 bopd of 2011. Chevron anticipates start up production of 4,300 barrels of oil and 59 million cubic feet per day of natural gas in 2015 from its West Pakarang Field discovery.
Coastal Energy
Coastal Energy was formed in 2004 and purchased the assets of Nucoastal Limited in order to bring Coastal's horizontal drilling technology and seismic analysis technology to Nucoastal's 1.2 million acres of leases in the shallow waters of the Gulf of Thailand. Horizontal drilling allows multi-location access from a single drilling platform location and is highly effective for laterally opening pools with natural vertical fractures or with the capability for fracturing. Use of downhole steerable motors for horizontal drilling and measurement-while-drilling technology (MWD) increases recovery and makes reserves more valuable.
In addition to Coastal's Bua Ban North field, the Company also is investigating a significant eastward expansion of its original Songkhla A field in the lower Oligocene with the 2012 completion of the Songkhla A-10 well which encountered 213 ft. of net pay and had initial production of 4,000 barrels a day. The easternmost well in this fault block still produces 750 bopd.
In the Company's Bua Ban South field, 20 million barrels of 3P possible reserves were added in 2012 with 2 new wells which are currently producing at 450 and 1,200 bopd. And Coastal's G5/50 lease borders Salamander's G4/50 lease which contains the prolific Bualuang Field.
Graph 1. Coastal's Gulf of Thailand Proved and Probable Oil Reserves
| | |
| --- | --- |
| December 31, 2010 | 24.8 million barrels |
| December 31, 2011 | 79.9 million |
| December 31, 2012 | 120.4 million |
Although Coastal pays no dividends, the Company returns 10% net profits on share price (P/E ratio of 10) and 22% EBIDTA cash flow return on share price. Net profit margin for Coastal is 30.5% of revenues.
The Company's proved and probable reserves as of December 2012 are calculated at a value of $23.16 per share (discounted 10% per year).
Coastal has a 39% stake in the APICO partnership which is developing the large Dong Mun field on shore in Thailand. The Company received an average price of $8.44 per mcf of gas for its onshore fields in 2011, which exceeds the $3 t0 $4 price currently received by American domestic gas producers. In Thailand electrical energy is produced from natural gas.
Institutional ownership, although minor, did jump 90% in the most recent reporting period.
Coastal Energy recently began coverage with both Jennings Capital (Price Target of $25.25) and Credit Suisse (Price Target of $26).
In 2011 Coastal had short term liabilities that exceeded short term assets, seeking to finance exploration and production out of cash flow rather than long term loans. Brokerages were not covering the stock. Now, with sound finances and a positive current ratio, Coastal is covered by Goldman Sachs, CIBC, Credit Suisse, Canaccord, and eight others.
Salamander Energy
With a market capitalization of $800 million, Salamander Energy is one of Britain's leading oil producers with exploration and production in Southeast Asia. The Company is one of the component companies included in the FTSE 250. In 2012 the great majority of the Company's oil production from continuing operations has been from the Gulf of Thailand. Like Coastal, Salamander uses both vertical and horizontal drilling, depending on the structure being developed.
Table 2. Salamander's Gulf of Thailand Proved and Probable 2P Oil Reserves
| | |
| --- | --- |
| December 31, 2010 | 27.6 million barrels |
| December 31, 2011 | 34.7 million barrels |
| December 31, 2012 | 34.1 million barrels |
Salamander will be pursuing a highly aggressive exploration program in 2013, with three high value, high probability (15% to 30%) prospects and three additional prospects all scheduled. The expected 50% jump in Bualuang Field production in 2013 will follow a 16 well development drilling program that was initiated in October 2012. Current (March 14) production in Bualuang is 11,500 bpd, up from the 7,200 bopd of 2012.
In March 2013 the government of Indonesia awarded the West and Northeast Bangkanai blocks to Salamander Energy PLC. Salamander also announced a new discovery well, SK-1, in the North Kutai prospect off-shore Indonesia. The well encountered 40 ft. of net oil and gas play and produced a flow rate of 6000 bopd.
Salamander returns 2% earnings on share price (P/E ratio of 49) and 48% EBIDTA cash flow return on share price. Net profit margin for Salamander in 2012 was 2.9% of revenues.
Medium-Term Outlook
Coastal recently signed a farm-in agreement with Malaysia's Petronas to explore three Malaysian off-shore fields in order to earn a working interest. For Coastal and potentially for Salamander we should see more opportunities like this and a world-wide demand for their advanced technology for exploring and developing mid- to small-size reservoirs over the next five to seven years.
In Summary
The Gulf of Thailand offers multiple mid-sized oil-bearing structures that can be developed successfully at reasonable cost with a combination of vertical and horizontal directional drilling. The formations that have been discovered tend to increase in reserve value as they undergo development. The Gulf provides an opportunity for independent producers such as Coastal and Salamander to achieve acceptable growth. The oil production levels of Salamander and Coastal provided in their guidance for 2013, taken together (41,000 bopd) would be equivalent to 60% of Chevron's net oil production from the region (67,000 bopd).
Disclosure: I am long OTCPK:CENJF. I wrote this article myself, and it expresses my own opinions. I am not receiving compensation for it (other than from Seeking Alpha). I have no business relationship with any company whose stock is mentioned in this article.