For many months, the Reserve Bank of Australia has been rolling out the same story of a peak in commodity prices, resource investment, and terms of trade. This month's monetary policy statement seemed to be more of the same except for ONE seemingly small twist (emphasize mine):
Global growth is forecast to be a little below average for a time, but the downside risks appear to be reduced.
Compare this to March's statement (emphasis mine):
Global growth is forecast to be a little below average for a time, but the downside risks appear to have lessened over recent months.
I may be over-thinking the difference, but to me, April's statement represents a definitive conclusion that CURRENT conditions contain reduced economic risks. The March statement suggests that only a look backwards paints such a picture. This change is important not for absolute value but for relative direction. If the RBA's true assessment is that the picture going forward is brighter than they have assumed in previous months, it greatly reduces the likelihood of any further cuts to historically low rates. Indeed, the economic data continue to defy many expectations of any deterioration in Australia's economic prospects.
On April 3rd, Australia released economic data well-ahead of expectations. Building approvals increased a robust 3.1%, ahead of the 2.5% consensus expectation. Even more impressive, retail sales jumped 1.3% month-over-month, well ahead of the 0.3% expectation. For context, here is what the RBA continues to say about the Australian consumer and building:
…Present indications are that moderate growth in private consumption spending is occurring, though a return to the very strong growth of some years ago is unlikely…Dwelling investment appears to be slowly increasing, with higher dwelling prices and rental yields…the exchange rate remains higher than might have been expected, given the observed decline in export prices, and the demand for credit is low, as some households and firms continue to seek lower debt levels.
In other words, the RBA is not expecting Australian consumers to lead the charge in the economy, especially given lackluster employment numbers:
Looking ahead, with the labour market softening somewhat and unemployment edging higher, conditions are working to contain pressure on labour costs, as was confirmed in the most recent data. Moreover, businesses are focusing on lifting efficiency under conditions of moderate demand growth.
So, the slight change of wording in the first sentence of the statement is important in that it could be a precursor to other upside adjustments in the RBA's language. If this happens, the Australian dollar (NYSEARCA:FXA) could take off…exactly what the RBA does not want. In fact, its desire to contain the currency must underlie the strained attempts to contain enthusiasm over the economy.
I have already noted that the Australian dollar has been enjoying a "stealth rally". Now, the Australian dollar is once again knocking on the standing downtrend from the 2011 high against the U.S. dollar.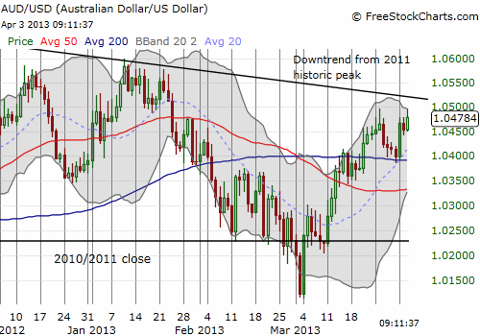 Click to enlarge
This year, AUD/USD has quickly moved from an apparent breakdown to a retest of the downtrend
Source: FreeStockCharts.com
I am still betting on this downtrend holding but have increasingly hedged against other currencies. As those hedges continue working consistently well (these are short-term trades that are regularly turned over to increase their profit potential), it reduces my desire to force the issue on AUD/USD and hold if this downtrend breaks. I will be eagerly awaiting the RBA's decision on monetary policy next month to see whether indeed the tone shows any evidence of additional improvement.
Be careful out there!
Disclosure: I have no positions in any stocks mentioned, and no plans to initiate any positions within the next 72 hours. I wrote this article myself, and it expresses my own opinions. I am not receiving compensation for it (other than from Seeking Alpha). I have no business relationship with any company whose stock is mentioned in this article.
Additional disclosure: In forex, I am net short the Australian dollar.