T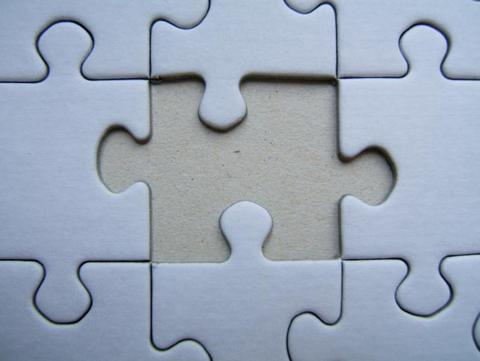 Click to enlargehe housing and labor markets are healing, but one ingredient necessary for the recovery remains missing: organic income growth.
As my readers know, I was closely watching last Friday's February personal income report and in my blog, I said it was the most important U.S. economic number to watch because I was looking for signs of faster income growth. While the numbers that were reported looked respectable at first glance, scratch beneath the surface and they illustrate that the income of most U.S. households is barely keeping up with inflation.
Consider the following:
In February, disposable (after-tax) personal income was up 0.9% year over year. While this was a slight uptick from January's dismal 0.6% growth, it's still less than a third of the long-term growth average, and compares poorly to the 1.5% average since the start of 2010.

Most of the growth came from more people working rather than higher wages. While this may not be a problem if the job market continues to expand, it illustrates that most workers still can't get a raise. Real per-capita income was up a scant 0.2% year over year.
Flat income growth is not a recent phenomenon. Real household income peaked back in the late 1990s and has been struggling for more than a decade. Until recently, consumers maintained their lifestyles, even in the face of stagnant wage growth, by borrowing more. But as that option is no longer available, or at least not to the same extent it once was, households are now relying on two other supplements: help from Washington and lower savings. Neither of those are sustainable long-term.
It's important to remember that a good chunk of recent income gains have come courtesy of the federal government. Between the end of 2007 and today, overall disposable income has risen by $1.35 trillion and half of that increase has come via rising government transfer payments. However, government transfer payments are already coming under pressure due to fiscal tightening.
At the same time, consumers have also been relying on an old trick to keep their consumption elevated: dipping into their savings. As the chart below shows, for every 1 percentage point drop in the savings rate, real personal consumption typically rises by a little more than 1%.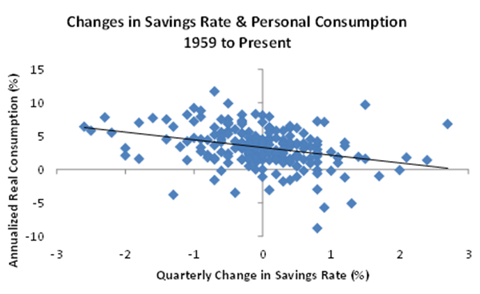 Click to enlargeWhile the savings rate ticked up to 2.6% in February, it's still a fraction of the long-term average, and in January, the personal savings rate fell to 2.2%, the lowest level since the summer of 2007. In addition, the U.S. savings rate has now dropped by more than 1% over the past year, meaning it does not have much more room to fall and won't be able to prop up consumption much longer.
What's the upshot for investors? In the absence of a stronger labor market and more income growth, I would expect some slowdown in U.S. growth this quarter. If that happens, consumer companies are particularly vulnerable as their valuations already reflect a lot of optimism about the state of the U.S. consumer.
As such, I continue to advocate reducing positions in consumer-related sectors, and looking to put new money to work in international markets, mega caps and the energy and technology sectors. These sectors are accessible through the iShares S&P 100 Index Fund (NYSEARCA:OEF), the iShares Dow Jones U.S. Energy Sector Index Fund (NYSEARCA:IYE) and the iShares Dow Jones U.S. Technology Sector Index Fund (NYSEARCA:IYW).
Source: Bloomberg, BlackRock
Disclaimer: In addition to the normal risks associated with investing, narrowly focused investments typically exhibit higher volatility. The energy sector is cyclical and highly dependent on commodities prices. Companies in this sector may face civil liability from accidents and a risk of loss from terrorism and natural disasters. Technology companies may be subject to severe competition and product obsolescence.