Cisco Systems, Inc. (NASDAQ:CSCO) is the world's leading supplier of data networking equipment and software. Despite the weakness in NGN Routing and Collaboration category, Cisco continues to expand into the wireless category, which grew 27% in the last quarter (year-over-year).
Newest Acquisition, Ubiquisys
On April 3, 2013, Cisco announced its intention to acquire privately-held Ubiquisys for $310 million. Ubiquisys is a provider of intelligent 3G and long-term evolution (LTE) small-cell technologies. Small cells are a vital element to 3G data off-loading and allowing network operators to manage LTE Advanced spectrum more efficiently compared to using just macrocells.
Analyst Simona Jankowski of Goldman Sachs said, "We view the proposed acquisition of Ubiquisys as complementary to Cisco's recent small cell efforts, including the January 23, 2013 acquisition of Intucell, the January 15, 2013 acquisition of BroadHop, and the November 12, 2012 acquisition of Cariden." Jankowski also added, "As we have highlighted before, we view small cells as an insertion point for Cisco into the large $35 bn radio access network (RAN) market, where it has had no presence historically, and we estimate that close to 20% of the RAN market will be served by small cells (including WiFi) by 2016."
Cisco will buy Ubiquisys for about $310 million, allowing Cisco to provide technology to help wireless carriers with better service to smartphone and tablet users. Ubiquisys provides small-cell technology that can help carriers extend their coverage areas and increase network capacity during peak usage times.
About Ubiquisys
Ubiquisys is a leader in intelligent multimode LTE/3G/WiFi small cells. Ubiquisys provides small cells that continuously adapt to their surroundings and dynamically interact with their neighbors. Ubiquisys' small cell portfolio includes: Intelligent cell software platforms; Modular, multimode hardware platforms; Lifecycle management and service delivery systems; Small cell expert consultancy services.
Ubiquisys is a Good Deal and Wireless is Critical
As Cisco's main revenue from NGN routing and collaboration categories (contributing 16.1% and 7.8% toward total revenue as of Q2) declined by 6.0% and 11.0% respectively in Q2 and switching category (30.8% of total revenue) grew only 3% in Q2, Cisco needs strong growth from wireless end. The wireless sector continues to be in demand with fast growth and there is a huge upside potential for Cisco to expand into this area, where the wireless category currently only contributed 4.3% toward total revenue. Buying into the wireless market makes sense for Cisco, which is supported with its strong cash flow and solid balance sheet.
Cisco is also refocusing its portfolio by shedding its Linksys home-router unit as it exited the consumer business. The management is shifting its resources to where the growth is.
Guidance and Analysts' Estimates
For Q3, 2013, CSCO expects revenue to increase in the range of 4%-6% on a year-over-year basis. Analysts are expecting an EPS of $0.49 with revenue of $12.19B, which is 5.20% higher than the previous year. For 2013, analysts are projecting an EPS of $1.99 with revenue of $48.70B, which is 5.70% higher than the previous year.
Fundamentally, Cisco continues to achieve higher-than-industry average margins and generates stronger ROE. Cisco also has a healthy balance sheet with a debt-to-equity ratio of 0.3, which is in line with the industry average. In the past 3 years, Cisco also achieved higher revenue growth as compared to other peers in the communication equipment industry. From a valuation perspective, Cisco's current P/E of 12.2 is much lower than the industry average of 40.8 and is also at the lower end as compared to its 5-year average of 16.0. Lastly, Cisco's Forward P/E of 10.2 is also lower than the S&P 500's average of 14.3.
Technically, Cisco is on the upside since mid-Nov, 2012, as seen from the chart below. More detail analysis can be reviewed here.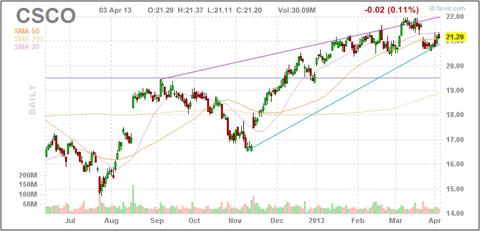 Source: Finviz.com
Bottom Line
Cisco remains a solid long-term holding as the management continues to re-focus its portfolio aggressively. Buying into the wireless market will also help Cisco boost its growth. Any major pullback will be a great buying opportunity for Cisco for the long-term. Investors can also review the following ETFs to gain exposure to Cisco:
Dow Jones U.S. Technology Index Fund (NYSEARCA:IYW), 4.68% weighting
Technology Select Sector SPDR (NYSEARCA:XLK), 3.82% weighting
QQQ (NASDAQ:QQQ), 3.09% weighting
Note: Investors and traders are recommended to do their own due diligence and research before making any trading/investing decisions.
Disclosure: I have no positions in any stocks mentioned, and no plans to initiate any positions within the next 72 hours. I wrote this article myself, and it expresses my own opinions. I am not receiving compensation for it (other than from Seeking Alpha). I have no business relationship with any company whose stock is mentioned in this article.