In the world of U.S. natural gas, one year is an eternity. Twelve months ago, the natural gas industry was exiting the storage withdrawal season with a staggering 800+ Bcf inventory surplus over the five-year average. Natural gas prices had dropped below the $2.00/MMBtu mark, and operators were voluntarily shutting in hundreds of producing wells to minimize the impact of sub-economics price realizations.
Fast forward one year. In a few weeks, the natural gas injection season will begin its count from a storage level that will be below the five-year average. (According to EIA, gas storage stood at 1,781 Bcf as of Friday, March 22, 61 Bcf above the five-year average. Another cold weather-driven ~100 Bcf drawdown expected this week - compares to an injection last year - should bring storage to a below-average level.)
Both spot and futures prices are trading close to their 18-month highs (the Henry Hub spot price rose to $4.08 per MMBtu last Wednesday, its highest level since September 2011, and the NYMEX futures contracts made similar gains).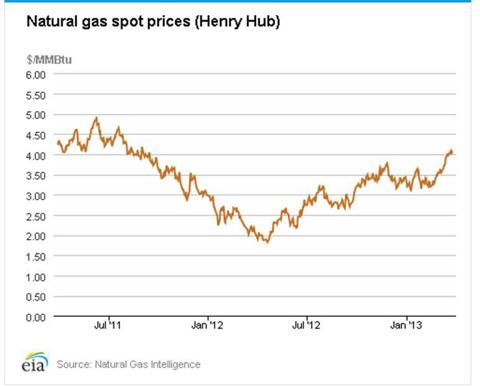 (Source: EIA)
The latest release of rig count statistics by Baker Hughes showed 389 rigs drilling for natural gas as of March 28. This represents the lowest level of gas-directed rig count in decades and equates to a 40% decline from a year ago.
Most importantly, for the first time in several years, short-term supply/demand fundamentals for natural gas look very constructive, in my opinion. Several factors are contributing (I will discuss each factor in detail further in this note):
Inventory overhang has been fully worked off.
Despite abnormally cold temperatures during March and early April, it would be incorrect to attribute the improvement in the storage situation solely to weather. In fact, on a heating degree days basis, this past winter was essentially normal (as explained below). Other, structural factors have been at work, providing some confidence that the fragile supply/demand balance in the natural gas market will not vanish overnight.
The most important factor: the U.S. natural gas production volumes have flattened and most recently shown moderate contraction. While winter seasonality plays some role, the downtick is more pronounced than during previous years and is attributable, in my opinion, to downward production trajectories in the Haynesville, Barnett, dry gas window of the Eagle Ford, the Rockies, and several other unconventional and conventional dry gas plays. Those trajectories will not turn around on a dime. Even assuming dry gas drilling activity picks up soon, lead times from the moment a rig shows up at a drilling location to first production could be measured by several months (driven by pad drilling logistics; see discussion in this article).
Producers so far have demonstrated investment discipline and have not sent rigs back to work in dry gas shales. The $3.50-$4.00/MMBtu price range has so far proven insufficient to stimulate meaningful re-acceleration in dry gas drilling activity, with the Marcellus Shale being a rare exception (where drilling has been managed "to take-away capacity"). Natural gas prices may need to go higher to incentivize operators to commit additional capital to dry gas shales. In my opinion, the $4.00-$4.50/MMBtu may become a trading range for natural gas for the next several months, until gas-directed drilling activity shows signs of re-gained momentum.
On the negative side, the Marcellus, Utica and Bakken will likely see significant increases in their production volumes towards the end of the year once additional processing, gathering, compression and pipeline capacity is put in service. Combined dry gas volume gains from these three plays will likely exceed 2.0 Bcf/d by the end of the year, not an insignificant amount.
Coal competition is another potentially limiting factor: natural gas is now trading at a premium to gas-coal parity for PRB, ILB and NAPP coals, which should lead to coal taking back additional market share in power generation from gas (another consequence, a hot summer would not be able to produce the same dramatic effect on natural gas demand as was the case last year). However, the impact of coal competition is often overstated as a significant amount of switching has already taken place and is reflected in current supply/demand balance for natural gas.
With these considerations in mind, a "production containment" pricing ($3.00-$3.50/MMBtu and lower) appears no longer valid structurally. At the same time, the market seems well balanced in terms of supply and apparent demand, and therefore only moderate price stimulus is required at this point ($4.00-$4.50/MMBtu).
In the short term, natural gas price risk is skewed to the upside, in my opinion. An abnormally hot summer may demand a substantial acceleration in dry gas drilling activity, in which case natural gas prices may need to increase to the $4.50-$5.50/MMBtu range, to provide an "urgent stimulus" to operators. However, as supply deliverability from dry gas shales remains very high and volumes can be increased in a relatively short period of time, such elevated pricing levels would unlikely be sustainable for more than few/several months.
Inventory Overhang Is Gone
A close look at the natural gas storage chart below would lead to the conclusion that the pace of storage drawdown during this past winter season has essentially been "normal." The blue line on the chart (which depicts actual levels of working gas in storage) moved essentially in parallel with the five-year average line (the black line on the graph) from November 2012 through March 2013. In other words, "Supply minus Demand" over the latest six month has been in line with the five-year average.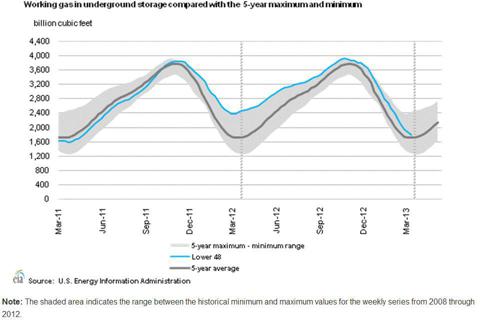 The blue line will cross under the black five-year average line once a new set of inventory data is reported this Thursday. This will be the result of the cold weather pattern that has prevailed over the northeastern half of the United States in the past several weeks, giving a strong finish to the withdrawal season this year.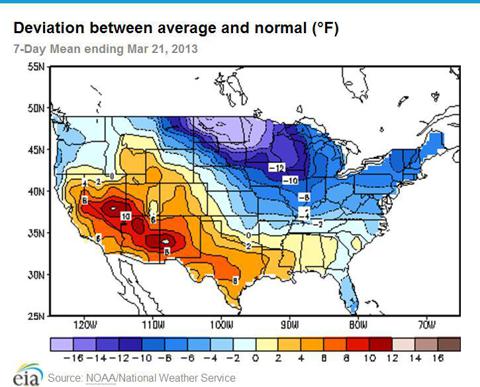 As a result, the injection season that is about to begin in a few weeks inherits no inventory overhang, and supply and demand seem to be well balanced. The clock has effectively been re-set for natural gas price formation.
Weather Alone Does Not Explain The Rapid Inventory Reduction
The view that the healthy pace of inventory depletion during this past withdrawal season has been the result of cold weather would be incorrect. In fact, this winter's weather patterns were fairly close to normal in terms of heating degree days. The warmer-than-usual December and January were followed by normal February and a colder-than-usual March. Once population growth is take into account, the heating degree days metric in fact falls on the below-normal side this year, as shown on the graph from EIA's last month's report: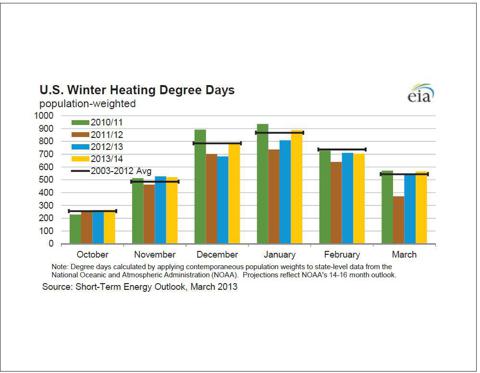 Therefore, latest storage dynamics should reflect a healthy balance of supply and demand for natural gas.
U.S. Natural Gas Production Shows A Distinct Downtick
In January, the Lower 48 natural gas production declined 0.9%, following a 1.1% decline in December, based on the latest EIA 914 data. Production decline during the winter months is fairly common in certain producing regions. For example, completion activity in the Rockies typically slows down or is fully put on hold with the onset of cold weather. However this year, the downtick in production volumes appears more pronounced than in the past and, based on the analysis of production data for specific regions, reflects the onset of production declines in several dry gas resource plays that are not related to winter season.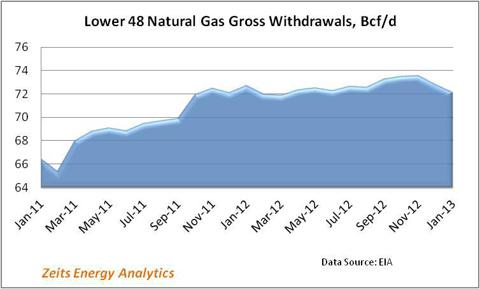 Accelerating production declines in the Haynesville have made a contribution to the slowdown in the Lower 48 volumes growth. Louisiana gross natural gas withdrawals - which in big part are driven by the Haynesville - have declined by almost 2 Bcf/d since their peak in November 2011. In January, Louisiana saw the largest decrease in production at 3.8% or 0.28 Bcf/d (which was partially because of gas plant maintenance, according to EIA). While the declines in February of last year were mostly due to voluntary production curtailments in response to very weak prices, most recently the declines reflect the anemic levels of drilling activity in the play.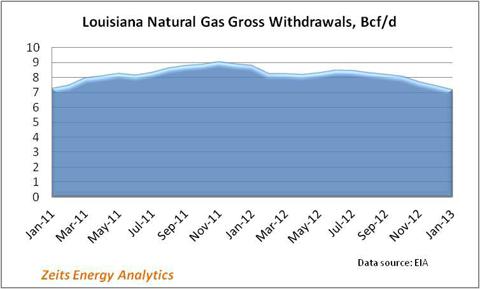 The Haynesville joins Wyoming and Gulf of Mexico producing areas where natural gas volumes have been on a declining trend for quite some time.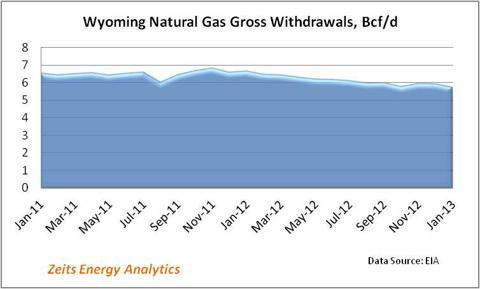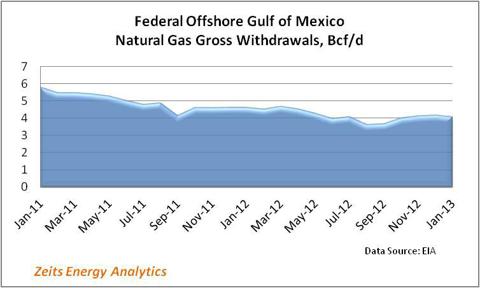 Until recently, production declines in dry gas and conventional plays have been more than offset by growth in the Marcellus and liquids-rich plays. The Marcellus alone has added approximately 7 Bcf/d of production since the beginning of 2011. Oklahoma production has also been increasing, driven by strong recent activity in the Mississippian Lime, South Cana/SCOOP, and Granite Wash liquids-rich plays.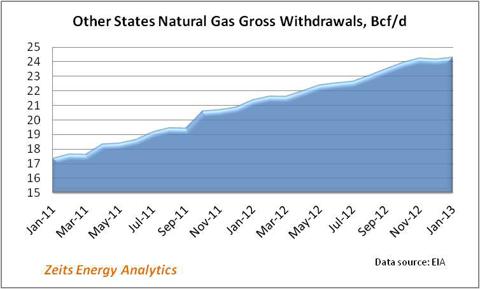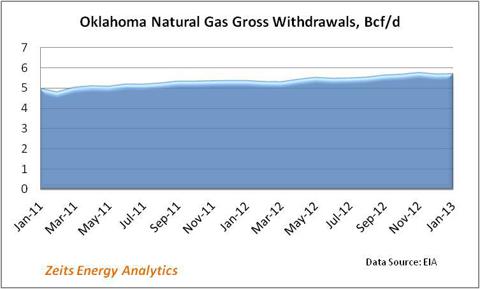 During the first half of 2013, the Marcellus should see a slowdown in growth, following a wave of significant infrastructure additions in the second half of 2012. The breather should be only temporary, with infrastructure expansions seeing a heavy calendar of in-service dates in the second half of 2013.
Operators Have Demonstrated Capital Discipline
It is important to note that while crude oil and liquids-rich resource plays are increasingly important sources of natural gas, the direction of aggregate industry-wide supply is still defined by activity in "dry" gas shales where gas productivity per well is typically many times higher than in liquids-rich plays and takeaway infrastructure is not an issue.
Drilling activity in dry gas shales has not shown sustained acceleration even after natural gas futures have recovered above $4/MMBtu last fall, the level above which sweet spots in many dry gas plays come "in-the-money" for new drilling (the graph below shows that even during the "low points" in natural gas price environment in September and, more recently, in February, the futures curve gave operators the opportunity to lock in drilling economics on a forward basis for the next two years at levels close to $4/MMBtu on average).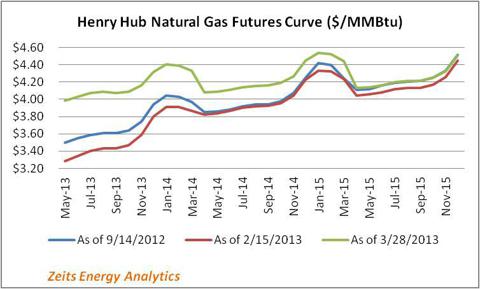 In fact, the combined gas rig count in five dry shales - the Marcellus, Haynesville, Fayetteville, Barnett, and Arkoma Woodford - has seen fresh declines in February and March, after staying at a plateau level for several months before that (the largest declines have been in the Barnett, which lost 8 rigs in two months, and Arkoma Woodford, which lost 2 rigs).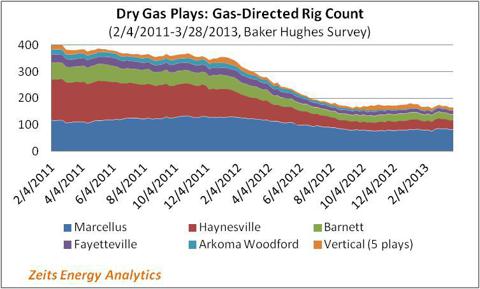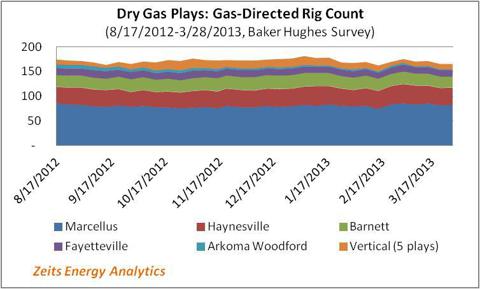 Gas-directed drilling activity has been firmer in liquids-rich plays. The combined gas-directed rig count in five select "wet" gas plays - the Eagle Ford, Permian, Cana Woodford, Granite Wash, and Ardmore Woodford - has recovered meaningfully from the trough in October last year, with the gains in activity being led by the Granite Wash, SCOOP and the Permian. The Eagle Ford has continued to see declining rig count in the gas-directed category.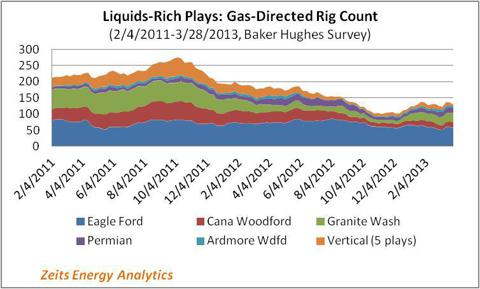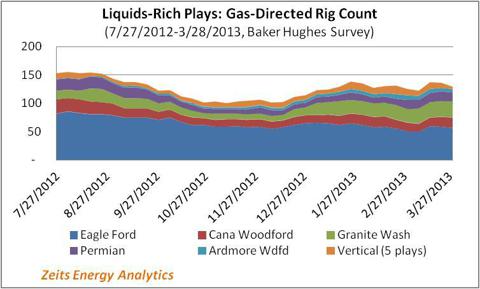 Operators' reluctance to commit capital to dry gas drilling is understandable. Returns on drilling in dry gas shales, with rare exceptions such as the sweet spot in northeast Pennsylvania, are underwhelming when natural gas is trading below $4/MMBtu. In addition, those operators who have been most aggressive during the past several years building large-scale positions in dry gas plays and finally are strongly positioned to increase gas volumes, have seen their balance sheet stretched to the limit by the meltdown in natural gas prices. Many operators in that category are also prioritizing spending in oil and liquids to diversify away from the singular natural gas exposure, and their capital allocation decisions may not be driven by natural gas price.
Therefore, empirically, it appears that the appetite to increase capital commitments to dry gas plays has simply not been there among the largest natural gas producers. This is certainly a very favorable factor for natural gas prices in the short term.
Coal To Take Some Market Share Back From Natural Gas

Coal competition remains a significant factor impacting demand for natural gas.
Natural gas - both spot and futures - is currently trading at price levels that make PRB, NAPP and ILB coals competitive as power generation fuels vis-à-vis gas. A recent Peabody Energy (BTU) presentation suggests that PRB coal can compete with natural gas already in the $2.50-$2.75/MMBtu price range for gas; ILB coal becomes economic in the $3.25-$3.50/MMBtu range; and CAPP coal should become competitive at $4.50+/MMBtu.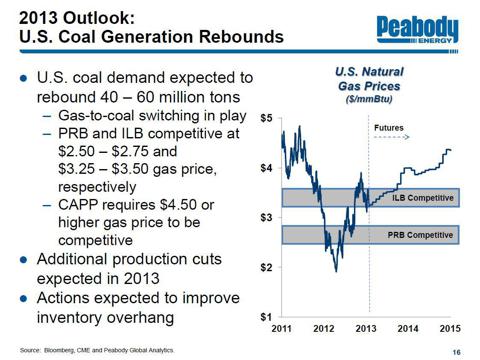 (Source: Peabody Energy February 6, 2013 Investor Presentation)
Coal has been particularly competitive during the past several weeks, when cold snaps drove prices for physical deliveries of natural gas in some areas to elevated levels. For example, two weeks ago, the spot price at the Algonquin Citygate, which serves Boston consumers, traded at $11.57/MMBtu and the spot price at Transcontinental Pipeline's Zone 6 trading point for delivery into New York City, was at $5.43/MMBtu (because of pipeline and infrastructure constraints, prices in the Northeast and particularly New England tend to spike into the double digits during cold snaps). Outside of the Northeast, spot prices were also elevated, although to a much lesser degree, in the Midcontinent and Midwest.
Short-term outlook for coal prices is challenging as producer and power sector coal inventories remain very high. This increases the chances that coal will likely sustain an economic advantage over natural gas at least in the near future.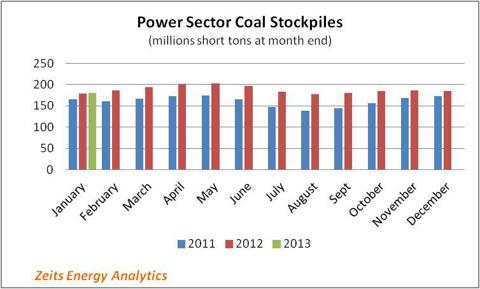 It is important to note, however, that the capacity of the gas-to-coal switching to reduce demand for natural gas as its prices continue to increase is often overstated. A significant amount of switching has already occurred and is reflected in the existing natural gas supply/demand balance. The chart from a recent EIA report shown below illustrates gas/coal switching in its progression over the past five years. The green line shows the differential between average monthly delivered cost of natural gas and average monthly delivered cost of coal from the perspective of a power generator.
A year ago, the cost of using natural gas as fuel for power generation dropped below the cost of coal. In the aftermath, natural gas made massive market share gains in power generation against coal (the dashed brown line on the graph shows gas/coal monthly generation ratio spiking during last summer). Those gains have reversed to a significant degree towards the end of 2012 as natural gas prices recovered and the cost differential (the green line) expanded again. At the end of 2012, front-month natural gas futures were trading close in the $3.50-$3.75/MMBtu range and the cost differential vs. coal increased to ~$10/Mwh level on average, as shown on the graph.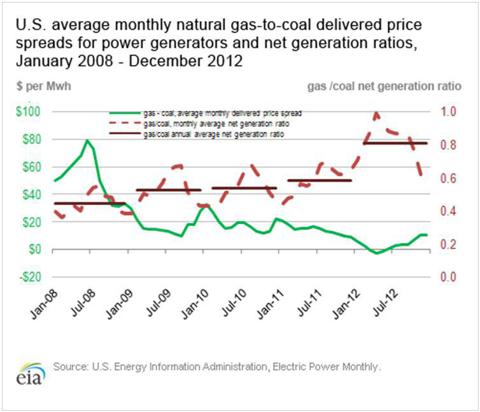 With the renewed strength in natural gas prices, gas-to-coal switching will continue to some degree and will accelerate should natural gas prices exceed the ~$4.50/MMBtu level at which CAPP coal also becomes competitive versus natural gas. However, fuel switching may not have the same leverage as before to put a big dent in demand for natural gas from the power sector.
Implications For Natural Gas Producer Stocks
For a change, commodity fundamentals for the universe of natural gas producer stocks are showing a positive momentum. Should weather patterns during summer months surprise on the hot side, operators with highest exposure to natural gas and financial leverage have a chance to be in the "most improved" category.
It is important to note though that the market, all the way along, has been able to look through the extreme weakness in natural gas prices during 2012 and priced a mid-cycle gas price into the stocks. Impact on stock price from a possible recovery in natural gas environment may be subdued.
The above discussion is fundamentally relevant for natural gas (NYSEARCA:UNG) and the natural gas producer stocks. My natural gas producer index includes:
Chesapeake Energy (NYSE:CHK)
Encana Corporation (NYSE:ECA)
Devon Energy (NYSE:DVN)
Southwestern Energy (NYSE:SWN)
Ultra Petroleum (UPL)
EXCO Resources (NYSE:XCO)
WPX Energy (NYSE:WPX)
Cabot Oil & Gas (NYSE:COG)
Range Resources (NYSE:RRC)
QEP Resources (NYSE:QEP)
Quicksilver Resources (NYSE:KWK)
Forest Oil (NYSE:FST)
Bill Barrett (NYSE:BBG)
Newfield Exploration (NYSE:NFX)
EQT Corporation (NYSE:EQT)
Cimarex Energy (NYSE:XEC)
Disclosure: I have no positions in any stocks mentioned, and no plans to initiate any positions within the next 72 hours. I wrote this article myself, and it expresses my own opinions. I am not receiving compensation for it (other than from Seeking Alpha). I have no business relationship with any company whose stock is mentioned in this article.
Disclaimer: This article is not an investment recommendation. Any analysis presented herein is illustrative in nature, limited in scope, based on an incomplete set of information, and has limitations to its accuracy. This article is not meant to be relied upon for investment decisions. Please consult a qualified investment advisor. The information upon which this material is based was obtained from sources believed to be reliable, but has not been independently verified. Therefore, the author cannot guarantee its accuracy. Any opinions or estimates constitute the author's best judgment as of the date of publication, and are subject to change without notice.