Baidu.com (NASDAQ:BIDU), with a market cap of $30.06B, is the dominant search engine in China. While Google Inc. (NASDAQ:GOOG)'s Google Glass is in development and Google Glass Explorer program was launched, Baidu affirmed its development of Baidu Eye. No, it's not an April Fool's joke, such as Google Nose. Rather, Baidu Eye could be the next product for Baidu as it continues to integrate its search, image, and voice recognition technology.
Products and Technologies
Baidu is a clear market share leader with around 80 million daily active users for its flagship web search product on mobile according to Baidu's internal tracking. The management expects this trend to continue as Baidu search results become more and more location specific and personalized.
By integrating data and information from Baidu's verticals and from a whole range of third parties like Cellphone in real estate, Qunar in travel and URN application, Baidu now has the most comprehensive data set of any LBS, location based services, service provider. Users will use Baidu daily as it offers a huge database of merchants and other useful information. Baidu continues to improving the image recognition technology while operating one of the world's most comprehensive index official images with advanced image matching technology. Baidu is rapidly fulfilling its vision for image recognition to be just as effective as for text and voice.
Baidu Eye?
According to Reuters, as said by Kaiser Kuo, Baidu's spokesman, Baidu Eye is a device mounted on a headset with a small LCD screen, which will allow users to make image and voice searches as well as conduct facial recognition matches. As quoted from Kuo, "What you are doing with your camera, for example, taking a picture of a celebrity and then checking on our database to see if we have a facial image match, you could do the same thing with a wearable visual device." Baidu Eye may perform the same functions as Google Glass, which augments reality via a see-through heads-up display above the users' eye where audio and live images can be streamed, and the device is also able to perform computing functions.
Baidu Eye could be Baidu's first step for wearable technology, although Baidu hasn't decided if it will be commercialized. On the other hand, Google had launched Google Glass Explorer program earlier this year already. Wearable technology will be the newest trend for large players to compete on as Apple Inc. (NASDAQ:AAPL) is rumored to launch iWatch this year. Sony also has obtained a patent for a head-mounted display apparatus which an insightful Seeking Alpha contributor believes Sony (NYSE:SNE) might be able to defeat Google Glass.
Simple Strategy
If Apple is doing it, Samsung will follow. A great example is Samsung (OTC:SSNLF)'s preparation for smart watch development after Apple's iWatch successfully generated strong buzz. If Google is interested in Google Glass, it makes sense for Baidu to work on Baidu Eye.
Fundamentally, a quick comparison between Baidu and Google and the industry average will be reviewed to see where Baidu stands.
| | | | |
| --- | --- | --- | --- |
| | Baidu | Google | Industry Average |
| Cap Size | $30.06B | $265.78B | N/A |
| Revenue Growth (3 Year average) | 71.2 | 28.5 | N/A |
| Operating Margin, %, ttm | 49.5 | 25.4 | 17.0 |
| Net Margin, %, ttm | 46.9 | 21.4 | 18.7 |
| ROE | 50.6 | 16.5 | 13.6 |
| Debt/Equity | 0.4 | 0 | 0.1 |
| P/E | 18.3 | 24.8 | 29.0 |
| 5 Year Average P/E | 43.7 | 23.9 | N/A |
Baidu, with its dominance in China, enjoys a faster revenue growth with higher margins and a stronger ROE as compared to Google. However, Baidu has a much lower P/E as compared to Google and the industry average. Baidu's P/E is also much below its 5 year average while Google is currently trading above its 5 year average P/E. Baidu needs catalysts to boost its valuation and innovative ideas such as Baidu Eye could be one of them, even though Google already has the impression as the first mover.
Technically, BIDU is declining since mid-July, 2012, as seen from the chart below. Investors may want to watch for further price stabilization before establishing the long-term position.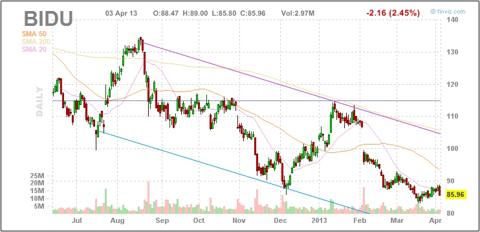 Source: Finviz.com
Bottom Line
Developing Baidu Eye makes sense for Baidu as the company continues to integrate search, visual, and voice capabilities. However, Baidu Eye may face extra hurdles in China with more restricted regulation from Chinese government, and privacy remains an issue, which also applies to Google Glass. Investors should focus on the fundamental aspect of Baidu and pay attention to Baidu's growth rate and margins. Overall, Baidu is a superb alternative to Google with higher margins, stronger ROE, and faster growth. Investors can also review the following ETFs to gain exposure to BIDU:
Note: Investors and traders are recommended to do their own due diligence and research before making any trading/investing decisions.
Disclosure: I have no positions in any stocks mentioned, and no plans to initiate any positions within the next 72 hours. I wrote this article myself, and it expresses my own opinions. I am not receiving compensation for it (other than from Seeking Alpha). I have no business relationship with any company whose stock is mentioned in this article.