As my readers are well aware, I am very bullish (and very long) on Intel (NASDAQ:INTC), but there is no denying that the market is pricing in quite a lot of uncertainty in the shares, and perhaps rightly so. There are fears that the excess capacity charges that the company took in Q4 and will again take during Q1 will become chronic, and there is significant uncertainty surrounding Intel's viability in the smartphone and tablet applications processor space. In this article, I want to take a look at the recently released performance data of the firm's latest "Atom Z2580" and help to frame it in context of the current competitive environment. There's a lot of good here, but there is also a lot to be done.
The Atom Z2580 AnTuTu Benchmarks - Strengths And Weaknesses
So, as many in the tech community have probably spotted by now, here are the latest results for Intel's Z2580 (2 core/4 thread Atom) in the popular Android benchmark, "AnTuTu":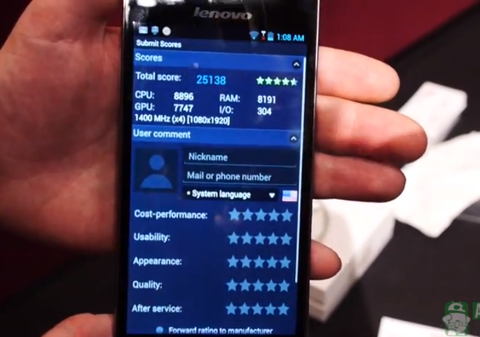 Click to enlarge
As we can see, the AnTuTu benchmark measures four primary performance vectors: CPU performance, GPU ("graphics processing unit"), RAM/memory, and I/O. These individual scores are summed up and then added up for a final composite score. In this test, the results for the dual core Atom with PowerVR SGX 544MP2 graphics and 2GB of LPDDR2 score the following:
CPU: 8896
GPU: 7747
RAM: 8191
I/O: 304
So, how does this chip measure up to the latest competition? Right now, the vendor in the spotlight is Qualcomm (NASDAQ:QCOM), although Samsung's (OTC:SSNLF) own applications processor lineup is generally considered formidable and Nvidia's (NASDAQ:NVDA) efforts seem to be shaping up nicely. Let's take a look at the AnTuTu results of the latest Qualcomm Snapdragon 600 featuring four "Krait" cores, as well as the Samsung Exynos 5250 (although results for the Exynos 5 Octa should be out soon). I won't include the Tegra 4 since this was running power unconstrained in a tablet form factor (although I would love to see Tegra 4i benchmarks!):
Qualcomm Snapdragon 600 in Samsung Galaxy S IV: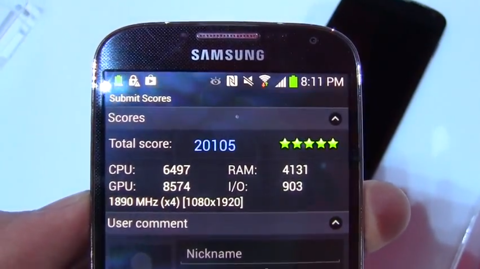 Click to enlarge
These results are courtesy of PhoneBuff on YouTube (skip to 1:18 for the numbers). We see that the results come out to:
CPU: 6497
GPU: 8574
RAM: 4131
I/O: 903
Finally, let's look at Google's (NASDAQ:GOOG) Nexus 10 powered by the Samsung Exynos 5250, featuring 2 ARM (NASDAQ:ARMH) Cortex A15 cores and ARM's Mali graphics. The results are courtesy of antutu.com:
CPU: 5187
GPU: 5312
RAM: 2340
I/O: 911
So, what we see here is that in terms of CPU performance in power constrained environments, Intel's "Atom Z2580" system-on-chip currently holds the lead by a fairly decent margin. In graphics, the Qualcomm-based Galaxy S IV takes home the prize. In memory performance, it's not even a contest, with the Intel Z2580 winning the war by a country mile. The I/O performance of the Lenovo K900/Atom Z2580 doesn't seem too good, though, as it trails the Samsung and Qualcomm based chips significantly.
Analysis: What Does This Mean?
Quite frankly, this means that the folks that say that Intel's "Atom" can't compete with the latest ARM chips in the low power space are dead wrong, from a technical standpoint. However, I will admit that it is fairly surprising to see a dual-issue, in-order pair of processor cores achieve performance per watt metrics that rival the very best, modern quad core, out-of-order designs from Qualcomm and ARM (implemented by Samsung), but this just goes to show that there's a lot more to judging a processor's performance than the specs on paper.
In particular, we can see that Intel's memory performance is through-the-roof, primarily as a result of Intel's years of having to design efficient, high performance memory controllers to feed much faster, beefier processors for everything from notebooks to servers. I also suspect that Intel's best-in-class cache memory designs help quite a lot here. Now, one thing of note, is that while overall CPU performance on the Intel chip is slightly better than the Qualcomm or ARM chips in these tests, it is very likely that under the hood you will find that Intel's integer performance is very strong, but that floating point performance is likely much weaker than in the competing ARM chips. Why? Not only does the Qualcomm chip have twice as many floating point resources (by virtue of having twice as many cores), but I believe that modern ARM processors implement Fused-Multiply-Accumulate ("FMA"), which should give many applications - such as games - a very easy performance boost.
In terms of graphics, we see that Intel is finally implementing a modern graphics processor from Imagination Technologies (Intel owns ~16% of that company), but we can see that Intel's priorities here are skewed more towards CPU performance rather than GPU performance. According to some leaked documents floating around on the web, Intel plans to integrate 4 of its own "Gen7" graphics processors (found on its "Ivy Bridge" processors) into its next generation 22nm "Bay Trail" system-on-chip. It is clear that this will be a nice boost from "Clover Trail" (not-plus), but it remains to be seen if this will engender an appreciable boost from the Atom Z2580 ("Clover Trail+") shown here.
In short: the argument that Intel can't design good low power SoCs is pretty much nonsense, and it is clear that Intel's currently available chip for phones is right up there with Qualcomm's best. But that's the question, isn't it? Is being "among the best" enough to win this space? My view is that the answer to this question is "no".
Good Enough Isn't Good Enough
Since Intel is the newcomer in this space - trying to push both a different instruction set as well as itself being an unproven name - it will take a lot to convince device vendors to go with Intel. It would not be healthy for Intel's gross margin profile to try to compete completely on cost (although I believe Intel's favorable cost structure gives it some leeway here), and quite frankly, the vendors that make the phones that truly sell aren't out to cheap out on a buck or two. Intel has a very real need to have a decisively better chip as measured by performance/watt in the typical smartphone workloads. If Intel can go to a device vendor and say,
We've got a chip that's 50%+ faster than what you're using now, it's the same cost as what you're buying now, has much better battery life, and we're offering you the full heft of our brand should you want to leverage it
Then everybody from Samsung to Acer will sit up and at least listen to Intel's offer. But if Intel offers mostly the same thing, maybe slightly faster here, slower there, then it will be very tough to displace the incumbents in the design sockets that matter. That's what we're seeing now with Atom Z2580 - it's a damn good chip, but it's not so much better that, say, Samsung would use it in a Galaxy S IV. It also really hurts that while Qualcomm is rolling along with a latest gen LTE chip, Intel is just now promising to deliver LTE baseband silicon during the first half of the year. When it comes to cell phones, cellular ability is key, and Intel's current lack of LTE is why you don't see Intel Inside (or really, anything but Qualcomm) in the USA.
Now, how does a company take a decisive lead? Process technology.
The Process Technology Is What Matters
Fundamentally, chip designers are limited by transistor and power budgets. You can't design a chip that's too big or complex because it becomes very uneconomical to build and sell them, and you can't consume too much power because the chip then becomes fundamentally unsuitable for the device. That's why most of these mobile chips at each process generation have performed more or less in line with each other.
But if Intel can bring its manufacturing lead to the mobile space, then that's how it can make that value proposition that I mentioned above. Smaller, less power hungry transistors let the chip designers not only stick more transistors in the same amount of space as their competitors, but it also allows for higher performance at the same level of power consumption. This is why Intel's acceleration of its "Atom" roadmap as well as its low power process technology is critical to actually being able to deliver a tangible advantage in this space - make no mistake, the reason we have the kind of power in our handheld devices today is almost entirely due to the advancement of transistor technology. You need good architecture, too, but that is fundamentally restricted by the limits of the transistors.
Conclusion
Don't fall for it - anybody who tells you that Intel needs to "license ARM" isn't conveying the reality of the situation. Intel has the chip technology in place, and thanks to the huge software force at the company, Google's Android runs just as well on Intel chips as it does on ARM's. The issues here are that of gaining the trust of the device vendors, coupled with the need to provide a significantly differentiated solution in order to get heard. And, of course, there's the issue of connectivity which Qualcomm currently completely owns.
The path ahead for Intel is not going to be easy, but the company has some of the world's best engineering and marketing talent focused on making this mobile strategy work. Don't count them out, and do your own due diligence before blindly believing what the tech press/media would like to feed you. Now, this is a piece written from the perspective of an Intel long/ARM short, so pardon any unintentional bias, but I make my investment decisions based on what I believe to be true - not the other way around.
Disclosure: I am long INTC, NVDA. I wrote this article myself, and it expresses my own opinions. I am not receiving compensation for it (other than from Seeking Alpha). I have no business relationship with any company whose stock is mentioned in this article.
Additional disclosure: I am short ARMH