Market Has No Faith
Shares of Nvidia (NASDAQ:NVDA) unfortunately appear to continue to be range bound between $12 and $13. While the market hits new all-time highs, Nvidia has failed to deliver any meaningful capital appreciation over the past year, despite a newly minted dividend as well as continued improvement across its key businesses. As I pointed out in my post-earnings write-up, "Nvidia: Solid Quarter Marred By Weak Guidance And High OpEx", a lack of 2013 guidance, coupled with a fairly large Q1 guidance miss are the key factors weighing on shares. By Nvidia's own admission, Tegra 4 was late (but on a positive note, Tegra 4i is early), which likely means that the rumors that the company was left out in the cold on several key wins, including the updated Nexus 7, seem likely to be true.
But the problem isn't just that Tegra 4 was late - it's that there has been an alarming lack of material design wins. At several conferences, the IR team stressed that while design wins were not likely to be announced at CES, its partners generally announced designs at Mobile World Congress. Unfortunately for investors, there was very little in the way of major announcements. Despite this, Nvidia has been adamant that Tegra 4 has more design wins than Tegra 3, which is encouraging, but brings up the following concerns:
The quality of the design wins is much more important than the quantity - how well will these designs sell?
Tegra 4i - Nvidia's smartphone oriented chip - won't make its way into devices until late 2013/early 2014, suggesting that material growth in the Tegra division over FY2013 is almost entirely dependent on Nvidia's ability to maintain/grow market share in tablets.
Windows RT does not appear to be seeing widespread acceptance, and the value proposition will wane significantly as Intel's (NASDAQ:INTC) fully Windows 8 compatible "Bay Trail" system-on-chip makes it to market by Q3.
Between A Rock And A Hard Place, But Adapting
Unfortunately, while Nvidia's graphics division is highly profitable (and there's very nice profitable growth in the "Tesla" cards thanks to the HPC explosion), it isn't the top-line growth business that mobile apps processors seem to be. Conversely, the Tegra business seems to have been great for the top line, but eats away quite a bit from the bottom line as the effects of economies of scale have yet to kick in. It wouldn't be wise for Nvidia to give up Tegra as I believe that it can become profitable, but the company must prioritize execution and time-to-market over trying to win benchmarks.
Nvidia's Tegra strategy in the past almost seemed as though it was busy trying to out-gun Intel's PC processors by stuffing in a bunch of ARM cores and running multithreaded benchmarks, when the focus should have really been on providing a fast, relaible, and timely solution that plays to the company's strengths. There is no need to stick four power-guzzling processor cores onto a mobile chip - Apple's (NASDAQ:AAPL) iPad and iPhone do just fine with two less powerful ones combined with a monster graphics chip. Ironically, while Nvidia's core business is 3D graphics, the Tegra 3 was notorious for having a weak GPU compared to solutions from the likes of Qualcomm (NASDAQ:QCOM), Imagination Technologies, and ARM's own Mali.
That being said, Nvidia appears to have learned from its mistakes, and I'm much happier that the company is working to leverage its graphics prowess in these mobile chips going forward. The roadmap going forward is promising: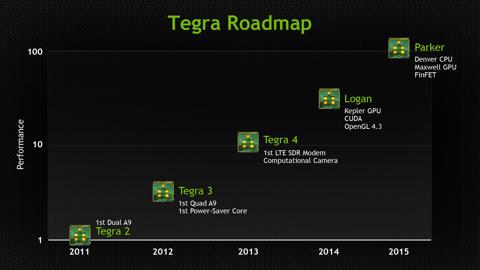 In the 2014 part, "Logan", we start to see what Nvidia can really do on the graphics side of things in low power environments. I would very much like to see Nvidia take a decisive lead in mobile graphics as it severely undermines Nvidia's legacy as a standalone graphics company if its products are uncompetitive in its core competency. I am, however, concerned about Nvidia's claims that they will go from "Logan" to "Parker" and have a dramatic shift in both CPU cores (Nvidia's first home-grown one, too) as well as GPU cores, all coupled with a claim that the company will move to a FinFET-based process (likely TSMC (NYSE:TSM) 16nm) by 2015. This seems overly aggressive, and I believe that there is an inordinate amount of risk embedded in promising this particular part for 2015.
Interestingly enough, I would have preferred to see Nvidia's roadmap for its integrated SoCs; this is where the volume is likely to be, since phones are refreshed at a much greater clip than tablets are, and the sheer unit volume there is much larger.
Shares Cheap, But Need Catalyst
The shares are still very cheap (4.8x EV/EBITDA), but fundamentally Nvidia needs to demonstrate consistent top and bottom line growth going forward. It will be tough to gain further market share in the discrete graphics arena, particularly as rival AMD seems to be pushing aggressively to gain mind- and market-share with gamers and developers alike. The lack of a game console win on Nvidia's part is also likely to be viewed negatively.
Essentially, I see the following fundamental drivers as key to meaningful share price appreciation:
Meaningful Y/Y increase in Tegra revenues exiting 2013, with operating loss narrowed significantly
No significant market share erosion in the discrete GPU segments
Continued growth in the HPC space
Solid rebound in Quadro sales
Meaningful contribution from GeForce GRID
A dividend increase could raise the floor on the stock
I do not believe Nvidia has any particular execution problems in the GPU-related segments of its business, but the Street remains unconvinced that the firm's mobile processor strategy is working. Should Nvidia's execution prove that there is indeed reason to be optimistic on this front, then both sentiment and forward estimates will see positive momentum. Until then, Nvidia remains a range-bound stock.
Disclosure: I am long NVDA, INTC. I wrote this article myself, and it expresses my own opinions. I am not receiving compensation for it (other than from Seeking Alpha). I have no business relationship with any company whose stock is mentioned in this article.