Ack! What an ugly day the 4/3 trading session was for tech stocks, and in particular, semiconductor stocks. The Philadelphia Semiconductor Index (NASDAQ:SOXX) was down 2.02%, led down by semiconductor staple Intel (NASDAQ:INTC), which saw a haircut of 1.89% during the session. On these kinds of days, I start to become a little greedy when everyone's freaking out. The real opportunity to play a potential rebound in a sector that just got the whack is to find the more volatile small/mid cap names that are fundamentally solid, have a pretty good story behind them, but got crushed because they're more volatile than their peers.
When trying to score a bargain, I typically look at the following critera:
Strong Balance Sheet: I can't stress enough how important a strong balance sheet is - if you're looking at a company with a mountain of debt, toxic interest rates, and negative cash flow, then the odds are this isn't a bargain just because it dropped 5% - it's a crappy company that is now feeling the full brunt of a market correction.
Intact Growth Story: Income plays aren't all that volatile because investors here are buying for yield rather than share price appreciation. When looking to invest in a smaller, growth oriented company, make sure that the growth story looks to be intact going forward. Sometimes companies with gigantic historical growth rates may not have such a rosy picture going forward. Make sure a growth thesis is supported by secular trends and that company specific problems don't plague the company's opportunity to ride that wave
Good Management: I always listen to conference calls first, and I only utilize transcripts for when I need to go back for a particular quote or detail. Get to "know" management and its history, know what claims they've made in the past and how often they've delivered on said claims. Is management trustworthy, or do they have a tendency to exaggerate?
In this article, I would like to highlight a couple of volatile tech names that I either bought - or am considering - on this drop. Of course, please use this as merely a starting point for your own research and do your own due diligence before committing any capital to any investment/trade. With that out of the way, let's get going!
1. LSI Corporation (NASDAQ:LSI-OLD)
LSI has had an interesting ride over the last year or so. After peaking in March 2012 at a hair under $9/share, the stock pulled back significantly, hitting its 52-week low of $5.59 before making another run for $8. The stock, once again, receded. Over the last several days, the stock has actually gotten creamed, dropping 8% from the $6.80 level to the most recent close of $6.17: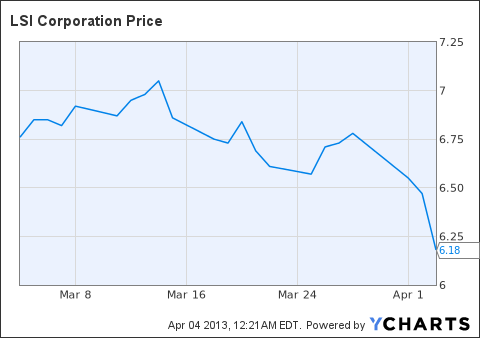 Now, let's start with the bad news surrounding the name: it appears to be losing hard disk controller share to competitor Marvell (NASDAQ:MRVL). While hard disks are generally regarded as a particularly low growth industry, market share loss in key business units (HDD SoCs and pre-amps are worth ~41% of 2012 revenues and SAM is projected to grow at a 3% CAGR through 2015) is very clearly a headwind for the share price. However, taking the longer-term view, LSI's higher growth businesses, flash, server & storage, and networking, should see SAM CAGRs of 31%, 8% and 12%, respectively: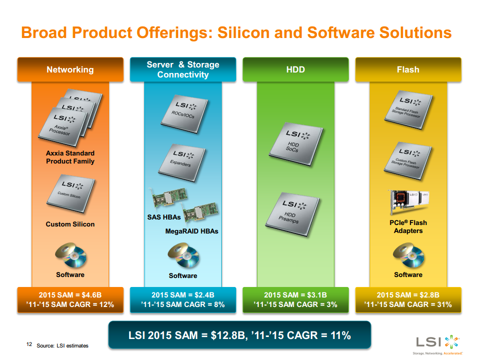 Since 2010, sales, gross margins, and ultimately operating margins have headed in the right direction: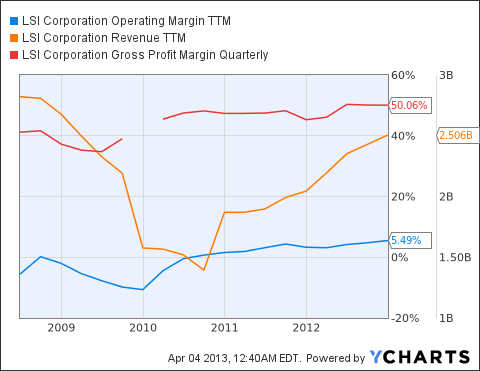 LSI Operating Margin TTM data by YCharts
With a pristine balance sheet ($1.23/share in net cash, no debt), and a solid growth story behind it, I am happy to scale into a position here - but I'll keep some power dry in case the upcoming earnings report disappoints.
2. Altera (NASDAQ:ALTR)
I've been waiting for a good entry point on this name for a while. After the most recent quarter in which the firm reported 4% y/y drop in sales, I was somewhat shocked that the stock recovered quite quickly from its post-earnings nose-dive. That being said, the primary weakness that FPGA names such as Altera and Xilinx (NASDAQ:XLNX) have seen (and which the smaller companies such as Lattice (NASDAQ:LSCC) showed vulnerability to much earlier on) has been in sales of older products (built on 65nm and larger nodes). Currently, Altera is the leader in 40nm FPGAs and expects that its strength in this area to continue throughout 2013. In the 28nm space, Altera plays second fiddle to Xilinx.
Interestingly, though, Altera recently inked a deal with Intel to build its next generation FPGAs on the chip giant's 14nm process technology. The implications of this cannot be overstated, as in this duopoly setup in which both vendors are racing to market with products built on the same node, Altera's deal for Intel's 14nm technology gives it an edge on Xilinx. While Taiwan Semiconductor (NYSE:TSM) will not be shipping its first 20nm parts until 2014, Intel's 14nm process will be ready for high volume production in Q4 2013, with shipments in 1H 2014. Simply put, Altera will have better transistors, will be able to put more transistors in a given area, and ultimately will be able to command a premium for its 14nm parts.
As the shares now trade at a nice discount to their 52-week highs, and are actually only a couple of dollars away from their 52-week lows, now may be a good time to start accumulating shares. The company's balance sheet is solid with $2.5B in net cash on the books, and with the company's strong position in its core markets, I couldn't help but pick up a starter position in the name.
Disclosure: I am long ALTR, LSI-OLD, INTC. I wrote this article myself, and it expresses my own opinions. I am not receiving compensation for it (other than from Seeking Alpha). I have no business relationship with any company whose stock is mentioned in this article.