When it comes to Facebook (NASDAQ:FB), few (if any) of the investment theses I've read bother to take into account what we know about social behavior. Compared to companies like Exxon and Procter & Gamble, social networks spring up overnight and unravel twice as fast. The metrics most analysts focus on, such as CTR, Monthly Active Users (MAU), Daily Active Users (DAU) are lagging indicators that can leave you holding the check if users make a run for the door.
In this article, we'll take a look at the key social dynamics responsible for both the rapid rise of social networks like Facebook, as well as the swift collapse that often follows.
Hooked
Every social network you've ever heard of owes its existence to a phenomena known as "network effect". Network effect supplies the "overnight" in overnight success. In fact, network effect is responsible for the rapid transmission of virtually every successful mainstream idea from indoor plumbing to Beatlemania. It's the social equivalent of compound interest.
The phone network diagram below illustrates Network Effect in action: The more phones you add to the network, the more useful the it is, and the more useful it is, the more likely it is to attract new users.
Figure 1: Diagram showing the network effect in a few simple phone networks. Lines represent potential calls between phones.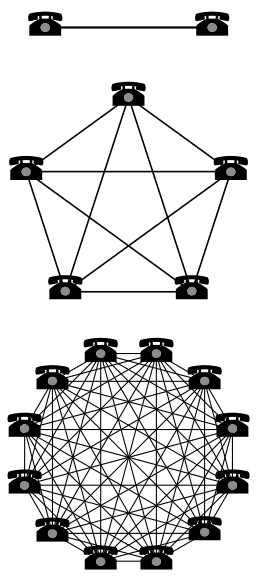 Once the number of telephones rises above 5, the network begins to add "nodes" (users) at a rapid pace. The more people you can call, the more phone calls you tend to make.
| | | | | | |
| --- | --- | --- | --- | --- | --- |
| Phones | Potential 2-Party Connections | Potential 3-Party Connections | Potential 4-Party Connections | Potential 5-Party Connections | Potential 6-Party Connections |
| 2 | 1 | - | - | - | - |
| 3 | 3 | 1 | - | - | - |
| 4 | 6 | 4 | 1 | - | - |
| 5 | 10 | 10 | 5 | 1 | - |
| 6 | 15 | 20 | 15 | 6 | 1 |
| 7 | 21 | 35 | 35 | 21 | 7 |
| 8 | 28 | 56 | 70 | 56 | 28 |
| 9 | 36 | 84 | 126 | 126 | 84 |
| 10 | 45 | 120 | 210 | 252 | 210 |
| 11 | 55 | 165 | 330 | 462 | 462 |
| 12 | 66 | 220 | 495 | 792 | 924 |
Given enough time, successful networks tend to go viral, or parabolic. Fame has arrived.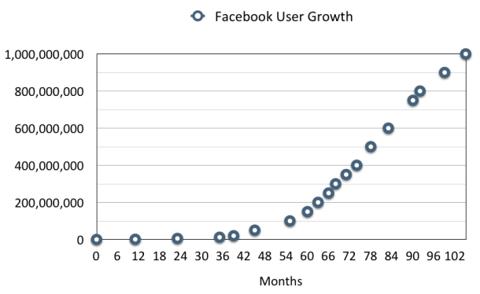 In short, the natural life cycle of a successful social network is a transition from Innovation (Bell's telephone) to Institution (AT&T).
Inverse Network Effect
Alas, network effect has an ugly sister known as "inverse network effect." Inverse network effect describes the process which previously established networks can quickly unravel. Everyone uses the telegraph, until no one does. Everyone watches Barney & Friends, until no one does. The decline of brands like Myspace, AOL (NYSE:AOL), Geocities and Bebo is often explained in terms of lagging indicators such as changing tastes and technological disruption, but inverse network effect is what causes investors to walk into a buzz saw with their eyes (and their wallets) open.
Figure 2 below illustrates how this process. Each dot is a network "node", i.e. an individual user. Once the number of contacts ("friends") drops below 3, the network begins to shed nodes (users) at a rapid pace, as maintaining a presence on the network leads to diminishing returns.
Figure 2: How Networks Break (k-core decomposition)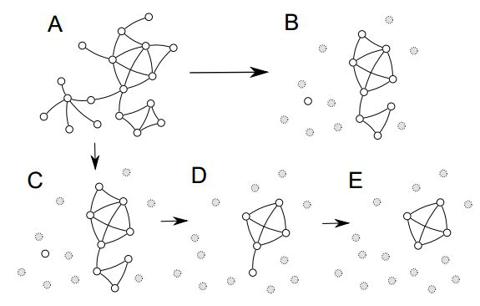 (Source: Social Resilience in Online Communities: The Autopsy of Friendster, Garcia, Mavrodiev & Schweitzer, 2013) [PDF]
And what went up comes right back down the same way..Only faster.
Figure 3: Friendster [Inverse Network Effect]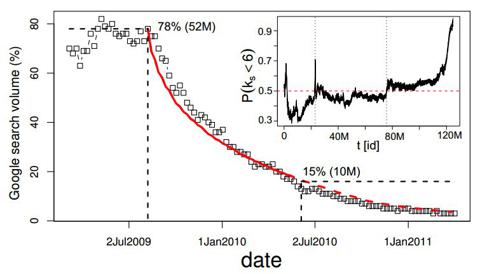 (Source: The Autopsy of Friendster)
Generally speaking, the more interconnections a network has within a "free" model (i.e. Facebook), the less likely the network is to collapse. This is one of the reasons that Facebook survived, while legacy networks like Friendster failed. If this metric were our only guide, then the only outstanding challenge would be for Facebook to keep up with the pace of technological innovation.
But looks can be deceiving.
Most Facebook user's "friends" aren't really their friends. Social Desirability Bias - the tendency of respondents to answer questions in a manner that will be viewed favorably by others - dictates that most users dislike turning down Friend Requests, "friends" are only friends inasmuch as users actually talk to them. In theory, people like diversity; in practice, "pseudo-friends" are often perceived as noise pollution.
Positive user experiences depend on the ratio of friends to acquaintances.
Let's assume that the following symbols represent the relative composition of a typical Facebook "Friends" list at any given time. Envelopes -

represent real friends, while sunglasses

represent casual acquaintances.
Most people (all else being equal) would find this social arrangement -

- to be enjoyable. (It reminds me of 4th grade.) You may not know everyone, but that's okay, because there are still plenty of genuine friends that can function as "home base".
Now let's look at a different ratio. Let's call this representative social mix "college":

Social Exchange Theory
According to Garcia, Mavrodiev and Schweitzer's conclusions (see Figure 2 above) in Social Resilience in Online Communities, the network would still avoid collapse, as the number of genuine connections (real friends) is still > 3.
Nevertheless , it's reasonable to assume that the social network would suffer anyway if all five friends weren't online at more or less the same time. When relationships are first initiated, there usually exists a grace period, during which we ignore the balance of what we put into a relationship vs. what we get out of it. Only later in the relationship do we calculate the cost. The study of this process is known as Social Exchange Theory.
For example, let's say that the people you want to talk to are outlined in green, while the friends that you don't want to talk to, but who want to talk to you, are outlined in red. All else being equal, this arrangement --

--tends to result in a more irritating experience than our "College" example would suggest.
When there are more friends communicating than you have either the time or inclination to communicate with, what started as a social experience quickly evaporates into a broadcasting experience. No one else has time to communicate on a personal level with anyone else either.
Figure 4: % Of Users For Whom Facebook Has Increased In Importance Over The Last 12 Months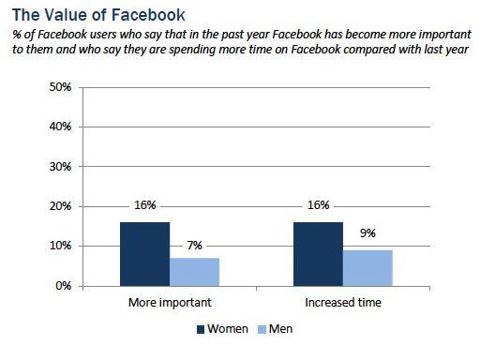 Friends/Family Can Be Oppressive, Too. There are two impulses that dictate your feelings about the people you spend the most time with: The "mere-exposure effect" (propinquity), or "the you more you see, the more you like." This quality is tempered by "the honeymoon effect"; a.k.a. "familiarity breeds contempt."
The Honeymoon Effect is why company starts smelling like fish after three days, and the probability of a premarital cohabitation breaking up within 5 years is 49%.
Facebook's moat is not its massive user base, many of whom would merrily switch social networks like neckties if the opportunity presented itself; it's the effective centralization of the user's personal life. However, the value of your existing friends and acquaintances is not a static variable.
On a long enough timeline, the survival rate of all interpersonal relationships falls to zero. Friends grow apart, extended family members drop off the radar, one group of professional contacts is traded for another. This sort of social housecleaning is not only inevitable, but vital, as it re-enforces the social network's intrinsic value proposition. Without social capital to burn, Facebook is just a gossip broadcaster with a diminishing returns problem.
Spread Out
If the relatively short history of the Web has taught us anything, it's that such advantages are not durable. Millions of users built AOL profiles. Yahoo (NASDAQ:YHOO) used to be the Web. No matter what your initial advantage, your moat will eventually be undermined. In the sense that has already happened to Facebook (Instagram, Pinterest, Twitter, Tumbler) Zuckerberg's decisions to date have been remarkably consistent: Go on offense.
If Millennials are abandoning Facebook for Instagram, buy Instagram. If users don't feel the need to compulsively share what they're reading, become a third-party authentication service. If Google is the only online destination that's more popular than Facebook, build a search engine. The more ubiquitous the network becomes, the more people must use it.
Conclusion
Most analysts assume that Facebook's model for growth involves a vertically integrated strategy, i.e., that "All roads lead to Facebook." On the contrary, Facebook's long term objective is to own all the roads. If you can't run from Facebook without running to a Facebook subsidiary, you'll be spending the bulk of your time "on Facebook" whether you want to or not. Think "AT&T" (NYSE:T) without the regulations, infrastructure expense or pension obligations.
Viewed from this perspective, the unveiling of Facebook Home is certainly a step in the right direction. Nevertheless, the success or failure of the company's "Home" initiative remains to be seen. Many event-driven traders will be heading for the exit signs tomorrow morning regardless of the outcome, and the next expiration date in the Facebook option chain is April 5th, at which point many shares will either be assigned, bought back, or sold. Investors would be therefore be best served by waiting until the dust clears to initiate a position.
Disclosure: I have no positions in any stocks mentioned, and no plans to initiate any positions within the next 72 hours. I wrote this article myself, and it expresses my own opinions. I am not receiving compensation for it (other than from Seeking Alpha). I have no business relationship with any company whose stock is mentioned in this article.