The big news last night was that Japan is going to continue to ease and apparently has some Fed envy. Ben Bernanke must be a rock star in the central banker world, because it appears that Japan is prepared to begin to purchase bonds and go on a binge much like the US Fed has. The US$ is stronger, which adds credibility to our comment about the gold trade yesterday, and this could add further inflationary pressure. Buying on the weakness in Japan was also a good move by those who followed that line last week and it is something we would continue to do as the Japanese central bankers appear to be implementing a 'put' much like our Fed has here in the US.
Chart of the Day:
We saw an interesting chart yesterday and unfortunately were not able to find a copy on the web, so we went ahead and generated one via Yahoo Finance this morning. The question is just how important is Korea and what are the ramifications of any North Korean hostilities? Well the answer may be surprising, because it is probably more important than you think. Take a look at the following chart and notice just how correlated the US tech sector is to the South Korean market.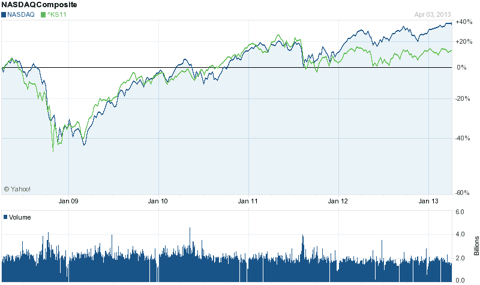 Chart courtesy of Yahoo Finance.
We have economic news due out today, and it is as follows:
Challenger Job Cuts (7:30 a.m. ET): N/A
Initial Claims (8:30 a.m. ET): 345k
Continuing Claims (8:30 a.m. ET): 3045k
Natural Gas Inventories (10:30 a.m. ET): N/A
Asian markets finished mixed today:
All Ordinaries -- down 0.95%
Shanghai Composite -- down 0.11%
Nikkei 225 -- up 2.20%
NZSE 50 -- up 0.39%
Seoul Composite -- down 1.20%
In Europe markets are lower this morning:
CAC 40 -- up 1.05%
DAX -- up 0.51%
FTSE 100 -- up 0.04%
OSE -- down 0.42%
Technology
Shares in Zynga (NASDAQ:ZNGA) received another pop yesterday as investors cheered the launch of two real money gambling games in the U.K., which many believe could be a precursor to any move to the US if certain laws are changed. Volume was about 3x the three month average with 97.6 million shares traded and investors bid shares up $0.46 (14.98%) in a pretty ugly market to close at $3.53/share on the session. Readers know where we stand on this one, so we do not feel the need to delve into the details once again, simply put we want to see the margins when they report earnings and let the results speak for themselves.
One name, which we have not discussed a whole lot lately is Sirius XM (NASDAQ:SIRI), which has not really afforded us any trading opportunities since rising above the $3/share level. It has caught our attention however that over the past few weeks the shares have been stuck in the current range and appear to be building a base, something that we have looked for in the past and had success with short-term trading. Our long-time readers will remember a time last year where we were literally in-and-out of the stock numerous times making money on the vast majority of the trades and some of those we call losers here were simply opportunity cost losses. When we see situations which have led to success in the past we take note for the future, and right now readers should do that with Sirius XM because it might be setting up for a move from these levels.
It is not the best chart, however it does illustrate our point that we have essentially been range-bound since the start of the new year...are shares getting ready for a move?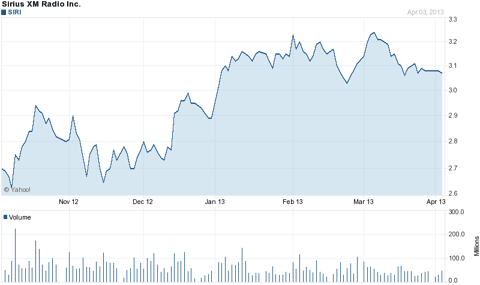 Chart courtesy of Yahoo Finance.
Refiners
The refiners have had a horrible past few days, and yesterday saw more bloodshed as investors continued their exit from the trade. We knew that there was fast money in the sector, but the amount of it has actually surprised us. In the past these stocks had long-term investors in them, but with the recent spin-offs and dramatic rises in share price due to margin improvements the demographics of those holding shares has most certainly changed. Simply put, on the spin-offs like Phillips 66 (NYSE:PSX) there were very few invested in the former combined entity and other integrateds for their refining capacity/operations, so this is free money to those shareholders and many are now booking profits. Yesterday the stock traded about 14 million shares while falling $4.38 (6.55%) to close at $62.46/share, which is a big fall from its recent 52-week high set within the past few trading sessions. With certain levels having been breached over the past few days, we find ourselves neutral with a bearish bias this morning (which for our contrarian readers might very well be bullish!). We like the story in the medium term as the pipelines are constructed in the US, but with the EPA and other bottlenecks forming it is getting a bit worrisome from a regulatory/oversight standpoint, but in this industry what is new?
The Losers
Tom Petty had a song we used to love where he sang, "...even the losers get lucky sometimes." Truer words have never been spoken, and as it goes for people so too does it apply to the stock market. Although we believe it better to be lucky than good, these next two really have faked out investors.
First up is Monster Worldwide (NYSE:MWW), which has been on the block, off the block numerous times over the past few years with rumored mergers, possible sales, possible breakups, and a myriad of other financing games to try to create shareholder value. It has all failed, and even though there have been blips in the stock price, after yesterday's session the shares found themselves at new 52-week lows...hardly rewarding those investors who have bought into management's promises over the past few quarters.
SunPower (NASDAQ:SPWR) has begun their retracement just like we thought that they would. The stock defied gravity when Warren Buffet bought into solar, via one of his companies of course and not directly, and created a feeding frenzy here. Shares rose above the $13/share level and blew many market commentators, us as well, away. There are two trends in solar, the first being that the panels get more efficient each year and the second being that the companies always disappoint their investors. Now that the story is getting old, look for further pullbacks to "normalized" levels.
Breaking below $10 now, support appears to be at the $8/share level. How long it takes to get there and how long that support lasts will be important to watch.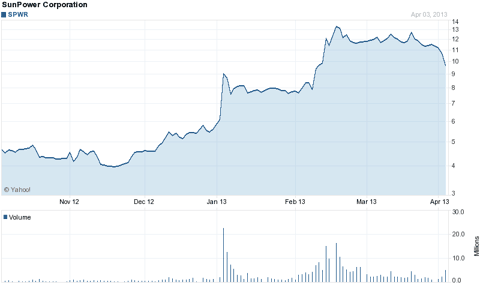 Chart courtesy of Yahoo Finance.
Both of these stocks we would still stay away from. That has been our thought all along (although with SunPower we did say if you have to own solar, you might as well own them) and what we will stick with. Bad management teams and bad industries are very hard to overcome, and usually not shareholder friendly.
Disclosure: I have no positions in any stocks mentioned, and no plans to initiate any positions within the next 72 hours. I wrote this article myself, and it expresses my own opinions. I am not receiving compensation for it (other than from Seeking Alpha). I have no business relationship with any company whose stock is mentioned in this article.