As the demographics of the developed world have changed along with market growth trends, blockbuster drugs have stopped being the mainstay of the biotech industry. According to a Deloitte report (see page 3) on the 2013 global life sciences outlook, this shift is seeing increased emphasis on more narrowed pursuits, particularly in targeted treatments for smaller patient populations. Simply stated, a dramatic shift is taking place in the type of products being produced and marketed - billion-dollar blockbusters are being replaced by targeted treatments.
In addition to this quiet revolution away from blockbusters, the year 2013 in particular will be crucial for many pharmaceutical giants - especially U.S. and European companies - when they are expected to lose up to $29 billion to patent expiry. Rising cost pressures have resulted in an increase in generic drug usage worldwide - generics cost 30 to 80 percent less than their branded equivalents. Generic drug makers are expected to be the primary beneficiaries of the looming patent cliff. Patent expirations are projected to save consumers in developed markets, primarily in the U.S., $127 billion in the next five years. This will be offset by $21 billion of expected generic spending, resulting in a $106 billion "patent dividend" in 2016. In the U.S., $103 billion, or 44 percent of 2011 brand spending, will shift to generics at dramatically lower prices.
Patent cliff: big companies, big reorganizations
One of the most successful generic companies, Teva (TEVA), anticipating the patent cliff, has engaged in large scale acquisitions over the last several years. In 2008, Teva bought Barr Pharmaceuticals, a rival generic drug maker, for $7.46 billion in order to expand in both the United States and Europe. In 2010, the company bought the German generic drug company, Ratiopharm, for $4.9 billion. The acquisition enabled Teva to expand further in Europe. In 2011, Teva struck again and bought Taiyo Pharmaceutical for $934 million. Taiyo is the third largest generics manufacturer in Japan. These acquisitions helped to bring net revenues for the third quarter of 2012 to $5.0 billion, compared to $4.3 billion in the third quarter of 2011, an increase of 14%. The company earned $1.28 per share, compared with $1.25 a year earlier. Revenue has increased 14% since then to $5 billion.
Impeding loss of patent protection for the Neupogen franchise in December (which already faces stiff competition from the companies like Novartis (NVS)) as well as expiration of patents for Epogen this year and Aranesp in 2014 have forced Amgen (AMGN) to expand to biologics products made by other companies. In this field it capitalizes on the high hurdle for generic competition in the biological space. The products Amgen is pursuing include biosimilar versions of Avastin, Herceptin, and Rituxan made by Genetech (DNA) and Roche (OTCQX:RHHBY). The FDA defines Biosimilars as products similar to existing approved biologic treatments with no significant difference in terms of safety, purity, and potency, the advantage being a much easier and shorter regulatory pathway. In addition, the company has broadened its global footprint by acquiring pharmaceutical manufacturing and distribution companies in developing countries, e.g. Icelandic company Decode Genetics for $415M. As a result, Amgen stock grew over 25 percent in the past 12 months to $106 and has a dividend yield of 2.17 percent. The company is likely to increase its dividend in the future, thus offering good income returns to investors, though capital growth at these levels is less certain.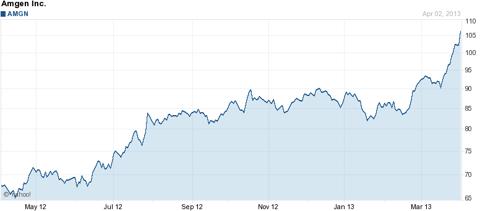 Niche over blockbuster; one success and another to watch closely
The niche approach has worked for some companies shying away from the blockbuster approach. Many biotechnology companies choose to focus on those specific niches of the market that they deem to be the most lucrative. Gilead Sciences (GILD) has been making a tremendous push into the Hepatitis C market as well as other liver deceases. Its stock gained 100% to $45 over the last 12 months. It has high operating margins of 41.3% and a net margin of 26.7% vs. the industry averages of 25.9% and 13.7% and ROE of 32.3 vs. the industry average of 13.5. In addition Gilead has a very low beta of 0.47.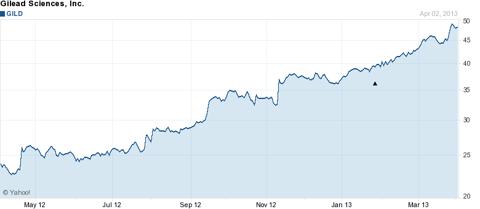 Amarantus BioScience (AMBS.OB) is one of those microcap stocks that is trying to carve a specialized niche for itself and is highly volatile. Its main product in development is MANF, a highly potent, neurotrophic factor currently in pre-clinical development for the treatment of several apoptosis-related disorders. On one side the company has great potential: the market size for Parkinson's disease alone is estimated to be $5 billion a year, so this niche could in fact turn out to be blockbuster in itself. On the other hand there can be pitfalls as was demonstrated when Phytopharm, a UK company, failed in its attempt to develop a successful treatment for Parkinson's. Phytopharm's strategy for Parkinson's was a small molecule used to reinvigorate the dead cells and raise dopamine levels. The other two methods to cure Parkinson's are gene and protein therapy. Amarantus owns rights for both. A gene therapy for Parkinson's is currently in development by Ceregene, a private company, and results from the company's Phase 2b study for Parkinson's are expected in early 2013. Ceregene's success in this trial could thereby positively impact AMBS in the near term, notwithstanding the fact that MANF is only in preclinical trials and approval is quite a long way off.
MANF could be effectively priced at launch at $20,000 per course of treatment since research shows that the annual direct and indirect cost to care for a Parkinson's decease patient is around $20,000 per year. Application of MANF to cardiac ischemia justify upwards of $10,000 per treatment. In addition MANF could end up being used for treatment of ischemic stroke and traumatic brain injury. If probability of success is 1.5% then the company is worth $42 million in comparison with current market capitalization of $13.5 million.
Disclosure: I have no positions in any stocks mentioned, and no plans to initiate any positions within the next 72 hours. I wrote this article myself, and it expresses my own opinions. I am not receiving compensation for it. I have no business relationship with any company whose stock is mentioned in this article.