Look for a bounce today as Japan has indicated that we are to expect easy money to be coming from the island via potential bond market buys and other means. The US$ is higher and Yen lower, but this adds further pressure to commodities as it now appears that 'King Dollar' is back. Great for the American consumer, but bad for our investments in the commodity sector, at least until inflationary pressures begin to arise.
Commodity prices this morning are as follows:
Gold: $1544.90/ounce, down by $9.40/ounce
Silver: $26.715/ounce, down by $0.082/ounce
Oil: $94.52/barrel, up by $0.07/barrel
RBOB Gas: $2.8936/gallon, down by $0.0204/gallon
Natural Gas: $3.907/MMbtu, up by $0.007/MMbtu
Chart of the Day:
Down, down, down? It certainly is not looking good for gold in US$ terms, but if you were to look at it in Japanese Yen terms the story would be different. It seems that the 'cute' gold trade might be the only way to go if you want to be bullish...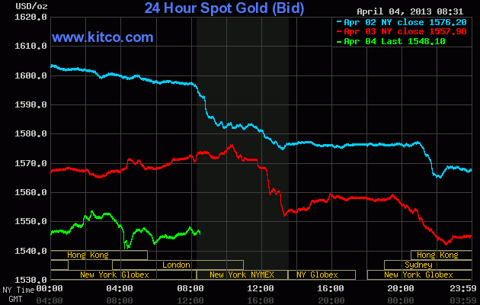 Chart courtesy of Kitco.com.
Oil & Natural Gas
We saw yesterday that Diamondback Energy (NASDAQ:FANG) had a nice pullback, which when coupled with the previous action in the shares does put it within the range where we said we would be buyers of an initial stake. So long as the share are below $25/share this morning, we expect to be owners of the stock...if not, we blame Japan. Remember, our goal is to set up an initial position around this level and then hope to possibly add shares on another pullback, but we really want the exposure directly (remember we already have it indirectly via Gulfport Energy) as we like the property portfolio. So 25-50% of your wanted position, depending on how much you are going to invest total, should be bought around these levels.
Big volume yesterday on the move lower. We are buyers here so long as the shares are below $25/share this morning.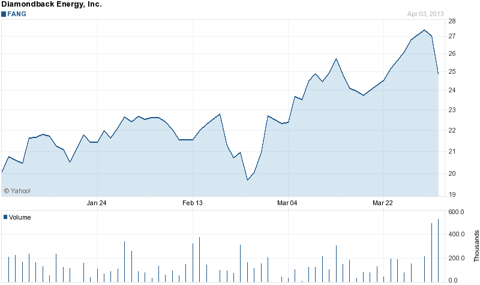 Chart courtesy of Yahoo Finance.
In down markets we like to look for strength, because that strength is usually real strength unless of course it is simply due to a dead cat bounce (see the coal names from yesterday). We saw Magnum Hunter Resources (MHR) rising and then saw that it was due to an announced sale of their Eagle Ford Shale assets to Penn Virginia for $401 million. We were wondering what the company would do with these assets after the successful drilling results and this answered our question. Now the company has the flexibility to go prove up their other assets and create further value for shareholders via the drill bit. It was a nice asset that they sold, however we do believe that some of their other properties hold significant upside, especially when one looks around at some of the other players in those areas and sees what they have been able to do.
Precious Metals
We were lucky here...it appears that the support has broken...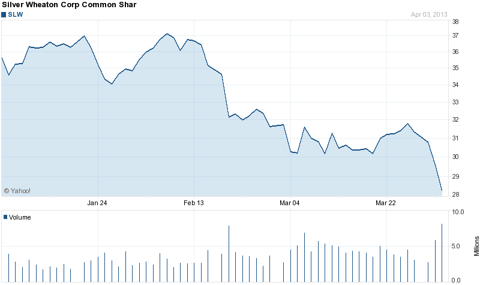 Chart courtesy of Yahoo Finance.
Having not pulled the trigger on Silver Wheaton (NYSE:SLW) has been a smart move, but it probably has less to do with our intelligence and more to do with the fact that we have been spending time looking for alternatives with either a better yield or better capital gains potential (without a whole lot of added risk). Regardless, the shares are down to $28.35/share after falling $1.25 (4.22%) during yesterday's session and we now see the shares coming into line with peers, although we still expect them to trade at a premium. Now that the shares are seeing their premium deflate, it does change our comparative tables but we are continuing to evaluate these other opportunities that have come to our attention.
Refiners
Valero (NYSE:VLO) shareholders saw shares fall below the $42/share level and finish the day at $40.60/share after falling $1.81 (4.27%) on volume of 20.7 million shares. Our other article this morning discusses a bit of the demographics of the shareholders and how that is possibly playing a part in this pullback but the bottom line is that these names had a great run and shareholders discounted the possibility of bad news ahead. The EPA is a formidable foe and so too are corn and grain prices. Watch for a move below $40/share and if so that could very well signal trouble ahead.
Trades
The Kodiak Oil & Gas (NYSE:KOG) trade has worked out for the bears this time, and yesterday we noticed that the high of the day for the shares was $8.79/share, a penny under the level which we used to use for support on the downside and resistance on the upside. And resistance is exactly what yesterday's high sure looks like to us. With the shares closing at $8.41/share and volume having reached 9.2 million it does look like that last move higher is over and now we shall see if the $8.30/share area can hold. It did yesterday, but bulls certainly do not want to see more of a breakdown because that only raises more questions than it answers.
Disclosure: I have no positions in any stocks mentioned, but may initiate a long position in FANG over the next 72 hours. I wrote this article myself, and it expresses my own opinions. I am not receiving compensation for it (other than from Seeking Alpha). I have no business relationship with any company whose stock is mentioned in this article.