This is the first of a weekly series, called The Weekly Dow, that will calculate the latest valuation metrics of the 30 companies in the Dow Jones Industrial Index (NYSEARCA:DIA). I mentioned this in my recent article on how to understand valuation metrics. Each time I update the valuation metrics or the "comp sheet" for the Dow, I will also highlight a specific topic to discuss. This week, we will highlight the top 5 dividend yields on the Dow Index.
Top 5 Dividend Plays
As of April 3, 2013, the top 5 dividend plays in the Dow are AT&T (NYSE:T) with 4.83%, Intel (NASDAQ:INTC) with 4.28%, Verizon (NYSE:VZ) with 4.20%, Merck (NYSE:MRK) with 3.79%, and Dupont (NYSE:DD) with 3.53%.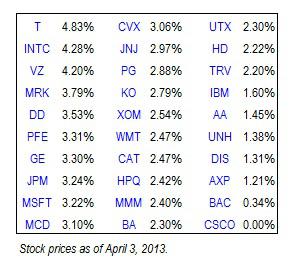 Remember, when looking at dividend yields, it is also important to look at the dividend payout ratio. The dividend payout ratio is the % of net income that is used to pay out the dividend. The lower the dividend payout ratio, the more likely the company can continue to support the dividend as well as increase the dividend, without having to also increase net income growth.
Verizon and AT&T have high dividend payout ratios of 74.9% and 71.1%, while Intel, Merck and Dupont have lower dividend payout ratios of 42.7%, 47.8% and 43.5%. The average dividend payout ratio for the Dow Index is 36.0%.
Dow Jones Valuation Multiples
As of April 3, 2013, the Dow Index average multiples are the following: 13.4x 2013E P/E, 12.0x 2014E P/E, and 2.3x 2013E P/E-to-Growth. The average dividend yield is 2.6%, with an average dividend payout ratio of 36.0%. The average P/B is 3.5x.
Hewlett-Packard (NYSE:HPQ) has the lowest 2013E P/E multiple of 6.4x. Alcoa (NYSE:AA) has the lowest P/B multiple of 0.5x.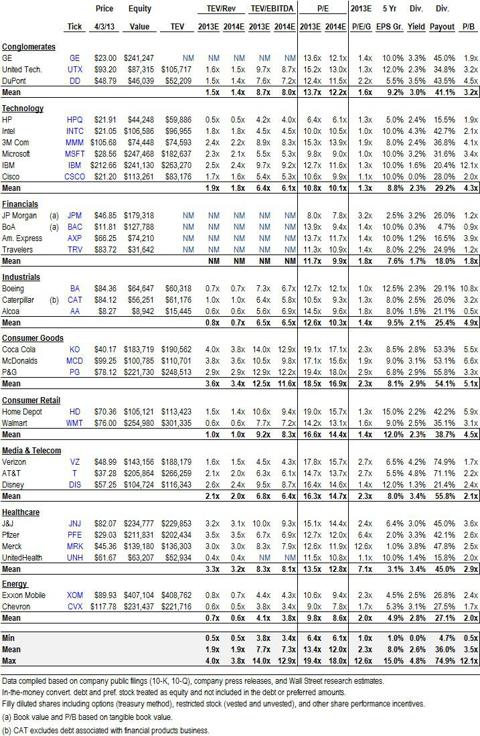 Dow Jones Operating Metrics
As of April 3, 2013, the Dow Index's average revenue growth rates are 4.2% in 2013 and 4.3% in 2014. The average EPS growth rates are 11.6% in 2013 and 12.0% in 2014. The average 2013 EBITDA margin is 24.9% and 2013 Net Income margin is 13.8%. The average 5-year EPS growth rate is 8.0%.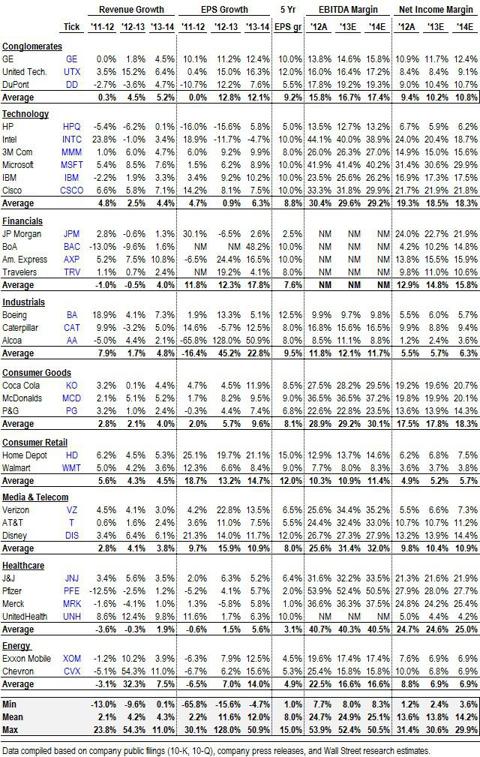 Note: The Dow Jones Industrials Index comprise of Verizon (VZ), AT&T (T), General Electric (GE), United Technologies (UTX), DuPont (DD), Exxon (XOM), Chevron (CVX), Johnson and Johnson (JNJ), Pfizer (PFE), Merck (MRK), Coca Cola (KO), McDonald's (MCD), Proctor & Gamble (PG), Hewlett-Packard (HP), IBM (IBM), Intel (INTC), Microsoft (MSFT), Cisco (NASDAQ:CSCO), 3M (NYSE:MMM), Boeing (NYSE:BA), Caterpillar (NYSE:CAT), Alcoa , Home Depot (NYSE:HD), Wal-Mart (NYSE:WMT), Disney (NYSE:DIS), UnitedHealth (NYSE:UNH), American Express (NYSE:AXP), Bank of America (NYSE:BAC), JP Morgan (NYSE:JPM) and Travelers Co. (NYSE:TRV).
Disclosure: I am long MCD. I wrote this article myself, and it expresses my own opinions. I am not receiving compensation for it (other than from Seeking Alpha). I have no business relationship with any company whose stock is mentioned in this article.