Replacing one's income remains one of the most important factors when it comes to preparing for retirement. Living off of the proceeds of one's own capital often demands a proper investment strategy and the foresight to put it to work as early as possible. Yet while saving money in a bank often entails an element of a fixed principal amount, the same can not be said about the stock market. Equity investments will inevitably fluctuate in value, as can their income components, which are found in dividend payments. This is often a risk that must be mitigated.
For this reason, owning companies that have proven their ability to steadily increase their dividends over the course of decades can often serve as a convincing indicator of their overall stability. Not only does this factor help the investor in a practical manner by protecting them against the woes of inflation, but such a trend also demonstrates that the company can perform over the course of an extended period of time. As a result, these companies themselves also tend to trade with a steady incline.
The following companies represent a diversified selection of five such names that have exhibited dividend growth over the past two decades and longer. They were chosen based on the following criteria. Each of these companies carries a market capitalization in excess of $15 billion. Each of these companies also has a reputation as a leader in its respective industry. Above all, each of these companies has exhibited a strong historical basis for dividend growth to which they can be held accountable. While I have chosen these five companies below in order to provide a well-rounded basis for any given income portfolio, it is by no means a comprehensive list. All values were taken from Yahoo! Finance as of April 3, 2013.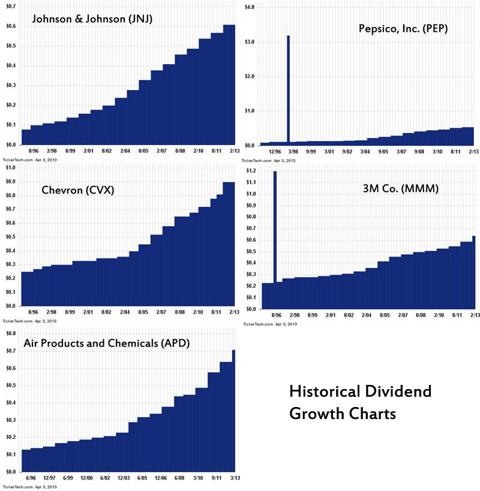 Historical Comparisons
No dividend portfolio can be constructed without the confidence of knowing that the portfolio is beating the market average. As a stock index that follows the common stock prices of 500 publicly traded American companies, the S&P 500 is often referred to as a benchmark measure of the market itself. The current average dividend yield of the S&P 500 now sits at 2.01% as of April 3, as seen in the graphic below. For investors capable of obtaining a similar yield or greater, they are able to maintain an income stream that stands a head above the market as a whole.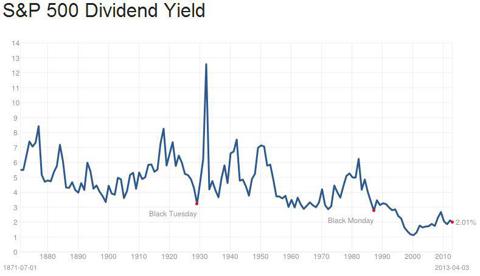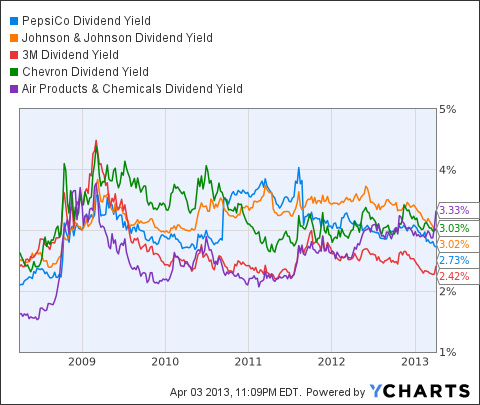 PEP Dividend Yield data by YCharts
A look at the chart above shows that over the last five years, this portfolio of companies has relatively outperformed the average dividend yield of the market. Being well aware that these dividends have also been growing consistently tells us that their respective share prices have been growing as well in order to keep the range of these yields relatively tight. As seen in the chart below, we see this to be true as investors have not only received increasing dividend payments but their initial investments have also continued to grow with time.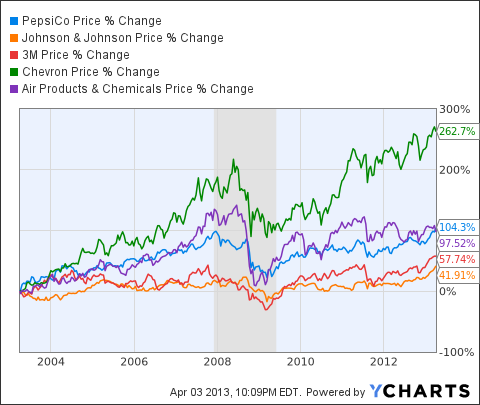 PEP data by YCharts
Following dividend growth can often be an enduring game of patience, and yet the results speak for themselves. These five established companies have continued to reward their investors historically through both increasing income and through a rising valuation. Ironically, it's through these consistently rising share prices that the real worth of these dividends often remains masked. Despite portraying a relatively tight yield range, the effective yield for a long-term investor can often be significantly higher when compared against the original purchase price. Such stability in the increasing return on investment should remain the objective of most retiring investors looking to replace their income.
Disclosure: I have no positions in any stocks mentioned, and no plans to initiate any positions within the next 72 hours. I wrote this article myself, and it expresses my own opinions. I am not receiving compensation for it (other than from Seeking Alpha). I have no business relationship with any company whose stock is mentioned in this article.