"Sell in May and go away" has been a saying in the stock market for a long time. The impetus is that the summer months have been the worst performers for the stock market. Some of the reasons for this strategy are that people don't want to worry about being invested during vacation time, and there is an absence of catalysts that occur at other times of the year (The holiday season shopping spree, school starting and the accompanying purchase of supplies, the new year budgets increasing company spending, pension funding in January, etc.). The idea is to sell in May and buy in November. I propose that this would be a bad idea for the mortgage REIT (mREIT) stocks this year for the following reasons:
Q1 earnings will come out in May and they will be better than Q4 2012. The spreads the mREITs are earning have increased in Q1. The 30-year mortgage rate has increased from 3.4 to 3.7 while short-term borrowing rates have stayed the same due to the FED's policies. Book Value may decrease as rising mortgage rates are making the Mortgage Backed Securities (MBS) these companies hold worth less. However as turnover happens on the MBS, the new purchases will have a greater spread and therefore more income. I prefer rates rising to rates falling for mREITs because the dividends increase and prepayments (CPR) decrease. Book Value decreases are only temporary.
The dividends for the majority of mREIT stocks have stayed the same in Q1 after a period of decline, indicating a decent quarter. (increases: MFA, NRF, RWT, CMO, RAS, WMC decreases: TWO (not counting SBY spinoff), ARR, CYS)
Prepayment rates on mortgages (CPR) have been decreasing of late (ARR CPR went from 17.1 in February to 11.1 in March)
The housing market is in a sputtering recovery and if that continues it will help the mREITs as increasing mortgage rates will improve the spreads. The costs of purchasing MBS should be going down as more and more mortgages come into the market. Numbers on home sales coming out this month will give more clarity to the recovery.
The Federal Reserve may start to scale back QE3. This will be good for mREITs as the FED has been buying $40billion in Mortgage Backed Securities (MBS) each month in an effort to keep the mortgage and long-term Treasury rates down. When it is scaled back the mortgage rates will increase, increasing spreads and improving the ability of mREITs to pay higher dividends. Also the price of Agency MBS will fall as more will be on the market. This will mean the mREITs will pay less of a premium for them. There is also a downside to QE3 ending. It would mean the value of the MBS mREITs already own will go down, impacting book value negatively. The ending of QE3 may scare investors that short-term lending rates will go up earlier than projected by the FED (let's hope the FED makes it clear that wont happen). It took a few days after the QE3 announcement on 13 September 2012 for the market to process how it affected mREITs and I predict it will be the same when it ends. The markets thought it was good news for mREITs for two days and stock prices went up, then fears of prepayments increasing and lowering spreads caused a significant downturn. I suspect when QE3 is officially announced to be scaling back, it will cause an initial drop in share price along with the rest of the market, then a rise will occur as investors realize that it will be good for mREITs. A gradual scaling back of QE3 with short-term borrowing staying low seems to be the most stable outcome we can hope for and I believe Mr. Bernanke will choose that option.
History of mREITs and Sell in May strategy
Below is a chart showing how the sell in May and buy in November worked out for the last few years in a few mREIT indexes and the largest mREITs. The buying and selling was calculated for the 15th of the respective months. Dividends either picked up or missed are part of the per share dollar and percentage increase or decrease in the chart. The sell in May and buy in November columns are calculated based on the amount of drop in share price missed (or gain in share price missed as a negative amount) minus the dividends missed.
| | | | | |
| --- | --- | --- | --- | --- |
| | May'12 sell - Nov '12 buy | Nov'11 buy - May'12 sell | May'11 sell - Nov'11 buy | Nov'10 buy -May'11 sell |
| MORT | -$.60, -2% | +$3.54, +15% | no data | no data |
| REM | -$.21, -1% | +$1.90, +15% | +$1.46, +10% | +$.97, +6% |
| NLY | +$1.21, +7% | +$1.35, +8% | +$.26, +1% | +$1.23, +7% |
| AGNC | -$.26, -1% | +$6.67, +24% | -$1.36, -5% | +$3.57, +12% |
| TWO | -$1.11, -11% | +$1.81, +19% | +$.50, +5% | +$1.32, +14% |
| ARR | -$.18, -3% | +$.51, +7% | -$.08, -1% | +$1.12, +15% |
| MFA | -$.69, -9% | +$1.36, +20% | +$.91, +11% | +$.42, +5% |
| IVR | -$2.01, -11% | +$4.05, +26% | +$5.67, +25% | +$2.2, +10% |
As you can see, staying out of the market in the summer of 2012 was only a good idea in NLY, mostly because of a large share price decrease in NLY. Holding onto the stocks in the winter was always profitable for these two years. Staying out of the market in the summer of 2011 was a good idea except in AGNC and ARR. There was a significant drop in the 10-2 year Treasury spread in 2011 before the November buying time that accounts for the drop in share price that made the 2011 summer a good time to be out of the market for mREITs.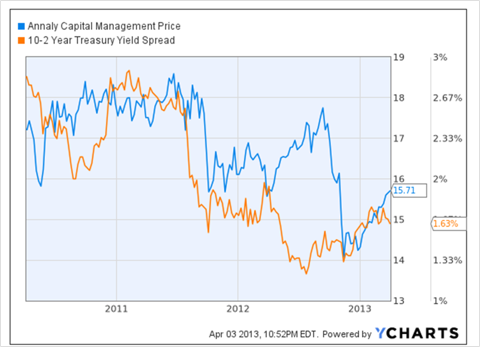 If the 2-10 year spread increases or stays the same this summer, I am comfortable being in the mREITs during that time so as to not miss out on the dividends.
I believe the best we can hope for in an overall market downturn is that it will not take mREITs too far down with it. QE3 scaling back would most likely be bad news for the overall markets for a time. As long as the company fundamentals stay solid and there isn't major shocks to BV or spreads and their linked dividends, or a major change in the MBS markets (new government mortgage program, privatization of Freddie and Fannie, housing market souring again), I think staying with mREITs despite a few overall market headwinds will be a profitable strategy. That said, I think a reasonable Good Till Canceled Stop order on your mREITs would keep you from losing your shirt should an unforeseen crisis emerge. Mortgages don't go on vacation, and if spreads stay stable, neither should your investment in these stocks.
Disclosure: I am long TWO, WMC, NCT. I wrote this article myself, and it expresses my own opinions. I am not receiving compensation for it (other than from Seeking Alpha). I have no business relationship with any company whose stock is mentioned in this article.