The severe weather season has been off to a slow start this year due to the cold weather, but it will launch in earnest next week across the central Plains and Great Lakes region. The severe weather season has been off to a slow start due to cold weather.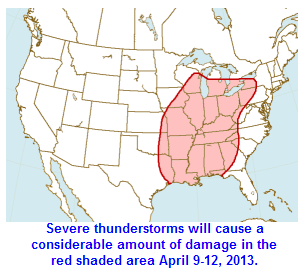 Last spring started out with quite a bit of severe weather, but the atmosphere calmed down as dry weather settled in during the summer.
This spring will likely be more active as the cold air is violently pushed north by warm, humid air, only to see the cold surge back to the south, repeating the cycle until the warm air eventually becomes anchored across the country for the summer.
That cycle of severe weather continues into early summer.
The areas likely to be hardest hit in the first wave of damaging thunderstorms April 9 and 10 will be Wisconsin, Michigan, Illinois, Indiana, Missouri and Arkansas. The second wave of severe thunderstorms will affect Louisiana, Mississippi, Kentucky, Tennessee and Alabama on April 10.
Considering the number of population centers that will be affected, insured losses from wind and hail damage may be significant.
The positive spin on bad weather is that general building supply companies such as Home Depot (NYSE:HD) and Lowes (NYSE:LOW) will see more business as contractors and do-it-yourselfers purchase insulation, roofing material, lumber and sheetrock to repair storm damage.
Building material manufactures like USG (NYSE:USG), Owens Corning (NYSE:OC) and Dow Building Solutions (NYSE:DOW) will benefit from the severe weather as homes and buildings are repaired or rebuilt.
Any businesses with ties to environmental clean-up will also benefit from this Spring's severe weather.
The threat of large outbreaks of severe thunderstorms and tornadoes will continue on a weekly basis through mid-June, which is good news for the building supply industry.
Disclosure: I have no positions in any stocks mentioned, and no plans to initiate any positions within the next 72 hours. I wrote this article myself, and it expresses my own opinions. I am not receiving compensation for it (other than from Seeking Alpha). I have no business relationship with any company whose stock is mentioned in this article.