Introduction
In an earlier article, we discussed one of the most important metrics to analyze the precious metals industry (in particular the silver industry), the actual cost of mining an ounce of silver. This can help an investor figure out whether it is time to buy SLV and/or the silver miners.
We are in the process of doing the same analysis for FY2012 gold production costs and once it has been completed we will post the 2012 consolidated true production cost calculations for gold, so investors who are interested follow me and you will receive that report.
In this analysis we will calculate the real costs of gold production for Iamgold (NYSE:IAG), a mid-tier gold producer with mines in Suriname, Burkina Faso, Mali and Quebec. In addition to gold, IAG is one of the few major producers of the industrial metal Niobium. IAG is a company with operations that are quite spread out (4 mines in 3 continents) and due to operations in Mali, a higher element of political risk, which is something investors should note but is outside the scope of this article.
Calculating the True Mining Cost of Gold - Our Methodology
In a previous article about Goldcorp's (NYSE:GG) cost of production, I gave a thorough picture of the current way mining companies report their cost of production and why it is inaccurate and significantly underestimates costs. Then we presented a more accurate methodology for investors to use to calculate the true costs of mining gold or silver. Please refer to that article for the details explaining this methodology, and I would encourage all precious metals investors to understand this important concept. It is important for investors interested in miners or those who focus on gold and silver as a commodity investment, because the true costs of production will show where a possible floor exists for a commodity (the production cost) which is important to gold (GLD investors) and is also an obvious way to differentiate miners.
Real Costs of Production for IAG - 4Q 2012 and FY2012
Now let us use this methodology to take a look at IAG's results and come up with their average cost figures. When applying our methodology for the most recent quarter and FY2012, we used a standardized equivalent ounce conversion to convert every 43 niobium kilograms to one ounce of gold (43:1 ratio). We like to be precise, but realistically minor changes in these ratios have little impact on the total average price - investors can use whatever ratios they feel most appropriately represent the by-product conversion.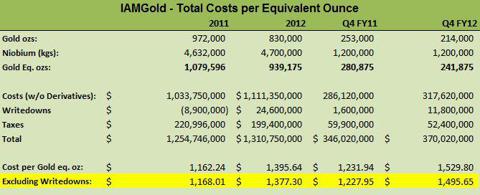 NOTE: In the table above, a positive value for write-downs signifies a negative amount written down, while a negative value signifies a GAIN on the sale of an asset.
Observations for IAG Investors
The first thing that investors should take note of is that the costs to produce an ounce of gold (after excluding write-downs on projects and investments) for IAG was $1377.30 for 2012 and $1495.65 for 4QFY12. For the yearly average of $1377, that seems to be rather high for the industry (GG had a cost of $1082, Barrick Gold (ABX) $1277, Yamana Gold (AUY) $1247, and Agnico-Eagle (AEM) $1343), and their fourth quarter true cost number ($1495) was much higher than the fourth quarters for their competitors. This is obviously something recognized by management as evidenced in their comments on fourth quarter performance and their emphasis on the new $100 million cost-cutting program. Investors should wait and see if IAG's first quarter shows signs of progress in bringing down costs.
In terms of production, IAG had a weak year with gold production dropping off on both the annual and quarterly basis. The 2011 annual numbers did include 76,000 ounces of gold from discontinued operations, but even after subtracting those ounces, FY2012 still had a significant drop in production. To be fair to IAG, the whole gold industry is having a tough time maintaining production and an even tougher time increasing gold production - but even after these excuses the numbers were poor. The one positive from the production numbers was that the fourth quarter's production of 214,000 ounces would keep the company on pace for 850,000 ounces of production in 2013 - modest growth but still growth.
Conclusion
IAG's fourth quarter and annual production and true cost numbers leave a lot to be desired for investors. Even in a struggling gold industry, IAG needs to put up better numbers than these to stay competitive with the rest of the industry. But the good news is that IAG's management recognizes this and is dedicated to at least lowering costs, which investors should monitor carefully in the future quarters.
For investors interested in gold as a commodity (GLD investors take note), IAG's report is another example of the increasing costs of production that we are seeing in the gold mining industry. Additionally, even with increasing costs miners are finding it tough to maintain production numbers - which bodes well for gold investors. Rising costs and lower supply is something that is good for those who possess the asset, but unfortunately it is a negative for the gold miners since it is leaving them with a very slim margin at current prices.
Finally, IAG is another miner with true all-in costs in the $1200 to $1300 range and there is very little room for profitability with gold in the mid-$1500's (at the time of the publishing of this article). Though gold differs from other commodities in that it is more similar to a currency and thus may not be as driven by production costs as other metals, investors should still note that if gold falls below the costs of production it may be a very good time to buy for even the most conservative of investors. It is true that the above ground supply of gold is very large and mine production only makes up a small portion of existing supply, but if mine production drops significantly then not only will market supply be lowered, but investors will also know this and start increasing their positions.
As we approach the true costs of gold production and miners continue to struggle to maintain supply, the case for gold becomes even more bullish regardless of central bank actions. Aggressive investors should be accumulating on the drops, while conservative investors should be eyeing the $1200 to $1300 range as a very strong floor for the gold price - though we do not think that gold will drop to those levels. Investors - the case for gold is bullish even without central bank intervention.
Disclosure: I am long PHYS, PSLV, GG, SGOL. I wrote this article myself, and it expresses my own opinions. I am not receiving compensation for it (other than from Seeking Alpha). I have no business relationship with any company whose stock is mentioned in this article.