One of the Seeking Alpha readers asked me in a private message if I think that Walter Energy (NYSE:WLT) can make it through this year. He pointed out that the Altman Z-Score, which is a model that seeks to help investors gauge the probability of a company going bankrupt, is very low. It is considered that companies with a score above 3.00 have a low probability of bankruptcy, while firms with a score of less than 1.81 have a high probability of bankruptcy.
Coal companies are out of favor now. While the general market is near the top, they are trading at multi-month lows. As of April, 4, Walter Energy is down 34%, Arch Coal (ACI) lost more than 30%, Peabody Energy (BTU) is down 24%, Alpha Natural Resources (ANR) lost 25%. Recent days were especially tough for Walter Energy stockholders, when the stock broke the $28 support level and dived into a three-day losing streak, touching $23.06.
Let us look at the Altman Z-Score for coal companies. As you can see, things seem more or less scary for all of them. I would like to address some components of the Altman Z-Score to show why I do not think that Altman Z-Score of around zero is a death sentence for Walter Energy.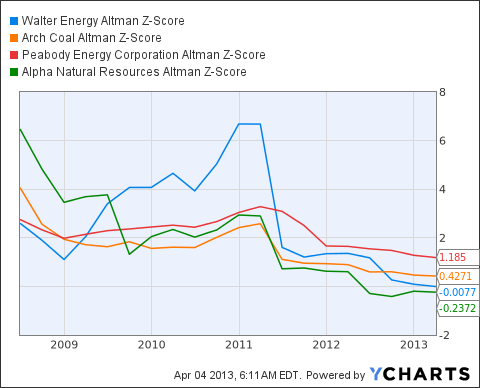 WLT Altman Z-Score data by YCharts
One of the formula components is calculated as 0.6 x (Market Value of Equity/Total Liabilities). The bigger the market value of equity and the lower total liabilities, the bigger the outcome. Deteriorating share prices are influencing the score. The fundamentals of Walter Energy are probably the same as they were a week ago, but the price has changed significantly.
The next part of the Altman formula that I want to point out is 3.3 x (EBIT/Total Assets). Walter Energy has made a $1.1 billion goodwill impairment in the third quarter, and this affects EBIT TTM results.
The goodwill impairment also affected the total assets of the company. Rising liabilities and diminishing assets is not what you would typically want to see in the company. A series of debt offerings in the fourth quarter of 2012 and in the first quarter of 2013 added to the company's total debt. What's left for shareholders? I will use a liabilities to assets ratio to illustrate this.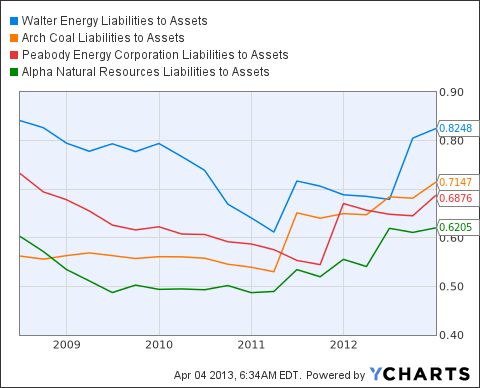 WLT Liabilities to Assets data by YCharts
As you can see, Walter Energy is a leader in this ratio as compared to other coal companies. This is not a thing to be proud of. Currently, stockholders' equity accounts for only 17.5% of total assets, while 82.5% are liabilities. The slope of the ratio curve shows a significant rise in the last year, which we do not see in other coal companies, although they have their difficulties too.
In my previous article about Walter Energy, I stated: "I believe that in the short term there is a significant risk of more downside". Do I think that such a risk continues to prevail? Yes.
Recent price action in the stock adds to the hype about it. While the whole coal industry is under significant pressure, Walter Energy could be the most punished stock. The debt the company took in 2011 to purchase Western Coal when coal prices were high is weighing on the company and its stock.
I think that when it comes to the valuation of Western Energy, one should take debt market into account as well as coal market. As coal prices are low, the ability to refinance to repay the debt its crucial. Furthermore, the price to refinancing is important too. The last debt offering came with a 8.5% yield. Would the company be able to reproduce such an offering in the future, or would they be forced to lift the yield to attract investors?
I would not recommend purchasing WLT at current price levels. The stock is out of favor and in a free fall. In my opinion, the prices should stabilize before considering any investment in the company. I would like to hear more from the management and to see the quarterly results which are due in the early May. WLT has acquired more production for debt, but now they are trying to curtail production at some mines. More on the strategy must be made clear to investors from the company officials. At the moment, I see big risks of WLT going under $20.
Disclosure: I have no positions in any stocks mentioned, and no plans to initiate any positions within the next 72 hours. I wrote this article myself, and it expresses my own opinions. I am not receiving compensation for it (other than from Seeking Alpha). I have no business relationship with any company whose stock is mentioned in this article.