Is a change of season finally at hand? I've been recommending to investors since early 2012 to overweight the leveraged equity based high yielding closed-end funds (CEFs) for maximum appreciation potential in the face of a strong market environment. Leveraged funds such as the Gabelli Healthcare & WellnessRX fund (NYSE:GRX), which I wrote about numerous times last year, is up 60.2% on a total return basis since January 1, 2012. Or how about the Cohen & Steers Infrastructure fund (NYSE:UTF), up 42% since January 1, 2012 or the Eaton Vance Tax-Advantaged Global Dividend Opportunities fund (NYSE:ETO), up 43.3% since January 1, 2012.
However, there comes a time when seasonality, as well as valuations, makes it necessary to put a finger to the wind and see if a change of season is upon us. Call it the "Sell in May and go away" season (yes, I know we are still in April) or the 2nd and 3rd calendar quarter seasons in which the markets tend to struggle more...but whatever you want to call it, here is where the option-income funds may be able to make up some lost ground on the leveraged funds which have excelled in a strong up market environment for some time now.
Now when I say "excel," I want to emphasize that I am referring to a fund's Net Asset Value (NAV) and not necessarily a fund's market price. As most investors know, a fund's NAV performance is its true performance whereas a fund's market price performance can be based more on investor emotions and market sentiment. For example, many option-income fund's market prices have actually performed very well despite an income strategy that usually underperforms in a strong up market. This is because option-income funds tend to trade at some of the most undervalued market prices so even though a fund's NAV may lag its benchmarks during a strong up market, one of the advantages of option-income funds is that their market prices can still outperform. In other words, option-income funds can be very forgiving even when their income strategy is not optimized.
This, however, cannot be said for leveraged funds in a difficult market environment. Leveraged funds tend to have much more volatile NAVs and really need to have a strong up market to excel in their income strategy. So it's important to keep in mind that although option-income funds' market prices can be forgiving in an up market, leveraged funds' market prices will not be very forgiving in a prolonged down market.
Following up on my previous article titled "Income Strategies For All Market Seasons," I want to first show you the performance tables of the option-income CEFs and the leveraged equity based CEFs over the past 15 months and then get into some specific fund ideas based on where the markets go from here. One of the advantages of equity CEFs is that you don't necessarily have to be right in terms of market direction since relative valuations can play a large role in how a fund's market price performs. Lastly, I want to give you some investment strategies since equity CEFs can have strange quirks when it comes to trading.
Is A Market Season For Option-Income Funds On The Horizon?
Here is the list of top performing option-income CEFs sorted by their total return NAV performance since January 1, 2012 through April 3, 2013 or about 15 months. Funds whose NAV has outperformed the S&P 500, as represented by the SPDR S&P 500 Trust (NYSEARCA:SPY), are shown in green (just 1) and funds which have underperformed are shown in red. SPY is up 26.7% with dividends added back though most quoted S&P 500 returns do not include dividends and thus, the S&P 500 was up 23.5% without dividends.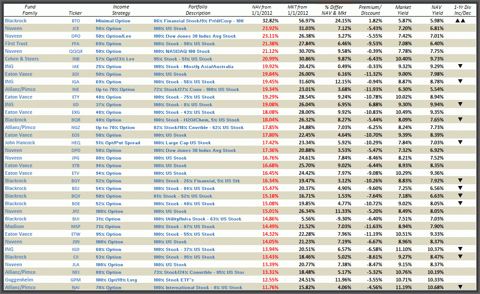 Note: Not all the option-income funds could be shown.
Most option-income funds are defensive by nature and their NAVs will have a lower beta compared to their benchmark indices. So it is not unexpected that their NAVs would lag the S&P 500 as shown above. How a fund's NAV has actually performed however depends a lot on its stock portfolio, i.e. is it US based, global, or perhaps sector specific...but mostly a fund's NAV performance depends on the level of option coverage the fund uses. Typically, the higher the option coverage, the more defensive the fund is.
On the other hand, leveraged funds have high beta NAVs and pure equity funds, like most of the Gabelli funds, have shown the strongest NAV and market price performances. This is reflected in the next table sorting the best performing leveraged equity CEFs by their NAV total return performance. Once again, funds which have had total return NAV performances greater than the S&P 500 since 1/1/2012 are shown in green and those that have not are shown in red.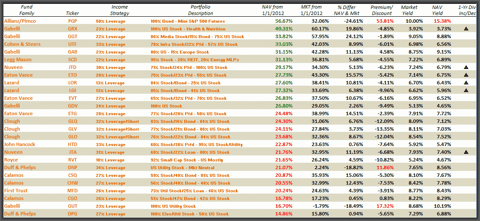 Here you can see that there are quite a bit more funds whose NAVs have outperformed the S&P 500, and generally their total return market prices have outperformed as well. Of course, many leveraged CEFs include fixed income securities or include international stocks so it's not necessarily a given that a leveraged fund will outperform the S&P 500.
The problem I am having with many of the leveraged funds is that, except for the Clough funds and the Royce Value Trust fund (NYSE:RVT), most are trading at very high valuations. In fact, most are trading at valuations much higher than say a year ago. This is reflected in the percent Difference Between NAV/Mkt column in the table above in which many funds have seen their market prices appreciate double digit percentages higher than their NAVs. Compare that to the option-income funds and it is clear that a "risk-on" mentality continues for investors seeking growth over income. This is a red flag for me, especially considering how far the market has come and the market season we may be heading into now that we're in the second quarter of the year. With that in mind, here are some option-income funds that I believe present excellent value with above average yields.
Best Equity Option-Income CEF Ideas
If the markets go into a more defensive mode, or even if the markets are just flat to slightly up over the coming months, this is when the option-income strategy should start to outperform. What's interesting is that on a market price basis, investors will not differentiate between more defensive option-income funds and more risky leveraged funds if the markets sell off. At least not at first. This is where investors can start to pick up undervalued option-income funds though I would recommend being prepared to add to positions in case of a more serious correction ahead since even though an option-income fund's NAV may hold up better than its benchmarks during a market sell-off, there is no guarantee that investors won't drive their market prices down along with all funds.
My favorite option-income fund right now, and one that has quietly turned the corner in terms of NAV performance, is the Eaton Vance Enhanced Equity Income fund (NYSE:EOI). EOI has not always had great NAV performance, particularly over a longer 3 years, 5 years or from inception, but it has been the best performing Eaton Vance option-income fund more recently and at a -11.3% discount and a 9% market yield paid monthly, EOI is significantly undervalued in my opinion. EOI sells options against roughly 50% of the notional value of its US based large-cap stock portfolio. That's a relatively low option coverage which means the fund still has excellent NAV upside in a strong market environment. The wide -11.3% market price discount means that investors can pick up a significantly higher 9% market yield over its comparatively low 7.98% NAV yield.
My second option-income fund is also from Eaton Vance and is one that I have recommended ever since writing on Seeking Alpha. Based on long term NAV performance, valuation and yield, there is not a better fund to just buy and hold than the Eaton Vance Tax-Managed Buy/Write Opportunities fund (NYSE:ETV). Why anyone would sell this fund when the markets go red is foolhardy in my opinion and I'll tell you why in a minute.
ETV sells S&P 500 and NASDAQ options against a very high 96% of its US based large cap stock portfolio. As a result, ETV is very defensive and that is reflected in its NAV underperformance compared to the S&P 500 and NASDAQ-100 since 1/1/2012. But longer term and over varying market cycles, ETV's NAV has solidly outperformed its benchmarks. Here is a quarterly NAV total return comparison with SPY from roughly the previous market high back on September 30, 2007 (3rd qtr. 2007). Green represents up quarters and red represents down quarters. All dividends and distributions are added back each quarter to give a running total return performance.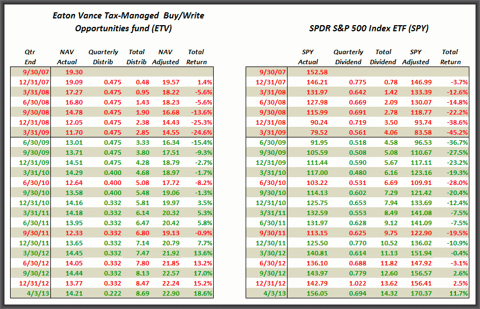 The most important statistic beyond ETV's 18.5% total return NAV performance compared to 11.7% for SPY, is how much better ETV's NAV holds up during down market periods. Look at the red quarters during the financial crisis and how ETV's NAV depreciated much more modestly compared to SPY at the market low quarter on 3/31/09. From peak to trough, ETV's NAV went down by only -24.6% compared to -45.2% for SPY. Now I'm not saying the markets are going to go through another 2008 financial crisis but isn't it good to know that since we're finally back at a market high, here is a fund whose NAV will hold up just in case?
At a very generous 10.3% market yield and trading at a wide -9.1 discount, ETV is a "must own" equity CEF for the long run. Compared to other option-income funds from other fund families, ETV should easily be trading closer to par with its NAV, in my opinion.
Eaton Vance Option-Income Funds Still The Most Attractive
I would like to say that in general, the Eaton Vance option-income funds are still, by far, the most attractive compared to other fund families. A big reason for that is their solid NAV total return performances ever since Eaton Vance took the hard steps back in 2010 to 2012 to get all of their fund's NAV yields down to a more manageable 7% to 9%. Then consider that most still trade at comparatively wide discounts allowing investors to pick up windfall market yields well over their NAV yields, several with over 10% market yields. Frankly, when I look at option-income funds from ING and BlackRock which have all cut distributions more recently, and don't show near the NAV total return performances and trade at higher valuations to even premiums, I just shake my head and ask, "How can investors be so blind?"
Another reason to own the Eaton Vance option-income funds is because they all now pay monthly distributions compared to most option-income funds from BlackRock, ING and Nuveen that pay quarterly. And finally, Eaton Vance still has a 10% buyback program in place which could serve as a back stop in case of a more difficult market ahead. Here are the results of that 10% buy back as of March 7, 2013.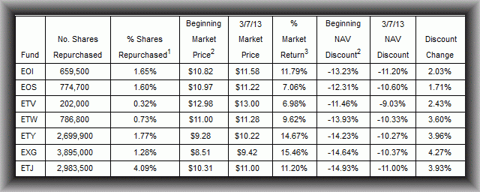 Here, ETV has the lowest percent of shares repurchased so far except for the Tax-Managed Buy/Write Income fund (NYSE:ETB), in which no shares have been repurchased yet. This is another strong reason to own ETV as well as ETB since there is a lot of fire power from Eaton Vance in case the fund's market prices get too low. Both ETV and ETB are my "must own" option-income funds for investors seeking high income equity CEFs.
All of the funds mentioned above also offer another advantage besides their higher than average yields, typically 9%-10%. They also offer mostly Return of Capital (ROC) in their distributions, meaning their tax-equivalent yields can be up to 13% for investors in the 35% Federal income tax bracket since ROC is not taxable in the period received, though an investor would need to reduce their cost basis in the fund by the ROC amount. Though the term "Return of Capital" sounds ominous, it's really just a definition for tax identification and should not be confused with "return of principal" or more commonly known as destructive ROC. For more information, please read this article I wrote last October, Demystifying ROC.
Conclusion
Due to the length of this article, I will come back with some more option-income fund recommendations as well as a review of the leveraged funds. In addition, I will give readers some investment strategies when it comes to investing in equity CEFs since these funds can be the most opportunistic as well as the most confusing securities you will ever invest in.
Disclosure: I am long ETB, ETV, EOI, UTF, RVT, GRX, ETO. I wrote this article myself, and it expresses my own opinions. I am not receiving compensation for it (other than from Seeking Alpha). I have no business relationship with any company whose stock is mentioned in this article.