What Value Investors Do With Excess Cash
When a stock meets my screening criteria I will buy and hold, hoping that it will one day reach my Intrinsic Value. It's all about timing for Value Investors.
This leaves a major problem as few stocks meet my criteria, and a lot of my capital is left unused. In order to gain some return on this excess capital I allocate the money into index funds (usually the S&P or TSX) or cash, until a buying opportunity arises.
My portfolio is currently sitting at 35% in specific stocks, 40% in index funds and 25% in cash. I have been phasing out the Index funds and in the next few days I have decided to transition into cash.
Here are some reasons why:
S&P 500 Dividend Yield
The dividend Yield on the S&P (NYSEARCA:SPY) of 2.13% is much lower than the historical average of 3.11%. Although the market indexes have reached pre 2009 levels in terms of stock price, it is clear that their dividends are still quite low.
As corporate profits are continuing to soar, you would expect companies to reinvest the cash into buying back shares, raising dividends and other value added investments. However, it is clear that the majority of companies are choosing to cling on to their cash as they fear another rainy day could be approaching. With so much excess capital in my portfolio, buying the market right now isn't seeming like a good strategy.
Shiller P/E Ratio
The Shiller P/E ratio is a standard P/E calculation that is adjusted for inflation to even out the playing field.
As we can see the market's P/E of 23.47 is about 4X higher than the 19.7 average of the last 53 years. While government debt has helped to inflate this ratio, it would be difficult to argue that the market isn't expensive at the moment.
The effects of this expensive market have been very prevalent as of recently. As a value investor I look for companies with great management at even better valuations. As of recently it has been extremely hard to find companies that meet my criteria. With the exception of Gencorp (GY) (article on the valuation here), neither myself nor my value investor friends have managed to find extremely good buys. In the past three years the recession made it very easy to find undervalued stocks but it is getting tougher and tougher.
Interest Rates
As investor confidence increases along with the recovering economies of North America, I expect that governments will raise their interest rate targets. A rise in interest will lower corporate profit margins, lowering bottom-line profits and stock prices. There has been much discussion on this at Seeking Alpha and my opinion is that it could happen as soon as next year. With interest rates at an 80-year low and markets gaining steam, a rising target is inevitable. When interest rates rise I expect the market to have a brief sell-off and then slowly decline. When that happens I will be happily waiting in cash. The problem is that nobody can predict when this will happen. For this reason I am getting out of indexes now to protect myself against any major losses.
M&A Activity
M&A activity has been extremely heated in the past few years. As a value investor, M&A scares me considering that most deals destroy shareholder value.
While CEO pay is not quite at 2009 levels, it has been growing rapidly in the U.S. and Canada over the past few years. This can be attributed to high corporate profits (low interest rate environment) and lots of acquisitions. CEOs are loving acquisitions as it grows their company sizes and usually their pay. We are also starting to see this movement of "Say On Pay" becoming more prevalent in shareholder meetings (especially in Canada). All these signs point to a getting out of Indexes for me.
In the chart below we see how although the number of acquisitions is still high in Canada, their total values have decreased dramatically. This suggests CEOs are buying lots of little companies. This should be expected in the years following 2009 as it was cheap to consolidate. However, now in 2013 most firms that survived and have rebounded are no longer as cheap as they were in 2009.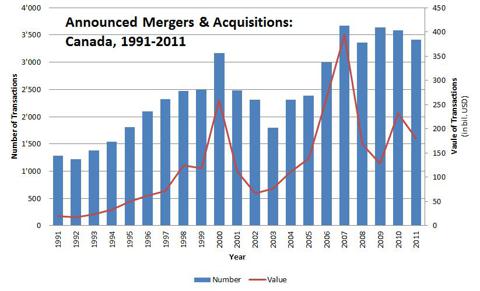 From Bonds to Equities
In January we saw a massive inflow of capital from bonds and savings into equities that has rallied for the past two months. This tells me that investor confidence is quite high and that the markets could be overvalued. When I see astonishing quotes like "You are looking at the biggest two-week inflow into stocks since April, 2000 and a potential end to 22 consecutive months of outflows" I know the herd is moving right and that I must move left.
Summary/Conclusion
As a value investor I make money off picking stocks that I believe have great management and that are very undervalued. When I cannot find companies that meet this criteria, I put my excess cash into either index funds or cash. As I believe the markets are quite heated right now, I will be switching my portfolio's excess cash out of indexes.
During the possible downturn that I predict is coming soon I will need cash on hand to buy undervalued companies. It will be a huge missed opportunity for me if the market falls but my cash is tied up in index funds.
Bring on the "Great Rotation!" Whenever that occurs, I will be ready!
Disclosure: I am long SPY. I wrote this article myself, and it expresses my own opinions. I am not receiving compensation for it (other than from Seeking Alpha). I have no business relationship with any company whose stock is mentioned in this article.