By Edward Faubert
Coffee prices as measured by the ICE futures contract (KC) finished the first quarter at $1.3715 a pound, down 15 cents, or 10%, on the quarter. The market has been in a downtrend for almost two years since a peak of over $3.00 a pound. The harvests in Central America are now mostly complete. Producers from Central America, and notably from Brazil, have been reluctant to follow the market down. As a result, cash market premiums have firmed and new export sales have slowed during the past two months.
However, this backlog of selling is now likely to dampen any rally in the short term. Traders are now beginning to focus on Brazil's 2013 harvest, which begins in May in the Southern Hemisphere. Brazil is by far the world's largest coffee producer, producing roughly one-third of total world production, and many traders are expecting a near-record crop of between 50 to 53 million 60-kg bags.
Money managers have added slightly to their very profitable short positions, originally established back in the last quarter of 2012 around 20 to 25 cents higher than today's values. They are currently net short 26,000 lots compared with net short 22,000 lots three months earlier.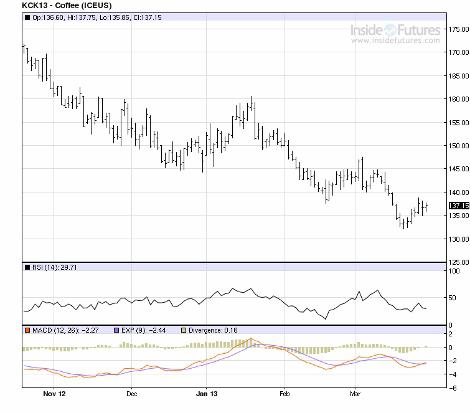 Cocoa
ICE Futures cocoa prices declined during the first quarter by $97 a ton to settle at $2,170 a ton, down 4% over the past three months. The latest forecast from the Intentional Cocoa Organization for the 2012-13 crop year ending Sept. 30 projects the cocoa market will return to a small supply deficit of 45,000 tons compared to a surplus of 90,000 tons a year earlier. The anticipated deficit reflects a projected increase in world grindings by 60,000 tons and a decrease in production of 72,000 tons. A deficit of only 45,000 tons is not sufficient to put much of a dent in world stocks, which finished last year at a comfortable 48% of use.
Cocoa traders remain concerned over sluggish consumption, especially in Europe, the largest chocolate consumer. Both Ghana and the Ivory Coast purchases have been running below expectations, and a strong midcrop will be needed to keep pace with expected production and exports for the season. Money managers seem to have thrown in the towel, reducing their longs to 13,000 lots compared with net long 39,000 lots three months earlier.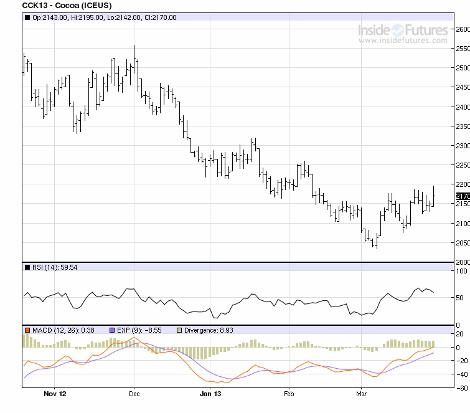 Cotton
Cotton prices as measured by the ICE Futures No. 2 contract (CT) finished the first quarter at 88.46 cents a pound, a substantial increase of 12.23 cents a pound, or 16%, during the quarter. Prices had found a trading range during the second half of 2012 between 70 and 78 cents a pound before breaking out in early January. The USDA estimates total world production for the 2012-13 crop year ending July 31 to be 26.09 million tons compared with 25.90 million tons a year earlier. Estimates for ending stocks came in at 17.80 million tons, just slightly off last year's all-time record of 17.82 million tons.
Traders (at least the bulls) point out that much of the stocks are in tightly held Chinese government hands, and therefore not necessarily readily available to global markets. Money managers, perhaps more than fundamentals, have been moving prices higher by building long positions from 10,000 lots six months ago to 27,000 lots three months ago to currently 63,000 lots, representing a substantial 30% of the open interest.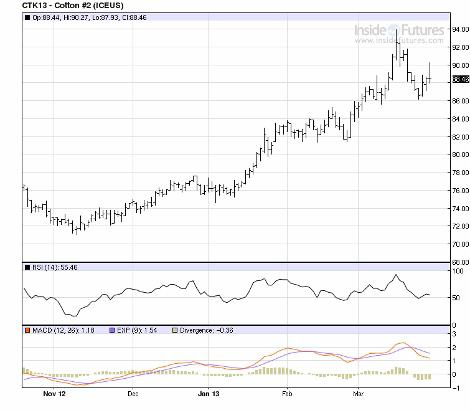 Sugar
International sugar prices as measured by ICE Futures No. 11 contract (SB) finished the first quarter at 17.66 cents a pound, down 2.10 cents, or 10%, during the quarter. Prospects for a fourth year of surplus production, specifically from Brazil and Asia, have driven sugar prices to a 32-month low. Large anticipated increases in production from Brazil by as much as 5 million tons and an increase from China of 2 million tons have pressured prices.
Traders are now eyeing sugar beet planting intentions in North America and Europe. However, intentions are one thing and plantings another, as sliding prices can encourage a shift to more profitable alternative crops. Money managers had been holding unprofitable long positions for almost nine months but have now reversed their positions to net short 29,275 lots, compared with net long 25,000 lots three months ago and net long 107,000 lots six months earlier.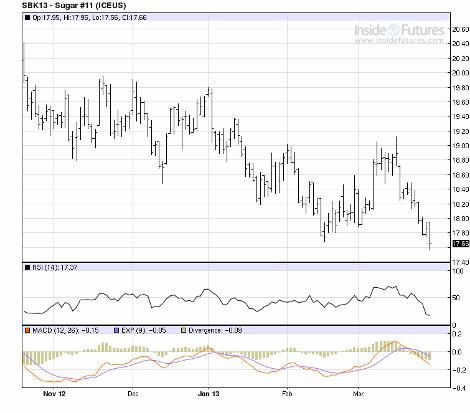 Individual ETFs are available for the commodities described above: