Well, the market is trying to rally Thursday after Wednesday's significant sell-off. I remained doubtful any rally will be sustainable as the warning signs are mounting that the market is overdue for a pullback (5% to 8% from recent highs) that I believe will happen over the next two months. There are five key reasons I think this correction will occur in the near future.
The jobs situation is weakening -
Yesterday's weaker than expected ADP jobs report (158,000) was a primary factor in Wednesday's sell-off. Today, weekly jobs claims unexpectedly climbed some 28,000. In addition, the March Challenger report showed a 30% increase in layoffs from the same month last year. I think there are a couple of reasons for this slowdown. First, businesses remain cautious about end demand and have a high degree of political uncertainty as well delaying hiring decisions. Second, the consequences of implementation of the Affordable Care Act are providing a headwind to hiring, which even Mark Zandi had to admit to recently. Look for this trend to continue and I expect job growth will be cut in half by summer much like occurred last year.
Dr. Copper -
I have heard many pundits try to explain away the decline of copper even as the stock market was rallying. It no longer is a good measure of the strength in the worldwide economy was a default line I heard often. After the last dozen years I have become very skeptical of calls that "It is different this time" especially when the divergence between the market and global copper prices over the last three months is so wide (See Chart).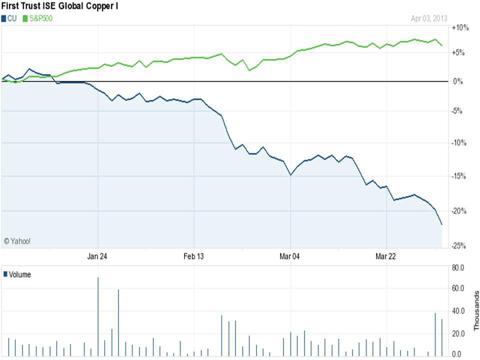 Click to enlarge
The Transports are breaking down -
The Transportation sector, which has been a leader in the rally, has been breaking down significantly over the past week (See Chart). This is a becoming a sell signal according to the Dow Theory, which many technicians follow.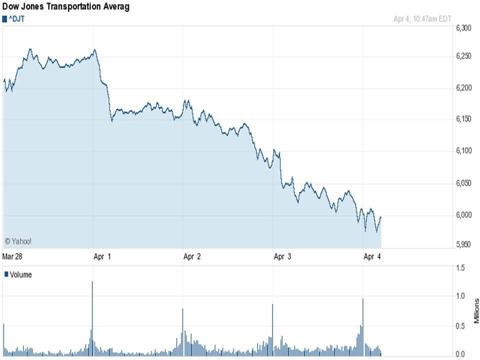 Click to enlarge
Europe continues to weaken -
I went into the cascading weakness in Europe in a recent article. This weakness is accelerating and today Markit reported Eurozone composite PMI dropped to 46.5 (Under 50 is contraction mode) in March from 47.9 in February; services PMI came in at 46.4 vs 47.9 in February. Markit stated "The recession is deepening once again as businesses report that they have become increasingly worried about the region's debt crisis and political instability. With German growth almost stalled the only source of bright light...has once again begun to fade." Don't look for any improvement in the largest economic bloc in the world (20% of output) in the near or medium term.
The tape is not positive -
In a usual rally the leading sectors would be expected to be Materials, Technology and Energy. All of these sectors have underperformed significantly while defensive sectors like Utilities, Consumer Staples and Healthcare have been the leaders over the last three months. In addition, interest rates are going down which is the opposite of a market expecting to see solid economic/job growth. Treasury prices have also spiked over the last couple of days (See Chart).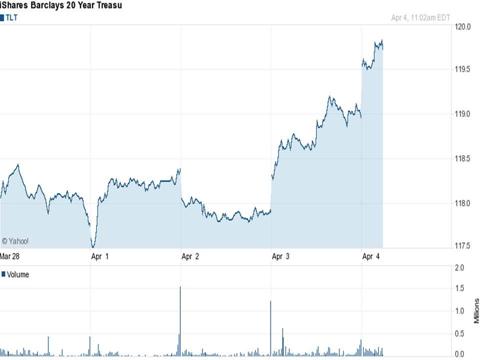 Click to enlarge
Actions investors should take:
A. If you don't have 5% to 10% of your portfolio in cash, consider selling some positions to get to that level as lower entry points look like they are on the horizon.
B. Avoid putting any more money in defensive sectors like Utilities, Consumer Staples and Healthcare. These sectors have had significant runs already and are trading at historically high valuations and at a premium to the overall market, which is not justified by their tepid growth prospects.
C. Prepare a shopping list of stocks you would want to own if they became 5% cheaper. I suggest large cap tech stocks that pay significant dividend yields. Tech has substantially underperformed the overall market over the last three months and valuations are attractive. I plan to add to my stakes in Cisco Systems (NASDAQ:CSCO), Microsoft (NASDAQ:MSFT) and Apple (NASDAQ:AAPL) on any decent sell-off. All are still showing decent growth; sell at less than 8x earnings after subtracting their huge cash hoards and yield over 3% (or will once Apple announces an expected significant dividend hike). I recently outlined the attractiveness of these dividend paying tech stocks in this post.
Happy Hunting.
Disclosure: I am long AAPL, CSCO, MSFT. I wrote this article myself, and it expresses my own opinions. I am not receiving compensation for it (other than from Seeking Alpha). I have no business relationship with any company whose stock is mentioned in this article.