By Osman Gulseven
Founded in 1968, Intel (NASDAQ:INTC) has grown to be one of the leading players in the provision of integrated digital technology platforms worldwide. Intel was started in Santa Clara, Calif., with an eye toward developing technological semiconductor products. The people behind the foundation of Intel are Gordon Moore and Robert Noyce. In the 1970s, Intel's main products were motherboard chipsets, network interface controllers, flash memory, integrated circuits, graphic chips, and a few embedded processors.
Intel's production of SRAM and DRAM memory chips did not flourish until the early 1980s, with greater success after 1981. In the 1990s, Intel made a huge injection of capital into the development of new microprocessor designs. This led to tremendous growth in the computer industry. This infusion of capital, and the subsequent development of new microprocessors that process system data and manage other computer devices, made Intel a dominant supplier of microprocessors for personal computers. Currently, the company has more than 100,000 employees worldwide.
Growth and Acquisitions
At the beginning of the 21st century, the demand for high-tech microprocessors slowed as competitors, such as AMD (NYSE:AMD), acquired a significant portion of the market for low-end and mid-range processors. Therefore, in 2006, Intel manufactured P6 and NetBurst products with reduced success.
Since the year 2000, Intel has been very active in the market through disposal and acquisition of portfolios. In 2006, Intel sold its XScale portfolio to Marvell Technology Group for an estimated $600 million. Then in January 2011, after approval from the European Union, Intel acquired a computer security technology firm, McAfee, for a figure of $7.68 billion. At the time of the acquisition, Intel had about 90,000 employees of which 12,000 were software engineers. In August 2010, Intel invested in Infineon's Wireless Solutions with the objective of using Infineon's technologies in its own products. In the same year, Intel also invested in Cairo-based SySDSoft by acquiring a majority stake, and acquired Fulcrum Microsystems, a firm whose core business is network switches.
In October 2011, Intel purchased the Israeli firm, TelMap, which offers navigation software. This deal was reported to be in the region of $300 million. In mid-2012, as the global economy was still trying to recover from the economic recession, Intel made a bold step and acquired 10% ownership in ASM Holdings NV for $2.1 billion. In February 2011, Intel commissioned a new project of building a new microprocessor factory at Chandler, Arizona at a cost of $5 billion. As of 2011, Intel was producing three-quarters of its products in the United States, even though nearly three-quarters of its revenue came from overseas.
Recent Financials
Intel has maintained impressive financial statistics and a strong liquidity position over the past five years. In the year 2010, Intel posted total revenues of $43.623 billion, with a revenue cost standing at $15.132 billion. In 2011, Intel posted a 23.78% increase over the total 2010 revenue, which amounted to $54 billion. However, the 2011 recession still had a noticeable impact on the cost of revenue for Intel. Costs then stood at $20.242 billion.
Income Statement
Click to enlarge images.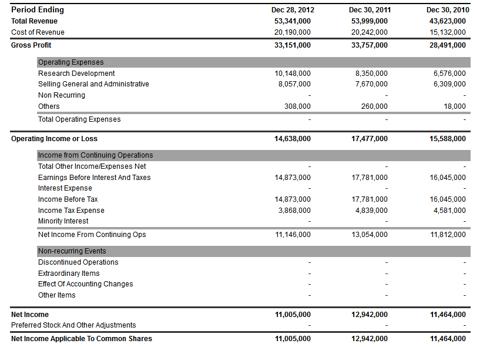 Source: Yahoo Finance.
2012 was not a great year for Intel. The company posted a marginal decrease of 1.2% in total revenue, falling to $53.341 billion. However, one impressive thing to note is the additional reduction in cost of revenue, which fell by $52,000, amounting to a less than 1% decrease. Intel is perhaps considered as one of the global leading firms in the semiconductor industry as a result of its considerable investment in research. In 2010, Intel invested a whopping $6.576 billion and $8.35 billion in 2011. The research cost for 2012 increased by nearly 21.5% to $10.148 billion.
Balance Sheet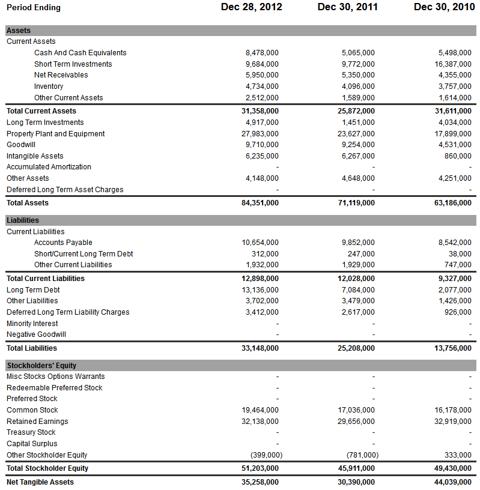 Source: Yahoo Finance.
Intel has accumulated assets worth billions of dollars as shown in its balance sheets of 2010, 2011, and 2012. The net assets of Intel amounted to $44.039 billion even though net assets fell to $30.39 billion in 2011, partly due to reductions in retained earned earnings and increased use of long-term debt, which amounted to $5 billion. Another notable financial indicator is the consistent increase in Intel's total assets of nearly 12.5%, which amounted to $7.933 billion in 2010. Intel increased its investment further to approximately $13.232 billion, to increase total assets for 2012 to $84.351 billion.
Cash Flow Statement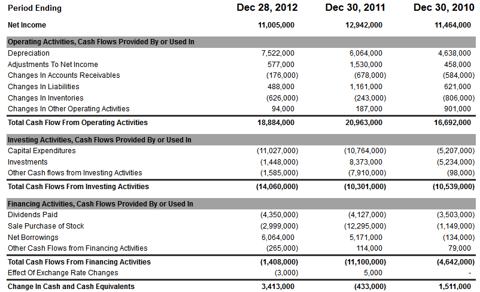 Source: Yahoo Finance.
If you wonder why Intel has been able to close on so many acquisitions in the past few years, then this analysis of the cash flow strength will provide some useful answers. Intel is a very liquid company and has maintained that position consistently over the past several years. In 2010, the company posted total cash flow figures from its operating activities amounting to $16.692 billion, while in 2011, the cash flow from operating activities stood at $20.963 billion, with a minor reduction in 2012 to $18.884 billion.
The company has strong growth prospects due to impressive investments made every year. In 2010, Intel invested a total of $5.234 billion, with $8.373 billion invested in 2011. Following the fall in chip demand, Intel slowed investment, only investing a further $1.448 billion in 2012. As of the time of writing, Intel has a market cap of $104 billion with an enterprise value of $102.50 billion according to Capital IQ.
The Future of Intel
Strong financial figures indicate that Intel is a safe stock to own. According to Capital IQ, the expected forward P/E ratio for 2014 is projected at 10.29. Meanwhile, Intel's PEG ratio in five years stands at 0.91.
Three of Intel's main competitors are Advanced Micro Devices, Samsung Electronics (OTC:SSNLF), and Texas Instruments (NYSE:TXN). However, moving forward, Intel must use those areas where it is clearly ahead of its competitors to solidify its presence in the market. For example, Intel enjoys a far higher market capitalization rate in comparison to TXN and AMD.
The main challenger to this standing is Samsung Electronics Co. Ltd., which posted twice the revenue of Intel in 2012, though at the time Intel had a better net income of $2.35 billion. Other chip manufacturers in the market, such as Toshiba Corporation, NEC Corporation, among others, must also be monitored closely. Qualcomm (NASDAQ:QCOM) also achieved a substantial know-how in the specialty microchip market, arising as a fierce competitor to Intel.
Challenges Ahead
The future of Intel's hold over the processor market is likely to be tight, especially given that AMD had already acquired a significant market share by the end of 2009. This means that, since processors are among Intel's core revenue centers, only a properly considered strategy will recover this market, making this one of the chief competition frontiers for Intel.
Meanwhile, Intel semiconductors are performing well in the market. According to Gartner, in 2011 Intel recorded the highest market share of 20.7% of all semiconductors sold. Since then, Intel has remained the global leader in semiconductor sales, as it has done for the past 20 years. By the end of 2011, Intel controlled 16.5% of the market share, and this is expected to increase further over the coming years.
However, Intel's success in this sector could very well be hampered by its closest competitors, Samsung, Toshiba, Texas Instruments, Renesas Electronics, and Qualcomm. These five companies control slightly over one-quarter of the global market (28.1%), with Samsung standing as Intel's nearest challenger. In order to avoid slipping in the market, Intel will need to closely monitor the activities of these companies. A possible slowdown in the microchip business can also hamper Intel's business prospects in its core segments.
Disclosure: I have no positions in any stocks mentioned, and no plans to initiate any positions within the next 72 hours.
Business relationship disclosure: Efsinvestment is a team of analysts. This article was written by one of our equity analysts. We did not receive compensation for this article (other than from Seeking Alpha), and we have no business relationship with any company whose stock is mentioned in this article.