By John Spence & Tom Lydon
The iPath S&P 500 VIX Short-Term Futures ETN (NYSEARCA:VXX) is down 36% year to date but investors looking for a hedge against a stock-market pullback have pumped nearly $700 million into the volatility-linked exchange traded product.
But wait, it gets worse.
VXX plummeted 77.6% last year as the S&P 500 enjoyed its best rally since 2009. Yet VXX saw net inflows of more than $2.3 billion in 2012, according to IndexUniverse data. The exchange traded note currently has a market cap of $1.3 billion, according to issuer Barclays.
Few if any exchange traded products have destroyed more wealth than VXX in recent years. Yet traders keep coming back for more punishment. Their tolerance for pain seems to know no limit.
Ryan Detrick, senior technical strategist at Schaeffer's Investment Research, tells Yahoo Finance's Breakout that traders have been jumping into the VIX for months with disappointing results.
VXX is down more than 90% since inception "yet Detrick still sees massive inflows as everyone on earth insists on calling a top in the market and a bottom on volatility," according to the report.
Volatility-linked products are designed to track VIX futures rather than the spot price. Therefore, their losses are compounded when VIX futures are in a state of "contango" when longer-dated contracts are more expensive than the front-month contract.
VXX fell to a new split-adjusted all-time low this week.
iPath S&P 500 VIX Short-Term Futures ETN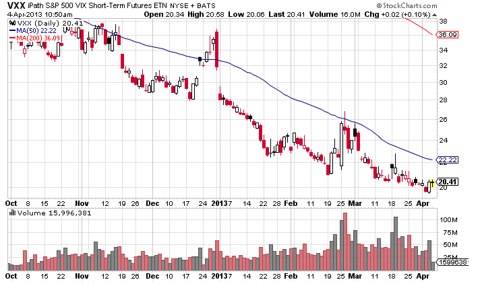 Click to enlarge
Disclosure: I have no positions in any stocks mentioned, and no plans to initiate any positions within the next 72 hours. I wrote this article myself, and it expresses my own opinions. I am not receiving compensation for it. I have no business relationship with any company whose stock is mentioned in this article.