The market has been in an uptrend with few brief interruptions for almost five months now. The S&P 500 (NYSEARCA:SPY) rallied 18% from mid-November lows, and corrected on two occasions by only 3.6% in late December and 3% in mid-February. Although the index is near its all time highs, there are troubling signs that are bringing the correction concerns lately.
Weaker economic data
Lately, the economic data comes mostly worse than consensus estimates. Initial jobless claims are tracking higher three weeks in a row, and above expectations. ADP non-farm payrolls are quite lower than expected, although the previous reading was revised up. ISM manufacturing and non-manufacturing indexes are both lower and below estimates. Those are all numbers that you would not like to see in order to confirm the further bullishness in the market.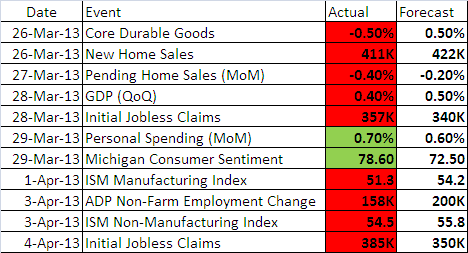 Source for data: Investing.com
Europe continues to struggle, stuck in its low growth and recessionary environment. Although the Cyprus did not cause market to panic, the seizure of part of deposits are a concern not limited only to the small country of Cyprus, and could very well spill over to the rest of Europe. The markets mostly ignored the issue, but it may come back if a bigger country than Cyprus gets into trouble.
Japan is fighting against deflation, and the Yen has seen a significant devaluation since November. The newest measures by Gov. Haruhiko Kuroda include the expansion of its government bond purchases, including long term debt. Annual pace of bond buying will now account to about $530 billion. The event caused U.S. futures to rally, but the optimism faded after the release of rising jobless claims.
The emerging markets continue to underperform. The iShares MSCI Emerging Markets (NYSEARCA:EEM) is down 6% year to date, as opposed to a 10% rise of the S&P 500.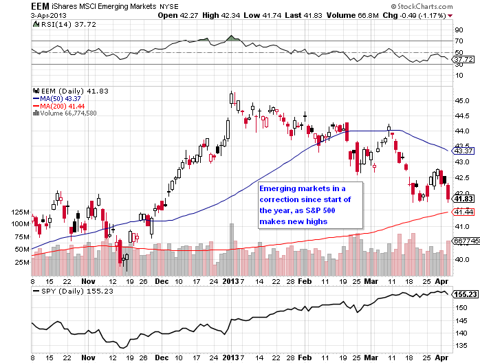 Source: Stockcharts
Defensiveness in the market
The intermarket picture deteriorated significantly recently. The Russell 2000 index (NYSEARCA:IWM) dropped 4% in a few days, as the S&P 500 was reaching new highs. The underperformance is very significant if you look at a relative price ratio of the two indexes. In addition, Financials Sector (NYSEARCA:XLF) peaked in mid-March, and underperformed the S&P 500 since. Both sectors are at or near the 50 day moving average lines, and might get short term support at these levels.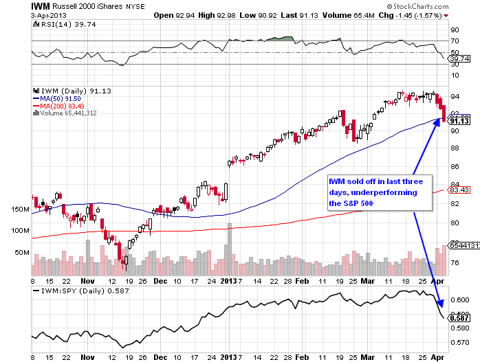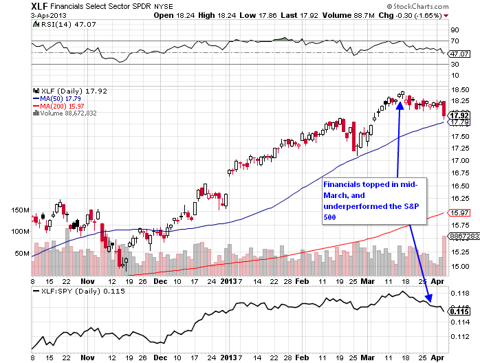 Source: Stockcharts
The defensive Utilities Sector (NYSEARCA:XLU) has been outperforming the S&P 500 since mid-March, and is making new highs ahead of the S&P 500, which is also indicative of the defensive attitude lately. Bonds (NYSEARCA:TLT) bottomed in early March and made a higher high recently, and also started to outperform the S&P 500.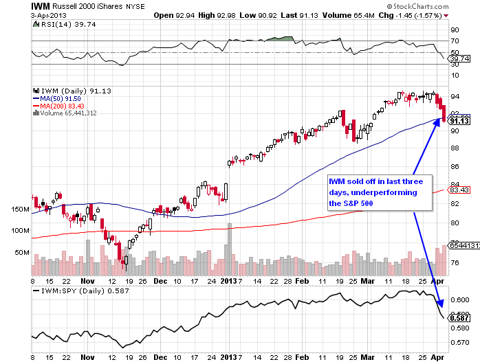 Source: Stockcharts
The behavior of the markets and the overall defensiveness lately point to a possibility of a short term or intermediate market correction. A breakdown in leadership of homebuilders and oil refiners is one more cause for concern. Another sign that there may be trouble for the rally is the increasing number of distribution days in the S&P 500, as there were five of them since March 15th. Distribution day is defined as a down day in the index with volume higher than the day before.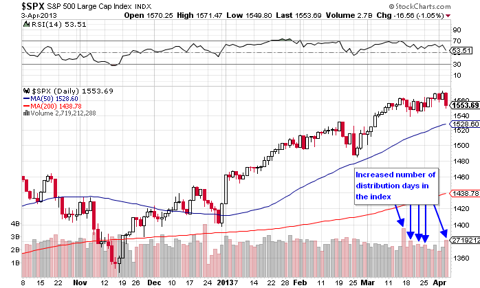 Source: Stockcharts
Conclusion
Recent developments point to increased probability of a short term or intermediate market correction. Most of the economic data came in worse than estimates lately, defensive sectors are outperforming and distribution days are increasing. Defensive attitude is advised until the conditions improve.
Disclosure: I have no positions in any stocks mentioned, and no plans to initiate any positions within the next 72 hours. I wrote this article myself, and it expresses my own opinions. I am not receiving compensation for it (other than from Seeking Alpha). I have no business relationship with any company whose stock is mentioned in this article.