By Sumit Roy
Natural gas moved higher after the Energy Information Administration reported that operators withdrew 94 billion cubic feet from storage last week, at the upper end of the 90 to 94 bcf withdrawal that most analysts were expecting. The withdrawal was also bullish compared with last year's build of 42 bcf and the five-year average draw of 4 bcf.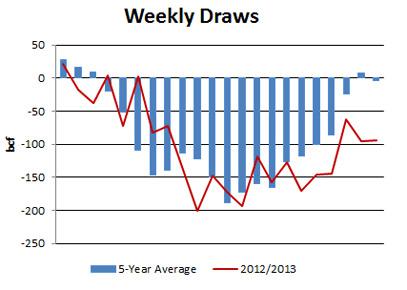 In turn, inventories now stand at 1,687 bcf, which is 785 bcf below the year-ago level and 31 bcf below the five-year average (calculated using a slightly different methodology than the EIA).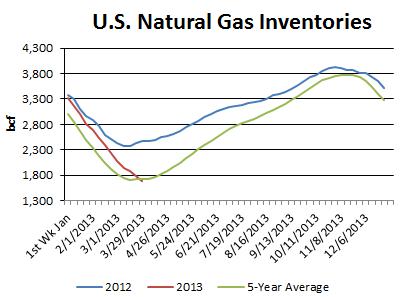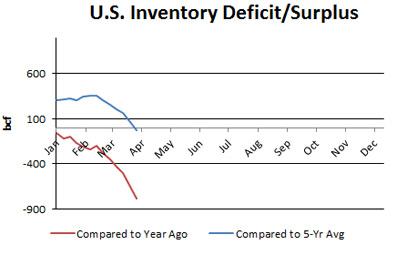 The weather last week was much colder than normal and compared to this time last year. Looking forward, the NOAA's six- to 10-day outlook calls for warmer temperatures across the Midwest and East Coast. Thus, the ongoing late-season cold snap is expected to be over by the middle of April.
NOAA Six- to 10-Day Outlook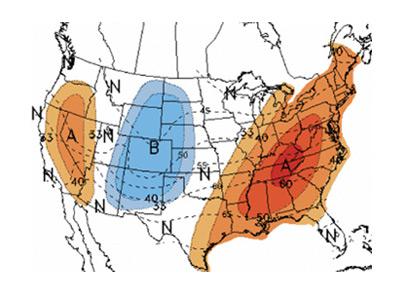 Meanwhile, the number of rigs drilling for natural gas in the U.S. fell by 29 last week to 389, according to Baker Hughes. That's the lowest level in nearly 14 years.
Natural Gas Rig Count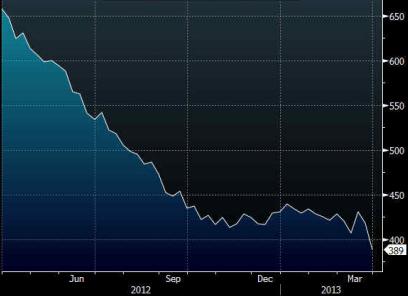 Natural Gas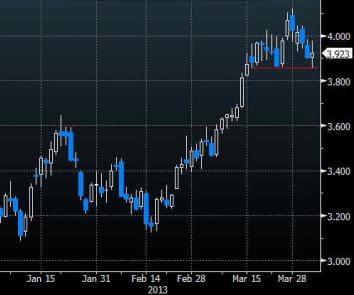 The latest inventory report from the EIA was bullish, as the surplus over the five-year average shifted into a deficit of 31 billion cubic feet. There is quite the contrast between the natural gas market this year and last year. It was a year ago, during April 2012, when the inventory surplus surged to a whopping 900 bcf and prices plummeted to a 10-year low of $1.90/mmbtu.
The doubling in prices since then is a reflection of tighter inventories and more bullish fundamentals overall. On the demand side industrial users are burning more gas, while gas has stolen market share from coal in the electric generation sector. Granted, coal-to-gas switching is likely to be much less this year than last due to higher gas prices, but increased usage of gas for power generation is a structural trend that will support demand long term. On the supply side, Canadian and LNG imports have tumbled, while Mexican exports have spiked. All of those factors served to tighten the U.S. market.
Finally -- perhaps the largest factor that will determine whether natural gas can rally even further from here -- is the outlook for U.S. production. Has the long-awaited decline in output finally arrived, or was the tightening of the market -- going from a 900 bcf surplus to a 31 bcf deficit -- merely due to the aforementioned factors and colder weather?
Without a decline in U.S. production, upside in prices will be much more limited. On the other hand, if production is in the midst of a decline, prices could explode higher. Last week, the EIA said that U.S. output fell for a second-straight month in January -- see "Natural Gas Production Drops For A Second Month: Blip Or Trend?" As we wrote in that article, the weekly inventory data can offer clues on production. As the injection season begins, traders will compare the seasonal increases in inventories this year with those of the past. The low-demand periods of April and May are especially good times to make this comparison since weather is not much of a factor.
Bottom Line: Expect natural gas to consolidate between $3.85 and $4.15 as the inventory deficit supports prices. Once injection season begins in earnest, prices may make a larger move in either direction.