By Sumit Roy
The U.S. Mint reported that sales of American Eagle gold coins were 62,000 ounces in March, down from 80,500 ounces in February. Meanwhile, sales of silver coins held steady at 3.4 million.
For the first quarter as a whole, gold sales totaled 292,000 ounces, up 39 percent from the same period a year ago. Silver sales—which are running at a record pace—totaled 14.2 million ounces, up 40 percent from last year.
For all intents and purposes, the sales of American Eagle gold coins are an insignificant portion of the global gold market—too small to make a dent. However, silver coin sales are quite significant. On an annualized basis, sales are running at a 58-million-ounce clip. That's almost 6 percent of global silver demand, which is around 1 billion ounces.
If we additionally consider that silver exchange-traded fund holdings were up 25 million ounces in the first quarter—or 102 million ounces annualized—we see that investment demand for the gray metal has been absolutely sizzling thus far this year.
Yet almost every person or institution that has purchased silver this year is under water, as prices stand at the lowest levels in nine months. What accounts for this dichotomy? As we explain in a report this week (Silver Breaks Down And Could Plummet Below $20 Amid Huge Supply Growth), growth in supplies accounts for much of the blame.
But it's not only supply. An axiom in the precious metals market is "where gold goes, so too shall silver." In contrast to silver, gold has seen a sharp pullback in investor demand this year. It is unlikely—as current price action clearly demonstrates—that silver can diverge from gold. What happens in the $236 billion gold market will dictate what happens in the much smaller silver market.
American Eagle Gold Sales (in ounces)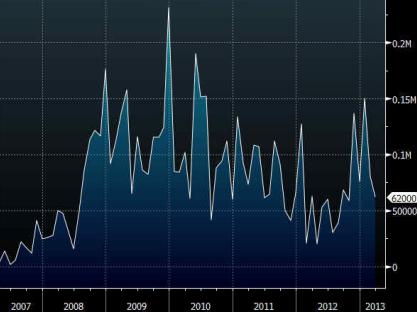 American Eagle Silver Sales (in ounces)