The Blackstone Group LP (NYSE:BX) is a global leader in alternative asset management. Total AUM (assets under management) reached a record $210B by 2012. This was up $44B or 26% from 2011. As of 2012 70% of AUM was under long-term contracts, which are not subject to redemption risk. Fee-related earnings grew 28% in 2012 to a record $700 million.
BX has no net debt. It has $2.3B in cash and corporate treasury investments and $6.7B in total net value, which includes cash, corporate treasury investments, and net performance fees. In 2012 BX's economic net income increased 30% to about $2B. Its distributable earnings increased 48% to over $1B (or $0.85 per common unit). Its adjusted EBITDA increased 49% to approximately $1.3B. Pre-Tax GAAP income was $1B. For Q4 2012 distributable earnings were $449 million or $0.39 per common unit. That was more than double Q4 2011. BX is rated A by S & P and A+ by Fitch. There are few negatives to the BX story. It is an LP for which investors will have to file a K-1 at tax time.
The chart below shows BX's income streams breakout.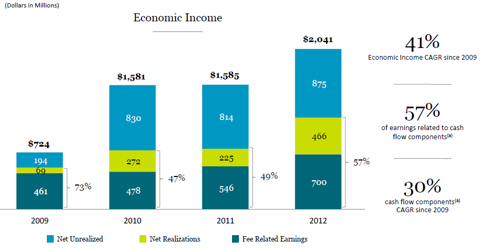 The cash component on the bottom is fee related earnings. It grew by 30% in 2012. This seems very much in line with BX's 26% growth in AUM for 2012. The middle component is net realizations. These are the profits from fund harvesting that are attributable to BX. This more than doubled in 2012 over 2011. The top component is unrealized gains attributable to BX. This tells investors that there should be plenty of profits to harvest in the near future. Its growth tells investors that the profit pipeline is alive and well. BX has seen a 41% CAGR in Economic Income (the total amount in a column) since 2009. The growth in fee income combined with net realizations has been even higher -- 57% in 2012. Expectations for 2013 are high also.
The chart below shows the distribution of BX's fee earning assets under management plus the CAGR of each category.

The total fee-earning assets under management were about $168B.
On many financial news services the dividend yield (distribution percentage) is listed as 8.8%. The 8.8% dividend yield is based on annualizing the most recent quarterly distribution/dividend. However, BX has waited until Q4 to "true up" its total distribution. This means that the trailing twelve month yield for 2012 was only 3.77%. For the first three quarters of 2012 BX paid only a $0.10 distribution per quarter. Then it paid $0.42 for Q4 2012. This seems low. However, BX seems to be headed back toward its 2008 level of $1.20 (6.28% annually) quickly.
BX is also feeling a bit more confident. It raised its base level distribution per quarter 20% to $0.12 from $0.10. Plus it has decided that starting in 2013 it will start to pay out excess net cash available on a current basis without waiting for the end of the year to true up distributions. Investors should get their money sooner. The following is a link to the BX distributions page, if you want to see the distributions data for yourself.
By way of explanation, funds typically lock up investment money for a period of five years. Asset managers such as BX manage/grow the money during this time. Then the funds are harvested in the several years after the end of the lockup period. Typically the manager, BX in this case, will get a 1% management fee during the harvesting period (a higher fee during the management/growth period) plus roughly 20% of the harvested profits. A good portion of these profits will then be applied to investor distributions. Further the profits from the harvested funds do not necessarily disappear from BX's AUM. Often they are just rolled over into newer funds.
Of importance to those concerned mostly with near term events, BX is planning an IPO for SeaWorld Entertainment Inc. (NYSE:SEAS) in the last two weeks of April. This is one of BX's biggest investments, and it should provide some good quarterly profits for Q2 2013. The IPO is expected to raise $500 million in the offering. Goldman Sachs (NYSE:GS) and JP Morgan (NYSE:JPM) are leading the sale.
The eight year chart of BX provides some technical direction to this trade.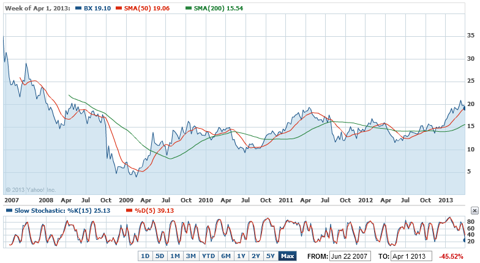 The slow stochastic sub chart shows that BX is near oversold levels. The main chart shows that BX fell dramatically during the onset of the Great Recession. Since that time, it has been in a slow uptrend. It is currently hitting on its 50-day SMA. It may bounce up from there. However, investors should be aware that the distribution/dividend for Q1 2013 will likely be significantly less than the Q4 2012 distribution. This would bring down the dividend yield figure advertised by many financial news services -- those that base the advertised yield on the most recent distribution/dividend annualized. This could translate into a near term drop in the stock price as many people only understand that the dividend headline number is lower. You now have an advantage over them.
Further the overall market is overbought. Many believe it will pull back significantly. North Korean posturing about nuclear weapons use can only help this pullback thesis. Recent weakening in the EU should help the pullback thesis. It makes sense to wait to buy BX. However, BX is a buy for the longer term. It is growing assets. It has good unrealized profits already; and it is adding to those profits all of the time. Full year 2012 Fee Related Earnings may only have been up 28% year over year, but full year Realized Performance Fees of $629 million were up 176% year over year. With a year from the nadir of the recession just moving into the harvesting window, a reasonable expectation would be for these performance fees to grow quickly in 2013.
BX trades at a PE of 46.81 and an FPE of 7.16. It is expected to grow EPS by 24.90% in 2013 and 21.30% in 2014. With a 2014 PE of 7.16 it has room to grow its stock price with a 2014 EPS growth rate of 21.30%. It has a mean analysts' recommendation of 1.9 (a buy). It has a four star CAPS rating (a buy).
Keep in mind that there may be a US recession in 2013. Averaging in over the whole year and perhaps part of 2014 is probably a good strategy in this type of environment. In that way you should get an average good entry price.
Disclosure: I have no positions in any stocks mentioned, but may initiate a long position in BX over the next 72 hours. I wrote this article myself, and it expresses my own opinions. I am not receiving compensation for it (other than from Seeking Alpha). I have no business relationship with any company whose stock is mentioned in this article.