Cisco Systems Inc. (NASDAQ:CSCO) hiked its dividend by 3 cents to $0.17 per share. In the press release announcing the dividend, the chief financial officer of the company said that it was being done
as part of our strategy to deliver a consistent return to our shareholders, in line with our capital allocation commitment.
Cisco is a leading global supplier of data networking equipment and software. Cisco's core category is routing and switching. Whereas switching products offer various forms of connectivity to end users, NGN routing is fundamental to the internet.
While the company has chosen to grow by making good acquisitions, a bigger scope for delivering returns to shareholders lies within its balance sheet by way of cash and cash equivalents.
Cisco's recent domestic and overseas acquisitions
In December 2012, Cisco completed the acquisition of Cariden Technologies, a California-based supplier of network planning, design and traffic management solutions for telecommunications service providers. Cisco paid approximately $140 million cash for acquiring the privately held company.
In January 2013, it acquired another privately held Denver-based company, BroadHop Inc, provider of next generation policy control and service management for carrier networks worldwide. In February 2013, Cisco completed the transaction for acquiring Intucell, Israel-based provider of advanced self-optimizing software, for $475 million.
On March 25, 2013, the company announced its intent to buy an Austrian company, SolveDirect, an integrated IT services company that provides cloud-based software. On April 3, 2013, Cisco's announced its intention to acquire a UK-based private company, Ubiquisys, a provider of intelligent 3G and LTE (long term evolution) small cell technologies.
Key Statistics and Earnings
Cisco has a market cap of $113.02 billion and enterprise value of $81.35 billion. It has a total debt amounting to $16.29 billion and cash and cash equivalents to the tune of $46.38 billion. Trailing twelve month gross profit of the company is $28.21 billion. Cisco pays $596 million as annual interest.
For Q2 FY 2013, the company reported EPS of $0.47 against consensus estimate of $0.43. Revenue for the quarter was $12.1 billion representing year-on-year growth of 5.2%. Product sales accounted for 78% of total revenue (up 3.3%) whereas services revenue was up by 12.5% at $2.7 billion.
With the current hike in dividend, the annualized yield on the stock now stands at 3.25%, which is sure to make investors happy. Nevertheless, if the company was just a bit more serious about delivering returns, it does not have to look beyond the cash it is holding. The money could be used for increasing dividend yield, pay off debt or even a share buyback to increase shareholder value.
However, this is easier said than done because most of the cash is stashed abroad.
Why do companies stash cash abroad?
Bloomberg News estimates that U.S. companies have more than $1 trillion stashed abroad in overseas subsidiaries. Out of Cisco's $47 billion cash, cash equivalents and short term investments as on January 25, 2013, 83% is overseas. Percentage wise, Microsoft (NASDAQ:MSFT) tops the list with 87% of its cash lying in bank accounts abroad. Apple (NASDAQ:AAPL), which has the largest cash hoard, $137 billion, has 68% overseas. Google (NASDAQ:GOOG) has 64% of its $47 billion lying abroad.
Not bringing cash back from overseas has become a common strategy, which cash rich companies including Apple and Microsoft adopt just to save tax. Another reason is aversion to risk. According to Professor Kathleen M. Kahle, University of Arizona:
As risk increases, executives get nervous and they want to hold cash for a rainy day.
It is a legal way of tax avoidance. It works like this. An overseas subsidiary is structured as a separate corporation and not as a branch office. The profits earned by the subsidiary cannot be taxed by the IRS until it sends profits to the parent company in the U.S.
It would even make sense if companies thought that at some point in time in the recent future they believed that they would benefit from reduced tax rates. With President getting re-elected, it is highly improbable that there would be a tax rate cut soon.
Whatever the reason, it could make sense only if it was for some productive activity but just for saving tax is tantamount to robbing shareholders of what is rightfully theirs.
Beyond investor interest
Apart from shareholder value, repatriating cash back into the economy has far reaching consequences as well provided there is an incentive to bring the cash back. John Chambers of Cisco is quite forthright on this matter. He says that if allowed to bring cash back without a big tax, he will hire more in the U.S., creating more jobs, otherwise he will hire less.
There is also the matter of acquisitions. Cisco used to make big acquisitions within the country. For quite some time now, it has been looking overseas for M&A targets. Not only have domestic targets become expensive, Cisco has also to look at the purchase price as well as to factor in the cost of repatriating the money lying abroad.
The Hidden Value
Even as lobbying for a tax holiday is under way, Representative Brian P. Bilbray, a California Republican, has introduced a bill for allowing companies to repatriate money tax-free if it's used for research and development or expansion of facilities.
In as far as investors' interest is concerned the economics of repatriating cash from abroad are simple. Total cash in its balance sheet is $47 billion. If cash lying abroad is brought in, companies get credit for the taxes paid overseas, which translates into an estimated tax on repatriated cash in the range of 30%. Cisco has $39 billion in foreign banks (83% of $47 billion). After paying 30% tax, it still has roughly $27 billion plus cash and cash equivalents in the U.S. This figure should be viewed in the backdrop that the current dividend payout is $906.10 million - $0.17 per share on 5.33 billion shares and interest component of $596 million.
If the repatriated money is used to buy back shares at current market price, it would add anything above 20% to shareholder value. There has not been a big acquisition made Cisco for a long time now. The overseas cash could even be used for making a big domestic acquisition for fueling growth.
There are more reasons for investors to buy Cisco:
The company's capital allocation plan seems to be in place. In less than a year, Cisco has managed to double its dividend payout, from 8 cents to 17 cents a share.
While dividend is going up, its share count has been going down. From 6.1 billion in 2007 and 5.79 billion in 2009, Cisco has reduced its share count to 5.33 billion shares.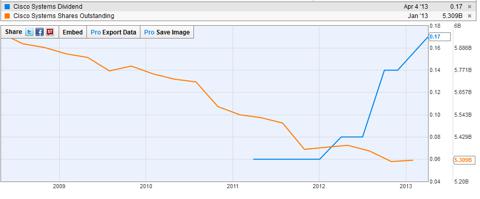 Source: YCharts
Even though it is trading near its 52-week high, Cisco is cheap at $21.20 a share. A company with EPS of $1.74, dividend yield of 3.21% should have price-to earnings ratio of much higher than 12.20. Its forward P/E of 10.09 is even more attractive. These are indications that the company may go for another share buyback program soon.
Disclosure: I have no positions in any stocks mentioned, and no plans to initiate any positions within the next 72 hours. I wrote this article myself, and it expresses my own opinions. I am not receiving compensation for it (other than from Seeking Alpha). I have no business relationship with any company whose stock is mentioned in this article.