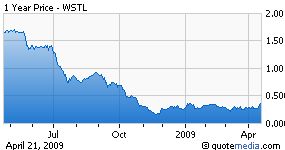 Westell (NASDAQ:WSTL) is showing some signs of coming back to life. One of the few small caps with cash in the bank ($44 mm), virtually no debt, some insider buying, change in upper level management, some decent value in the stock's price (50% of cash and 25% of book), and a recent uptick in volume make this worth watching.
While WSTL, along with many other stocks, is worth more if sold off piece by piece, the cash in the bank make this opportunity especially sweet for potential equity firm buyout, significant stock buy-back, or a potential sell off of one of the company's three business lines - any of which would return significant value to shareholders.
Westell doesn't announce earnings until May 20th, but some progress is being made on improving its bottom line including significant layoffs and retaining Raymond James to assist in the sale of the Conference Plus division.
All eyes will be on its new CEO Richard Gilbert whose recent success history is less than stellar at Copper Mountain and Kineto Wireless. While boosting share price in the near term will likely happen, the long term prospects of raising WSTL to all new heights will require a key acqusition, much needed international expansion, or significant R&D.
Disclosure: No positions.