By John Spence & Tom Lydon
CurrencyShares Japanese Yen Trust (NYSEARCA:FXY) nosedived more than 2% on Thursday after the Bank of Japan unveiled a bold new plan to fight deflation including new easing measures that stunned the market.
The central bank said it plans to double its holdings of government bonds and ETFs the next two years.
Bank of Japan Governor Haruhiko Kuroda said he will do whatever it takes to meet the 2% inflation target.
"Our stance is to take all the policy measures imaginable at this point to achieve the 2% price stability target in two years," Kuroda said in a Dow Jones Newswires report.
The BOJ bombshell rippled into Japanese stocks, which were sharply higher Thursday. The iShares MSCI Japan (NYSEARCA:EWJ) vaulted 4.8% before the opening bell while WisdomTree Japan Hedged Equity (NYSEARCA:DXJ) soared 6.3%. DXJ enjoyed a stronger rally because it hedges its currency exposure to the Japanese yen.
The new BOJ easing measures were even more than the market had expected. New Japanese Prime Minister Shinzo Abe is strongly committed to inflation and a weaker yen to boost the struggling economy.
DXJ was up 28% for the six months ended April 3. FXY, which tracks the movement of the Japanese yen versus the U.S. dollar, is down about 17% over the same period.
"The BOJ certainly surprised to the upside of expectations," said Peter Kinsella, a currency strategist at Commerzbank, in a Bloomberg report. "They've done everything that's required to start a reflation of the economy. It's very clear the direction is to sell yen and it's going to weaken further."
CurrencyShares Japanese Yen Trust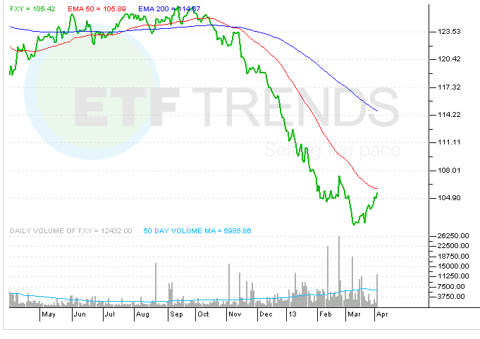 Click to enlarge
Disclosure: I have no positions in any stocks mentioned, and no plans to initiate any positions within the next 72 hours. I wrote this article myself, and it expresses my own opinions. I am not receiving compensation for it. I have no business relationship with any company whose stock is mentioned in this article.