I have been following ZAGG Inc. (NASDAQ:ZAGG) for a couple of years now, and held the stock around the $13 mark. This was a time when everyone was bullish on Apple and ZAGG was riding the mobile device wave. Being happy to break even is an understatement, as the stock has been trading in the $7 to $8 range for the past few months. At this range it would appear there is a buying opportunity, but when I started to scratch beneath the surface things became uglier.
ZAGG's core business has been selling mobile accessories, and they have expanded their product lines over time. The acquisition of ifrogz has helped with this expansion. The issue within this product mix is that most of the accessories are not proprietary. ZAGG Inc. succeeded by being one of the first companies to step up in this industry. Now that the sector has matured there are many competitors with "me too" products.
Increasing revenue when facing completion can be achieved with higher end products, and that is what the competitors are appearing to do.
Competitors
OtterBox
OtterBox has experienced rapid success in this sector and has been acknowledged as the number 1 smartphone case in the US. (Source: The NPD Group/Retail Tracking Service/November 2010 - February 2013)
Lifeproof
This company has produced a case that will protect your mobile device in nearly all environments, such as water, snow and dirt. Following the military standard MILSPEC 810F-516 and the ingress protection standard IP-68, has allowed LifeProof to stand behind their products with a total water protection program guarantying replacement of your mobile device if protection fails.
Others
There have been many other companies innovating different products and some trying to capture the higher margins. Twelve South is a small boutique company that has gained traction with their mobile accessories. Some larger companies have been squeezing ZAGG Inc from the other direction with high end products such as Michael Kors.
Website
While I do commend ZAGG Inc. for making efforts to increase sales, it is concerning to see such aggressive advertising through their website. In particular, ZAGG Inc has introduced a reseller and affiliate program. This program allows individuals to sell ZAGG products at a 20% discounted price. The application for this program does not appear to have a significant vetting process and could undermine margins. Anyone could setup a reseller website undercutting the main supplier.
Additionally, there have been heavy promotions giving away product including iPad's. Some promotions are:
Tablet-A-Day giveaway
Black Friday IPAD an hour
Tech for school giveaway
Carrie Underwood Concert Giveaway
iPad3 an hour giveaway
Kindle a day
iPad2 an hour giveaway
All these promotions feel like acts of desperation for reduced sales. While I hope I am wrong, it does provide some context.
Insider Transactions
Share activity from directors and institutional investors can provide some clues as to the future performance of a company. There are many reasons why an insider may buy or sell their own stock, and are usually predetermined ahead of time as per SEC rules.
Net sales of insider stock were 21.4% during the last six months. With 6.49 million insider shares held prior, the transactions were for approximately 1.8 million shares.
Of greater note are the transactions for institutional investors. Between this quarter and last quarter there has been a net sales of approximately 8 million shares. With a float of 25 million shares, this is substantial. Currently 47% of outstanding shares are held be institutions.
Shorts
Adding to the uncertainty of the stock price is the number of shares shorted. Currently 8 million shares are short resulting in approximately 32% of the float shorted. With over 8 days to cover the shorts, there is some downward pressure on the stock.
Fundamentals
For completeness I have included the fundamentals.
| | |
| --- | --- |
| P/E : | 15.83 |
| Price / Sales | $ 0.85 |
| Price Book | $ 1.81 |
| Total Cash | $ 20.18 Million |
| Total Debt | $ 46.17 Million |
| Market Cap | 227.97 Million |
| Diluted EPS | $ 0.46 |
| Operating cash flow | $ 17.45 Million |
| 200 Day moving average | $ 7.47 |
| Profit Margin | 5.49 % |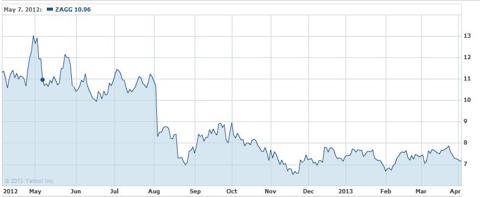 Click to enlarge
Unless ZAGG Inc. starts to innovate with new and exciting products, the company will be relegated as another accessory supplier. Low margins and high volumes will be the norm, waiting for new mobile devices to reach market and trying to supply demand for low cost accessories.
There is a chance that ZAGG Inc. can have success in the future, but it is more likely that ZAGG's better days have passed.
Disclosure: I have no positions in any stocks mentioned, and no plans to initiate any positions within the next 72 hours. I wrote this article myself, and it expresses my own opinions. I am not receiving compensation for it (other than from Seeking Alpha). I have no business relationship with any company whose stock is mentioned in this article.