At the time this article is being written, shares of Best Buy (NYSE:BBY) are on a tear up over 15% on the day. The stock price has nudged up over $25 a share on an intraday basis. If the stock closes above $24 a share, this would be the first time it closed above that price since March 2012. The catalyst for the surge in the shares was the news that Samsung (OTC:SSNLF) will begin opening mini shops within close to 1,400 Best Buy stores around the country. To recap, the value of Best Buy has increased by $1B, going from a $7.3B market cap to $8.3B market cap in one day. With the catalyst for the increase being an announcement that Best Buy will highlight product that it was already selling in its stores. The outlook for Best Buy did not change enough based on this announcement to cause the company to be worth $1B more overnight. While Best Buy will not go the way of the dodo bird in the near term, the 120% rise in the share price in slightly less than 3 months presents a great short opportunity.
Recapping The 120% Rise In The Stock Over The Last 100 Days
The recent explosive move higher in Best Buy shares is stunning to look at on a stock chart: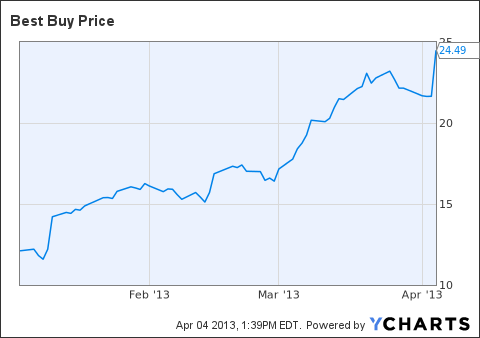 BBY data by YCharts
There have been a number of announcements that have driven the increase, warranted or not. The company has pledged to match prices of key competitors such as Amazon. The critical holiday earnings from 2012 were not a complete disaster, but neither did they contain anything that would give a clear signal. The company founder Richard Schulze, ended his bid to takeover the company with the assistance of PE firms. Somehow, this too was seen as a positive by the market. Analysts are jumping over themselves to turn as bullish as possible on Best Buy as the next greatest turn around story in retailing. Clearly, at $11 a share Best Buy was trading like it was Circuit City and bankruptcy was right around the corner. Fast forward just over 3 months and at a stock price close to $25 a share Best Buy is now trading at over 11.5x 2014 consensus EPS estimates. Is this jump in the stock price truly warranted?
Existential Risks Still Exist
Lost in the hoopla over minor positive news is that e-commerce is still growing at an extremely fast pace. Consider that in the light of the fact that online growth actually slowed for Best Buy in this latest quarter. In the previous holiday season quarter, Best Buy saw 25% growth in online sales. This last holiday quarter, online sales growth slowed to 11%. The fact that Best Buy is choosing to price match online retailers is an act of desperation. The impact to profitability will be substantial in the quarters to come. Best Buy, with the fixed overhead leverage profile it has, simply cannot offer the same prices that a company such as Amazon can. Let me expand on that last statement. It can offer the same prices that Amazon can, but it cannot afford to take a 200bps haircut to their gross margin percentage to compete. Best Buy did just about $50B in revenue last year. If it were to see gross margin drop by 200bps, it would see $1B less in operating income. The market seems to be blind to the fact that gross margins will crater in the zero sum game of the pricing war that Best Buy has now entered.
Also lost in the all the hoopla is that Best Buy is no longer the cash flow generating machine it once was. For the 12-month period ending January 2012, the company generated over $3B in cash from operations. Just one year later, for the 12 months ending February 2013, the company generated $1.4B in cash from operations. This is about a 55% decline in cash flow from operations in one year.
For this upcoming year, the company decided not to give guidance. This is not typically the hallmark of a company that is firing on all cylinders. Consensus estimates are that revenue will fall this year, and cash flow from operations and gross margin will fall in concert.
Examining The Samsung Partnership
As the market reaction today shows, the announcement of this partnership with Samsung is clearly being viewed as a major coup for Best Buy. However, when you take a step back you begin to scratch your head and wonder why. From a product standpoint, there will likely be a small to negligible addition of Samsung products compared to what Best Buy already offers. The positive aspect of the announcement is apparently that dedicated Samsung representatives will now be able to hawk their products from inside Best Buy. The company finally has figured out that it does not need the space inside its stores to sell CDs and DVDs any longer. I guess this only took it three years to figure out and thus the market applauds the company for finally getting that right.
Even if, the Samsung partnership were to bear fruit, you have to wonder how this will happen and at what cost to the company. To answer the how question, you must assume that additional customers will now seek out Best Buy because of the Samsung shops. This is certainly possible, but you can already get a Samsung phone or tablet at any number of retailers. Are customers truly that desperate to buy from a Samsung representative that they will not just order their Samsung phone from their cellular provider or whomever else they are currently using besides Best Buy? Again, possible but hard to see a compelling reason why this would be the case. As far as the costs to the company, it is hard to imagine that Samsung competitors will appreciate Best Buy highlighting a competing product so prominently. If Apple, for example, pulled its products from Best Buy would the Samsung relationship offset this loss? It is not so hard to imagine that Apple would respond in this manner if it felt it could get away with it. Does Apple need Best Buy more than Best Buy needs Apple? I do not think that is a hard question to answer. The only company guaranteed to gain anything from this partnership is Samsung.
Investment Outlook For Best Buy
With the shares trading up 120% in just over three months, it is a perfect time to sell the stock if you own or consider an outright short. This situation reeks of the J.C. Penney (NYSE:JCP) run after Ron Johnson was hired as CEO. New management with a turnaround plan, analysts rushing to proclaim a turnaround story, and every headline a seemingly positive catalyst for the stock. Time will tell with Best Buy, just as it has with J.C. Penney, that actions speak louder than pop up shops.
Disclosure: I have no positions in any stocks mentioned, and no plans to initiate any positions within the next 72 hours. I wrote this article myself, and it expresses my own opinions. I am not receiving compensation for it (other than from Seeking Alpha). I have no business relationship with any company whose stock is mentioned in this article.