VIX - Market Sentiment:
Thursday S&P futures were moving higher yet again as those looking for a bounce played for such a move. The market initially ripped higher before some uncertainty again came back into the markets. Yesterday's sonar (here) highlighted some bullish activity was mentioned in both Endo Health (NASDAQ:ENDP) and NovaGold (NYSEMKT:NG), which both paid well today. The market continued to chop back and forth near the top and bottom of a converging range, suggesting we are setting up for either a serious breakout or a serious breakdown at some point in the near future. Today's up closing marks the 12th consecutive day of alternating up/down moves for the markets.
The spot CBOE Volatility Index (VIX) and futures were also chopping higher and lower throughout the day. Volatility ETF (NYSEARCA:VXX) continued to weigh as the front two month futures sold off much more than June. VXX did see greater than average option activity today, trading 335K contracts versus just 264K average daily volume. Calls and puts were both heavy, but large block trades of the April 12 strike weekly calls went off in large blocks for .03 some 50K times on the day. Overall volatility bulls and bears battled to a stalemate as put and call net premiums were both purchased on the day. VXX did close near the lows of the day as the market again re-tested the 1560 level.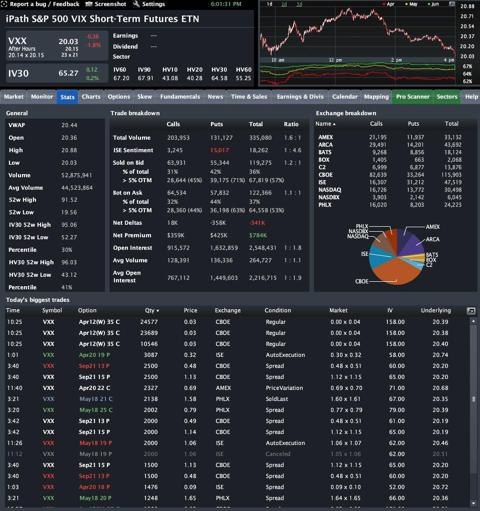 Statistics and Screenshot Provided By LiveVol
VIX futures are listed below.
Yesterday
· April VIX futures 14.55
· May VIX futures 15.68
· June VIX Futures 16.55
Today
· April VIX futures 14.25
· May VIX futures 15.51
· June VIX Futures 16.47
Options Paper:
One trader today believes Dicks Sporting Goods (NYSE:DKS) is set to take the next leg lower after buyers of the April 47 strike puts caught my attention. DKS is not typically a name that sees much option activity and only trades 2.2K contracts a day, but today 75% of the 1.6K puts purchased were bought on the offer, signaling someone believes the same-store sales next week will be bad for the stock price. Although options activity was not above average daily volume, the reaction in the stock to this purchase at 2:44 is significant as implied volatility jumped 4.3% on the purchase as well. Keep this name on your radar as a potential short candidate as the put activity suggests a pullback as puts outnumbered calls 8.2 to 1 on the day.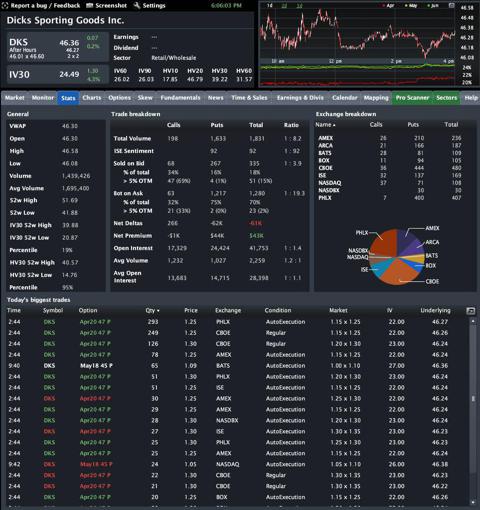 Statistics and Screenshot Provided By LiveVol
A name that is also on the sonar quite often is the Gold ETF (NYSEARCA:GLD), simply for options activity. Today it is being highlighted, as someone believes GLD is going to move big between now and September expiration. The largest trade by far was a buyer of 17.5K of the September 155 strike straddle paying ~12.40 per contract or 21.7M in premium. This bet is simply a belief GLD will either fall apart or scream to the upside in the upcoming months. GLD has been at or near 52-week lows in terms of volatility, so this play will make money even if GLD stays put but volatility increases. This position really takes off if GLD is trading under 133 or above 167 on September expiration, playing for either a breakout or breakdown in gold prices. Regardless, someone took a really big swing at GLD today believing the stock is ready to move.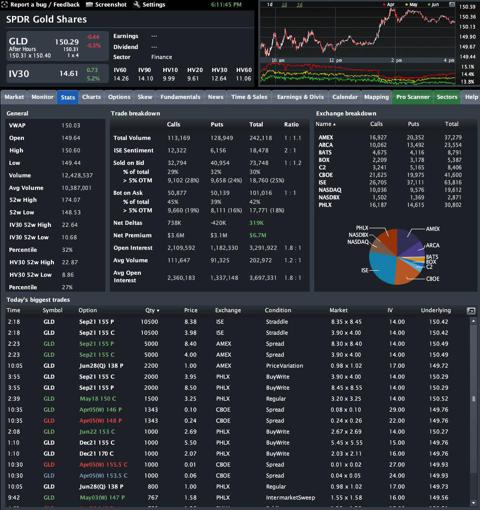 Statistics and Screenshot Provided By LiveVol
Popular ETFs and equity names with bullish/bearish paper:
Bullish Option Flows - ISE and % OTM calls bought on offer
Teva Pharma (NYSE:TEVA) 90% or 10K OTM calls bought on offer
Hecla Mining (NYSE:HL) 77% of the 11K OTM calls bought on offer
Quicksilver (NYSE:ZQK) 77% - Large 2.5K OTM call purchase
Bearish Option Flows - ISE and % OTM puts bought on offer
EchoStar (NASDAQ:SATS) 89% - Someone looking for a pullback short term with April 35 puts bought
Boyd Gaming (NYSE:BYD) 69% - 5.2K OTM puts bought on offer
Disclosure: I am long AGNC, BA, BAX, CBB, CIM, CONE, DNDN, DRYS, HEK, IOC, JCP, LNG, NBR, NQ, TLM, and I am short ASH, EMR, LULU, SPY.
Trades Today: Added to SPY hedge/Short.
I wrote this article myself, and it expresses my own opinions. I am not receiving compensation for it (other than from Seeking Alpha). I have no business relationship with any company whose stock is mentioned in this article.
Disclaimer: The opinions in this document are for informational and educational purposes only and should not be construed as a recommendation to buy or sell the stocks mentioned or to solicit transactions or clients. Past performance of the companies discussed may not continue and the companies may not achieve the earnings growth as predicted. The information in this document is believed to be accurate, but under no circumstances should a person act upon the information contained within. I do not recommend that anyone act upon any investment information without first consulting an investment professional as to the suitability of such investments for his or her specific situation.