I have been analyzing big oil stocks that offer a good return on investment for a value investor. My analysis here is based on the profitability ratios in the financial statements of BP PLC (NYSE:BP) over the last 5 years.
When a firm has strong profitability ratios, it portrays to an investor that it provides a good return on his or her investment. The profitability numbers that I came across for BP were very encouraging. Keep in mind, however, that this is just one of the many ways to analyze a stock.
Individual project risk is something that can do severe damage to an energy company. BP and its Gulf of Mexico oil spill is a prime example of just how bad it can get. As a result of the disastrous oil spill, BP had to fight just to stay in business by shedding assets and changing its structure and outlook materially.
A profitability analysis of a company involves looking at a class of financial metrics to determine a firm's capacity to generate profitable sales from the resources it has. Typically, higher ratio numbers translate to a higher investment value for the firm.

Source: BP annual reports.
Operating income divided by net sales is the calculation used to obtain the operating profit margin. The operating profit margin has been much lower than the industry average in the last 5 years. After a rise in profitability from 2010 to 2011, BP has seen declining profit margins from 2011 to 2012.
Net income divided by net sales gives you the net profit margin. The net profit margin has also been lower than the industry average over the past 5 years. BP has the lowest return on sales values when compared to its closest rivals Exxon Mobil (NYSE:XOM), Chevron Corp. (NYSE:CVX) and Royal Dutch Shell (NYSE:RDS.A).

The Return on Investment ratios also aren't as impressive when compared to the industry as a whole. BP is now completely exiting the renewable energy sector and this could help boost profit margins and return on investment ratios. It is the high-margin oil and gas projects that BP is hoping will generate higher returns after the losses due to the Gulf of Mexico disaster.
The Return on Equity [ROE] ratio is arrived at by dividing the net income by the shareholders' equity. The ROE has risen from 2010 to 2011, but then declined from 2011 to 2012. The 2012 ROE is nowhere near the 2008 level and this is a similar pattern among all the major integrated energy companies.
As for the Return on Assets [ROA], it is obtained by dividing the net income by the total assets. Even the ROA has been generally lower than the industry average over the last 5 years, but it has not been considerably lower like the ROE.
Income Statement:
BP's income statement is shown in the table below. The income statement numbers are lower than its closest competitors over the last 5 years. Therefore, the oil spill is not completely to blame. The $8B share buyback that BP recently announced may not be the best use of its funds, either. The company has already sold $38B of its assets and analysts feel that BP has to rebuild itself and invest at an extremely high level to sustain itself as one of the world's oil majors.

Note: U.S. dollar in millions.
Balance Sheet:
BP has a fairly strong balance sheet. The numbers used to arrive at the profitability ratios listed in the 'Return on Investment' table are shown in the table below.
The numbers lag behind Exxon Mobil and Shell, but they are much higher than Chevron. The unloved oil company pays a dividend that yields twice that of Exxon's, and well above that of Chevron. BP's dividend yields just over 5% which is comparable to Shell.
The trend that can be seen across the board is that big oil stocks have continued to grow their assets rapidly over the past 5 years. There will always be oil spills as long as the planet needs these oil and gas companies for energy. In fact, BP may have actually handled its oil spill better than Exxon Mobil.

Note: U.S. dollar in millions.
Cash Flows
Free Cash Flow = Operating Cash Flow - Capital Expenditure
Free cash flow is a measure of financial performance that must be taken into account. It is calculated as operating cash flow minus capital expenditures. Free cash flow [FCF] represents the cash that a company is able to generate after laying out the money required to maintain or expand its asset base. Free cash flow is important because it allows a company to pursue opportunities that enhance shareholder value. Without cash, it's tough to develop new products, make acquisitions, pay dividends and reduce debt.
When looking at the "Cash Flows" table below it can be clearly seen that BP's free cash flow has been negatively affected by the oil spill. Still, it must be noted that negative free cash flow is not necessarily a bad thing. When the free cash flow is negative, it could be an indication that a firm is making large investments. This could work out very well for a company in the future if these investments earn a high return.
But this is not the case with BP that is in the midst of a multibillion-dollar settlement with businesses and residents who claim the Gulf of Mexico oil spill cost them money. BP has warned its investors that the price tag will now be much higher. This will hurt free cash flow further.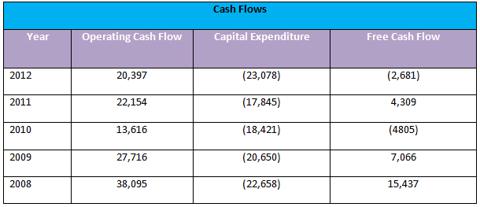 Note: U.S. dollar in millions.
The negative free cash flow is going to be troubling for BP to develop new products, make acquisitions, pay dividends and reduce debt. The company is in rebuild mode and financial flexibility is a must.
Cash Flow Margin = Cash Flow from Operating Activities / Total Sales
A high cash flow margin can indicate that a company is efficient at converting sales to cash, and may also be an indication of high earnings quality.
On the other hand, a low or negative cash flow margin means that a firm will have to borrow money or require a large influx of outside capital in order to keep on operating.
As BP's cash flow margin is low, it might have some cash problems in the foreseeable future. Nonetheless, the energy company's debt is under control.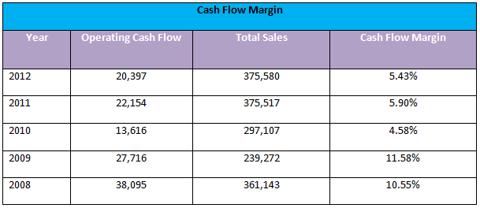 Note: U.S. dollar in millions.
Conclusion: BP shares still have upside potential
BP shares are trading at 5 times 2013 EV/EBITDA and 8.5 times 2013 P/E. Equity analysts agree that BP is undervalued. I am going to have to agree with this sentiment even though the profitability ratios aren't particularly impressive and even the price action is bearish.
The stock is currently trading at $41.28 per share and is down 34.46% over the last 5 years. I know that hedge funds are selling this stock, but I am going with my gut feeling here and say that BP is a good investment idea. Additionally, investors should consider the fact that BP had zero insider sales and zero unique insiders buying in the last 6 months.
I know I've made a different call from what I did with Shell which definitely had better profitability numbers. Again, profitability ratios are just one aspect and I see this as a good time to buy BP stock given the depressed price action.
Major integrated energy companies are always a great investment idea. After all, the world trades in energy.
All material is sourced from Morningstar and MSN Money
Disclosure: I am long CVX, XOM. I wrote this article myself, and it expresses my own opinions. I am not receiving compensation for it (other than from Seeking Alpha). I have no business relationship with any company whose stock is mentioned in this article.