Gastar Exploration (NYSEMKT:GST), despite excellent well results with top-tier economics, had until recently dramatically underperformed against other Marcellus shale "pure play" companies, due to litigation and liquidity concerns.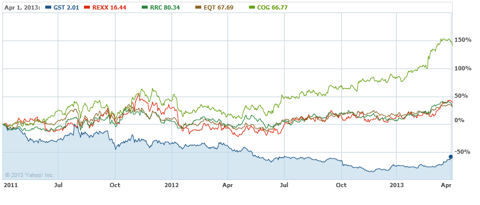 These peers include Cabot Oil (NYSE:COG), which is one of the best performing stocks in the S&P 500 over the past 2 years. And Range Resources (NYSE:RRC), EQT (NYSE:EQT) and Rex Energy (NASDAQ:REXX). Each of these companies has outperformed despite falling natural gas prices, due to excellent performance of their Marcellus well results. These companies trade for 13-22x EV/EBITDA (COG the highest multiple at 22x, EQT the lowest at 13x).
GST trades at 8x, and considering its leverage if it traded to a 13x multiple, it would triple and thus "catch up" with these Marcellus peers. Obviously, the question is why has GST underperformed and why might it outperform now?
Actually the outperformance has already started, as can be seen from the past month's stock chart: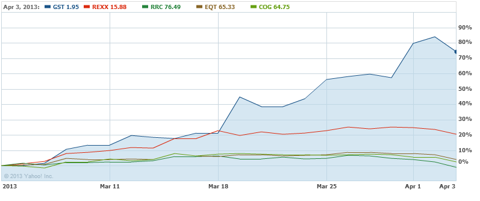 Investors in Gastar had concerns about the company's liquidity, and even more importantly, the company was subject to the threat of, and subsequently the actuality of, a lawsuit by Chesapeake (NYSE:CHK) that claimed damages greater than GST's entire market cap. Fortunately, that lawsuit was successfully settled for $1 million (a tiny fraction of the claim). Additionally, with the acquisition Gastar just announced (it appears to have taken advantage of CHK's new management's burning desire to sell assets and bought acreage right next to its new huge well before CHK knew how great the results were), Gastar should achieve scale - primarily, the ability to participate in the high yield bond market with a $200 million offering, which should fund rapid growth into the future. This growth at a reasonable cost (less than 10% interest rate expected in a bond deal) should allow investors to pay a similar multiple for GST compared to a similar sized company like REXX. And if investors find Gastar's story to be compelling like they do COG's, at 22x EV/EBITDA GST could be a $10+ stock, versus its current $2 share price.
Here is a map of Gastar's Liquids Rich Marcellus position: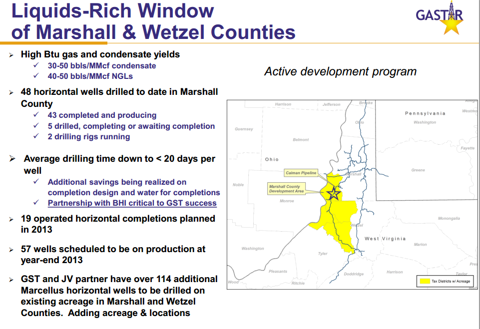 And to get a sense of economics here is RRC's Marcellus economics slide (RRC trades at 20x EV/EBITDA, used the dry gas slide because that is most of RRC's resource in place):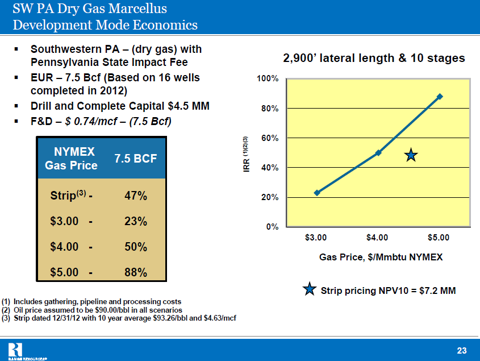 And here are GST's well economics (GST trades at 8x EV/EBITDA):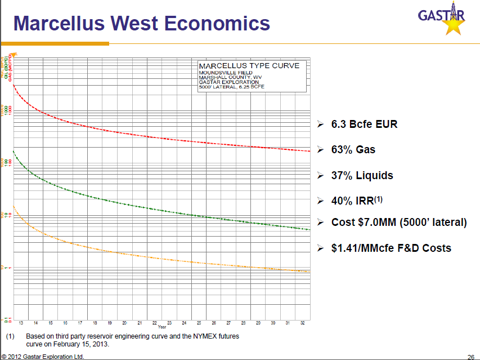 As another consideration unrelated to the Marcellus, GST just announced phenomenal well results in a new play in the Mid-Continent: they have a well that is currently producing over 950 boepd (87% oil) that cost $4.3 million. GST now has just under 100,000 net acres in that play, and if it is able to repeat such results, the Marcellus may actually end up overshadowed by this extremely highly economic oil play.
Disclosure: I am long GST. I wrote this article myself, and it expresses my own opinions. I am not receiving compensation for it (other than from Seeking Alpha). I have no business relationship with any company whose stock is mentioned in this article.
Additional disclosure: I am long GST and may buy or sell it or any other position mentioned at any time