As we terminate winter and head through spring, there have been some major moves in the commodity sector. Silver fell to an 8 month low this week -- ishares Silver Trust ETF (NYSEARCA:SLV) and gold prices are challenging key support levels. Given the stronger dollar, market action, etc., I would be very surprised if over the next year, we will see the SPDR Gold Trust ETF (NYSEARCA:GLD) come anywhere close to 160 again. For this to happen, gold prices would have to soar back above $1650; something that I think is doubtful barring any major global calamity. North Korea you say? Hopefully not. This is the one big event (N. Korea) that would keep the crude oil from falling. A stronger dollar, the highest level of crude stocks since 1931 and hedge fund liquidation have resulted in a sharp 7% drop in prices this week of the Crude Oil ETF (NYSEARCA:CRUD). Prices may eventually fall to the $85-$88 level.
While the corn market has dropped more than 13%, the current focus in the agricultural arena is on the fate of the wheat crop from Nebraska to Texas. In addition, we must assess whether the recent cool March weather will extend into May and delay spring wheat and corn planting. The Western corn belt drought is easing, and this, combined with poor demand for corn, less ethanol production, big corn crops out of South America are all bearish aspects to the corn market. The USDA last week threw a shocker to some traders revealing that on-farm stocks are much higher than most expected. Nevertheless, corn futures and the ETF (NYSEARCA:CORN) is oversold, but I remain bearish longer term and think the chances are pretty good that another 10-15% down in corn futures could occur by summer. The only thing that may save the corn market from collapsing later this spring or summer would be wet late April/May weather during planting and/or a hot-dry summer. These are to weather two items we are busy researching extensively for clients.
I have been bearish soybeans for months and the bird-flu situation in China and a huge crop coming out of South America is not helping matters any. Barring summer weather problems, look for the ETF (NYSEARCA:SOYB) to fall another 7-14%. However, it is a long growing season and there will be lots of trades both from the long and short side in coming weeks.

Statements like these (above) from the Governor of Kansas and the poor condition of the wheat crop from Nebraska to Texas (below) have helped wheat prices rally back. Rainfall prospects for some 60-75% of the drought stricken wheat belt should pick up heading into mid-April and May. Traders will also be watching whether the cool weather in Europe slows planting of spring crops and hurts the wheat crop, and whether Canada and North-South Dakota remain cold and stormy cause some early season planting issues.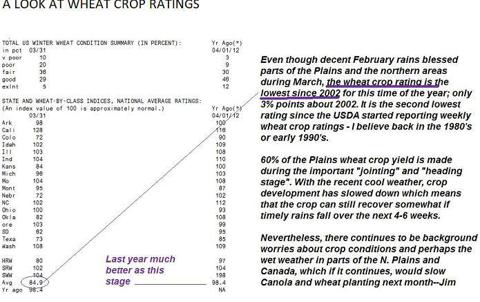 SOURCE: USDA
Natural gas prices rallied about 20% since their early February lows, with one of the coldest March weather patterns in recent memory. This was due to the incredible stratospheric warming we discussed as early as January, which eventually worked its way down to the surface, impelling cold arctic high pressure systems to work their way south over Europe and the United States. However, with warmer weather on the way and this being a shoulder month, I am happy with the 20% move up in (NYSEARCA:UNG) and feel it will take an extremely hot summer and/or active hurricane season to see natural gas prices extend their rally. Currently, most of my research suggests a normal to cool early summer that would be bearish the grain complex and possibly put a cap on natural gas prices as well. Nevertheless, the charts and some other fundamentals remain friendly natural gas and it possible prices could rally another 5-10% then fall back this summer if the weather ends up being cool. My bias is to recommend selling call options in UNG, but not quite sure of the exact timing.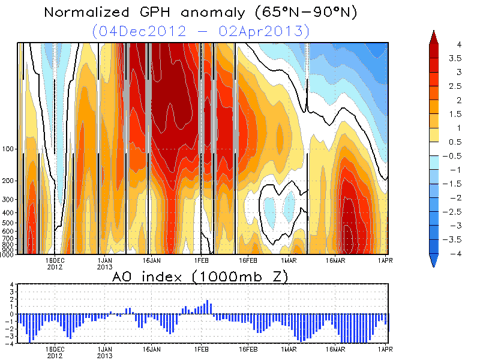 Source: Climate Prediction Center
The incredible warming (above) some 15-25 miles up over Greenland and the Arctic began in mid-January (red). This is why we felt the second half of the winter would be cold, as well as due to record warm ocean temperatures off the Atlantic Coast. Warm Atlantic waters caused some environmental and geological calamities, primarily to the fishing industry. The U.S. cold occurred about 2 weeks later than our forecast, but nevertheless helped to rally the natural gas market. The associated negative AO index (blue) resulted in the polar opposite weather pattern from March 2012, which was the warmest ever. This year's cold March will be paramount in sculpting a spring and summer weather forecast for many crop growing areas around the globe.
Sugar prices have been in a free-fall for months, in part due to the big Brazilian crop. There is a seasonal to go long sugar in about a month that has worked 14 of the last 15 years into June. For the next few weeks,traders will focus in on the Brazilian sugar cane harvest. I look for some heavy rain and short term harvest concerns in the next week, but any prolonged type wetness observed like in 2009 is probably unlikely. Look for the ETFs (NYSEARCA:SGG) and (NYSEARCA:CANE) to have a seasonal rally, sometime before June.
Orange juice prices have rallied about 10-15% since our buy recommendation this winter, on a combination of disease issues and drought in Florida. With the typical seasonal increase in Florida rainfall more possible this summer, prices may top out, but a lot depends on how much further disease issues magnify. Florida is due for a major hurricane. If Florida escapes a major cataclysm this summer, then prices are bound to fall in the June-September time frame. The demand side of the equation is not bullish, especially when you have world beverage consumers having a fetish with coconut water.
The one commodity that has a heavy short position and may be vulnerable to short-covering is coffee. There has not been a major Brazilian frost in 18 years (1994 the last big one; and major scare in 2001 I believe), but traders will be drilling me with questions with regards to this potential or not this summer (Brazil winter). I also need to address the recent drought that has plagued Vietnam, but for now seasonal rains are expected. I do not see a whole lot of downside in coffee currently and think the ETF (NYSEARCA:JO) is poised for some kind of rally heading into late spring. The next 2 weeks could be very wet over northern Brazil, possibly causing some minor concerns prior to the June-July harvest. Also, disease issues continue in Central America. Nevertheless, Brazil producers have an immense amount of coffee to sell, otherwise, this market could be poised for a major spring or summer rally.
Disclosure: I have no positions in any stocks mentioned, and no plans to initiate any positions within the next 72 hours. I wrote this article myself, and it expresses my own opinions. I am not receiving compensation for it (other than from Seeking Alpha). I have no business relationship with any company whose stock is mentioned in this article.