Currently, natural gas prices are in a suppressed state. In the United States, the price of natural gas is more than 50% below historical averages. Firms with operations focused on the production of natural gas are continuing to face margin compression, which is simply depleting firm value. It is only a matter of time before the suppressed book value of these firms assets are re-accounted for, however the profit margins lost as a result of low natural gas prices will not be. The consequences resulting from low margins has created a major liquidity issue for firms such as Chesapeake Energy (NYSE:CHK).
CHK is the second largest US producer of natural gas, accounting for roughly 4% of US production, and the largest in gross production with about 9% of US total volume. Also, CHK stands at the top of its industry in unconventional exploration successes, and is responsible for the discovery of the Haynesville, Utica, Powder River Niobrara, Tonkawa, as well as the Mississippi lime unconventional plays. In order to maintain an adequate level of short-term funds to sustain its operations and enough solvency to meet long-term capital needs, CHK was forced to alter its capital structure and implement new financing strategies. This article outlines how low natural gas prices have impacted CHK's financial position, asset value, and how management was forced to change its capital structure. In addition, I will elaborate on how CHK's increased level of solvency now gives CHK the financial stability necessary to continue surviving low natural gas prices. For starters, here is an overview of CHK's liquidity position.
CHK's Early Battle With Liquidity
Over the past five years, CHK has faced numerous issues with liquidity. Prior to 2011, CHK's average current ratio was about one, and liquidity was never a major issue up to this point. However, the decline in the price of natural gas caused this issue to magnify, and management was forced to take action midway through 2011.
Figure 1: CHK's Current Ratio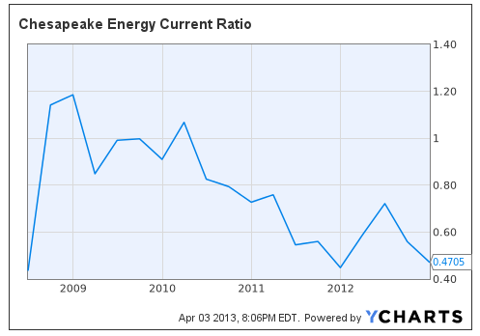 CHK's first major decision towards battling low natural gas prices consisted of implementing the "25/25" strategy. This strategy served as an addition to its existing working capital policy, but entailed a new objective that was specifically designed to exhibit control over its long term debt. The new policy would strive to reduce its long-term debt by 25%, yet still continue to grow production by 25%. In order to raise enough capital to meet this objective, CHK was forced to sell off a portion of its assets. CHK needed enough capital to remove a large burden of debt from its balance sheet, which at the time was roughly $12.64 billion. In February of 2011, CHK sold its dry shale gas acreage in Fayetteville to BHB Billiton for nearly $4.75 billion. By the end of FY 2011, CHK was slightly short of its goal, but CHK still managed to reduced its long-term debt by 17% from the previous year.
Asset Management & Debt Reduction
Low natural gas prices have heavily impacted CHK's profit margins. Low price levels have made it extremely difficult for CHK to maintain an adequate level of short-term funds, while still making payments on long-term debt outstanding. In order to sustain operations long enough to benefit from increases in the price of natural gas, it will require a higher level of liquidity in the short-run as well as a higher level of solvency for meeting long-term capital needs.
In response, CHK sold of a wide array of its assets. In just the past three years, CHK sold over $27 billion of its assets. In 2012, roughly $12 billion was incorporated into its capital budget to be allocated towards projects and paying off its existing long term debt. However, this does not add up by looking at CHK's balance sheet. According to its balance sheet as of FY 2012, its long term debt increased to $12.3 billion from $10.769 billion. This increase can be attributed to CHK's $2 billion refinancing decision made in November of 2012. As management reported, "It makes sense for Chesapeake to go through with the new loan because the company would then be able to repay higher cost debt, effectively reducing its cost of capital."
Figure 2: CHK's Long-Term Debt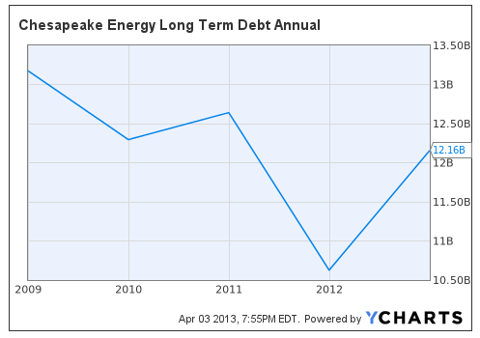 Looking forward, this year CHK's management estimates $4 to $7 billion in capital from the previous asset sales will be allotted towards the capital budget and making additional payments on its long-term debt. In addition, to further reduce its debt CHK recently announced it has priced an offering of $2.3 billion in Senior Notes. All of the notes are expected to be issued on April 1 of next week. The prices of the Senior Notes are respectively:
$500 million @ 3.25% due in 2016
$700 million @ 5.375% due in 2021
$1.1 billion @ 5.75% due in 2023
CHK's management claims a portion of the net proceeds from the new issuances are going to be allotted towards purchasing a portion of its 7.625% Senior Notes due 2013 and 6.875% of the Senior Notes due 2018. This will essentially enhance CHK's liquidity in the short-run, while still provide CHK with the capability of paying off a portion of its long-term debt that is due at an earlier date.
Low Natural Gas Prices Force Asset Values Lower & Financial Leverage Higher
For firms operating as a producer of natural gas, the low average price of natural gas has a significant influence on the valuation of these firms assets. The value of these firms assets industry wide has taken a large toll over the past few years. Fortunately, the assets CHK still owns have maintained relatively strong valuations in contrast to assets of its industry peers.
Figure 3: CHK's Assets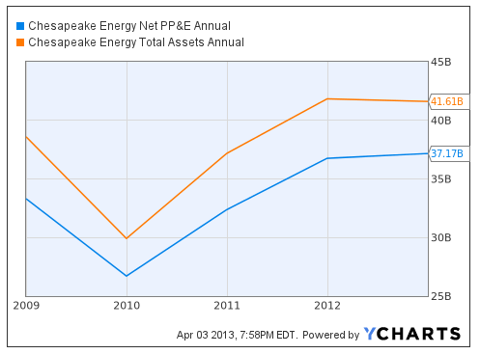 CHK's operating and financial risk will continue to supply investors with a large quantity of uncertainty. In quantitative terms, CHK's financial risk can be assessed by computing the degree of financial leverage. CHK's degree of financial leverage is approximately 2.65%. This computation takes into account the percentage change in operating and net income. Specifically, it reflects the arithmetic average for CHK's degree of financial leverage during the past several years of low natural gas prices. Simply, this metric is implying that for every 1% change in operating income, net income changes by 2.65% due to financial leverage. In other terms, if there were a 10% decline in CHK's operating leverage, its net income will also decrease by roughly 26.5%. As you can see, there is a tremendous amount of variation that is directly associated with low natural gas prices.
Looking Ahead, What's Next?
For many investors, the major underlying concern remains to be the suppressed state of natural gas prices. The potential damage will only continue to magnify with the sustainability of low natural gas prices. Standing directly below Exxon Mobil (NYSE:XOM) as the second largest producer of natural gas, CHK's growth potential is tremendous. But as investors have expressed, a solid recovery in the price of natural gas is vitally necessary for eliminating the unsustainable debt burden and issues of liquidity that magnify year after year.
Looking ahead, a slow recovery in the price of natural gas appears to be the case. Until natural gas prices make a strong recovery, CHK's increased level of solvency will help reduce the risk of capital adequacy and make CHK capable of meeting its long-term capital needs. In addition to the changes CHK has made, investors should maintain close attention to CHK's performance in the market on a daily basis. CHK is one of those well known stocks that is known for spiking dramatically in response to positive news. The exact time frame as to when natural gas prices will make a full recovery remains uncertain. Therefore, investors may capable of making large profits before natural gas prices fully recover. In conclusion, I recommend buying CHK as a solid long-term growth investment.
Sources: TD Ameritrade, Google Finance, Yahoo Finance, & Business Week.
Disclosure: I am long CHK. I wrote this article myself, and it expresses my own opinions. I am not receiving compensation for it (other than from Seeking Alpha). I have no business relationship with any company whose stock is mentioned in this article.