Since January 2012, Omega Healthcare Investors (NYSE:OHI) shares have climbed from around $19.00 to a recent close of $32.00. That's a whopping 62% increase. Adding the dividend yield (currently 5.63%), Omega has returned an extraordinary 78% in just over fifteen months.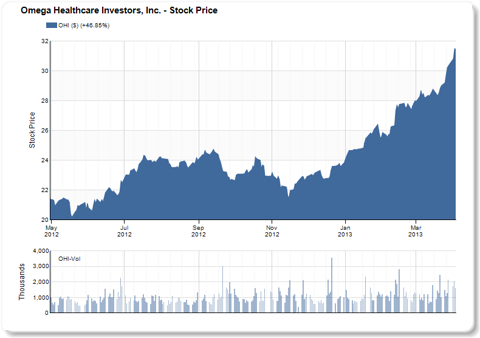 In a recent Seeking Alpha article, I wrote about a recent trend whereby certain healthcare REITs - with mispriced risk characteristics - have outperformed the broader peer group:
It's clear that the REITs with the lowest quality asset portfolios (higher cap rates) have been on a run. Alternatively, cap rates have continued to compress for high-quality portfolios and that has created a potential rally in the overall sector. Hence, the concept of mispriced risk.
Omega, one of these so-called "mispriced health care REITs," has seen intensified growth and the purpose for my recent article was to explain the risks of buying shares that look cheap but are much more risky than they appear. As I explained in the previously referenced article:
Now, fellow investors, I am feeling somewhat nervous and the purpose for this article is to provide you with one important and increasingly dangerous risk: buying lower quality health care REITs that pay higher dividends. This is not say that I would immediately unload all of your shares in OHI, MPW, or AVIV. I simply want to make the case that in the long run, high quality always wins.
With a P/FFO multiple of 12.7, Omega is trading at a fair valuation range; however, the price is beginning to climb towards moderately valued levels. Omega's shares hit an all-time high yesterday of $32.08 and the dividend yield is 5.61%. Regardless of the valuation (remember not to forget the margin of safety concept), Omega's dividend record is exceptional.
The Maryland-based REIT has been a paragon of operating efficiency. As a measure of cash flow sustainability (i.e. Funds from Operations), Omega has delivered an attractive record of paying out strong and steady dividends. The company has generated a very predictable and consistent level of FFO growth demonstrated by the consistent dividends distributed to shareholders. Here is a snapshot of the dividend history that includes ten years of dividend increases (in a row):

In addition, here is a snapshot of the dividend growth that has averaged over 11% per year during the last nine-year period (excludes 2004-2012):

What Does The CEO Have To Say?
Earlier this week, I had an opportunity to catch up with Taylor Pickett, Omega's CEO and President, and I asked him a few questions:
Thomas: How does Omega fund growth since the company pays out most of their profits in dividends? More specifically, does the company issue new shares in order to continue paying dividends?
Pickett: Some of our growth is funded from free cash flow, but the majority is funded by raising capital through the sale of equity and the issuance of debt. Since we have more free cash flow than dividend obligations, we do not issue shares to pay dividends.
Thomas: Can you tell us about your 2012 acquisitions?
Pickett: Omega closed on over $500 million in new investments during 2012. The majority of the investments were in skilled nursing facilities with existing tenants.
Thomas: The healthcare sector has outperformed the REIT industry in 5 out of the last 7 years. Do you think the healthcare industry has the momentum to sustain that growth?
Pickett: We continue to see growth opportunities in the SNF space. Our investment thesis and business model has not changed.
Thomas: Omega owns around 87 facilities in Florida. That is around 20% of revenue. Do you see Omega increasing or decreasing exposure in the "sunshine state"?
Pickett: We are bullish on Florida and would add to our Florida holdings if we are able to find the right assets.
Thomas: There appears to be little growth in new assisted living construction. When do you see new construction activity picking up?
Pickett: Our assisted living exposure is fairly limited. We are starting to see specialty memory care development which will continue to evolve as a product.
Thomas: Omega's occupancy is stable (84%); however, I would have thought that number would be higher - especially with limited new construction now. What's the reason?
Pickett: Although occupancy has been stable, acuity has increased and lengths of stay have declined slightly (both of which work to reduce occupancy levels).
Thomas: Omega has 86% of assets unencumbered ($2.726 billion). How is that beneficial?
Pickett: Unencumbered assets allow for maximum flexibility in debt structuring and in managing the portfolio. For example, if an asset is under performing, Omega can decide to sell or close the asset without needing to obtain lender consents.
Thomas: You appear to have a conservative balance sheet. Can you provide some details?
Pickett: Omega has historically run the balance sheet with modest debt levels and substantial cash flow versus interest obligations. We target debt to EBITDA of 4x-5x and fixed charge coverage in excess of 3x. These modest leverage levels provide significant cushion in the event there are portfolio problems.
Thomas: Many of my readers own Omega for its consistent and risk-aligned dividend yield. Can you tell us anything about your board's dividend policy?
Pickett: Omega reviews the dividend payout every quarter. We have actually increased the dividend in 22 of the last 36 quarters. We typically pay 80%-85% of adjusted FFO with a general guideline of no more than 90% of funds available for distribution.
Thomas: Can you tell us about your background and experience in healthcare?
Pickett: I started my career with KPMG Peat Marwick as a CPA. My focus was audit, tax and transactions in the financial and healthcare sectors. In 1993 I joined a growing post acute care company where I served in a variety of financial and operational senior management positions. In 2001, I joined Omega as CEO. At that time, Omega's equity market capitalization was around $60 million.
Thomas: Thank you for your time.
Explanation of FAST Graph Chart Below:
Omega's very predictable and consistent FFO growth is clearly depicted with the orange line marked with an "F". It is also clear from the price (the black line) and FFO (the orange line) correlated graph below that the price HAS closely tracked FFO.
The blue shaded area represents Omega's dividends distributed to shareholders. This consistent level of growing income distributions is an essential and important aspect of the investment merit of this REIT. Therefore, based on the company's distributable cash flow, Omega represents a very attractive value proposition. It's not dirt cheap, but the 5.6% current (and above-average growing yield) is solid.
Only Mr. Market knows the future of Omega's price; however, given the run-up in price, I salute Mr. Pickett (and his team) for doing a darn good job of growing the dividend "in good times and bad." Congratulations for helping the small investors sleep well at night.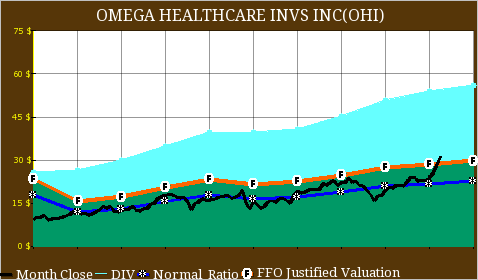 Source: FAST Graphs, SNL Financial
Other REITs mentioned: (NYSE:AVIV), (NYSE:MPW)
Disclosure: I have no positions in any stocks mentioned, and no plans to initiate any positions within the next 72 hours. I wrote this article myself, and it expresses my own opinions. I am not receiving compensation for it (other than from Seeking Alpha). I have no business relationship with any company whose stock is mentioned in this article.