In our recent articles, we've focused on undervalued high dividend stocks with yields over 7% and higher. This week's article offers 2 different ways to earn a 9%-plus yield on an oversold and undervalued dividend stock.
Is the U.S. Housing Recovery rally over? Over the past year, U.S. home builder stocks have been bid up in a big way by investors, but over the past month, many of them have lost their luster, as some mixed economic data hit the market. This week's dividend stock, MDC Holdings, (NYSE:MDC), is an example of the current malaise in this group.
MDC now looks oversold on its long-term stochastic chart, and has fallen over 15% during the past month's trading:
Want to become a believer in the U.S. Housing Recovery? Take a look at these year-over-year and quarterly increases that MDC achieved for 2012 and Q4 2012:

Future Earnings Growth: Even though MDC has had a big run up, it still looks undervalued on a 2013 and 2014 PEG basis, due to continued strong growth projections:

Dividends: MDC managed to maintain its $.25 quarterly dividend right through the housing crisis, and also did the right thing for its shareholders in December 2012, by pre-paying them all of its 2013 dividends as a special $1.00 payout, in order to avoid the potential higher 2013 tax rate.
Options: However, you can still earn a 9%-plus yield on MDC now, by selling either Covered Calls, or Cash Secured Puts.
This $35.00 September call, from our Covered Calls Table, pays $3.20, a 9.3% nominal yield in less than 6 months, (20.33% annualized). There's also the potential to pick up an extra $.60 in price gains, ($35.00 strike price less the $34.40 share price.)

Selling Puts: If you're wary of a potential "Sell in May" pullback, another way to gain income now is to sell Cash Secured Puts below MDC's share price. This September $34.00 put pays $3.30, (a 9.7% yield, or 21% annualized), and gives you a break-even of $30.70, which is 10.76% below MDC's share price.
You can see more details on this and over 30 other put trades in our free Cash Secured Puts Table.

Financials: MDC's management efficiency ratios and operating margin are close to its peers, and it has a lower than average debt load: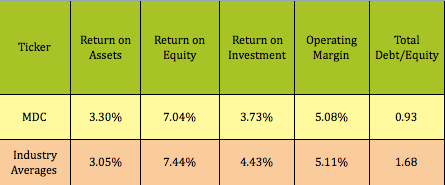 Performance/Ownership Data:

Disclaimer: This article was written for informational purposes only and is not intended as investment advice.
Disclosure: I have no positions in any stocks mentioned, but may initiate a long position in MDC over the next 72 hours. I wrote this article myself, and it expresses my own opinions. I am not receiving compensation for it (other than from Seeking Alpha). I have no business relationship with any company whose stock is mentioned in this article.