Newcastle Investment Corp. (NCT) is a real estate investment trust and finance company. Newcastle is focused on investing in residential servicing and securities and commercial real estate debt. Newcastle has announced plans to split itself into two separate companies, with one being a residential focused mREIT, and the other being a commercial focused mREIT. YTD, Newcastle has been on a tear, and is up over 27%. However, most of these gains came earlier in the year, since Newcastle is actually down 3% since mid-February.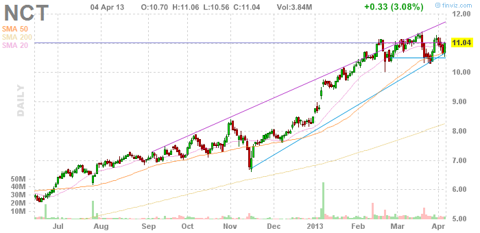 On January 7, Newcastle announced plans to 'spin off' all of its excess MSRs and other residential assets. Newcastle had originally planned for the spin off to occur during Q1 2013, however, the spin off has not yet occurred. The spun off entity would be called 'New Residential Investment Corp' and holders of Newcastle should receive one share of the new entity for each share of Newcastle owned. The ticker symbol for the new entity will be 'NRZ'. New Residential will be externally managed by an affiliate of Fortress Investment Group LLC, with terms that are substantially similar to the terms of Newcastle's management agreement. Fortress Investment Group also happens to be Newcastle's manager.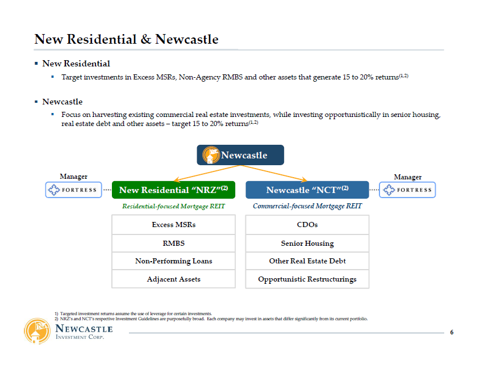 When the spin off occurs, it is possible that the combined dividends of the rump Newcastle and New Residential will exceed the current dividend of Newcastle. The modeled net IRR for New Residential is expected to be $0.56 per share, while the modeled net IRR for the rump Newcastle is expected to be $0.50 per share. This totals to $1.06 per share, which is higher that the current annual dividend of $0.88 per share offered by Newcastle. This could lead to a possible 20% increase to the current dividend. However, note that the modeled IRRs may differ from actual results, and that both companies may have higher expenses due to increased overhead and business related expenses due to the separation.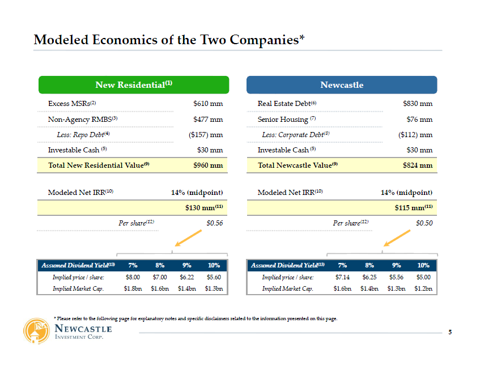 The combined Newcastle has recently become very profitable, and since September 2011, has appreciated by 140%. After eliminating the dividend in 2008, Newcastle started paying out a dividend again in Q2 2011. Since restarting the dividend, Newcastle has increased it 120%, to the current level of $0.22/share per quarter.

Since Q4 2012, Newcastle has been busy on the transaction front, with over $805M in new investments. Over the past few months, Newcastle has invested nearly $350M in Excess MSRs, $278M in non-agency RMBS, $16M in senior housing, and $84M in bank loans. On March 5, Newcastle announced an agreement to acquire up to 50% of a $4.2 billion unpaid principal balance portfolio of consumer loans from HSBC Finance Corporation (NYSE:HSBC). On April 1, Newcastle closed the transaction, and ended up with a 30% equity interest in the unpaid consumer loan portfolio.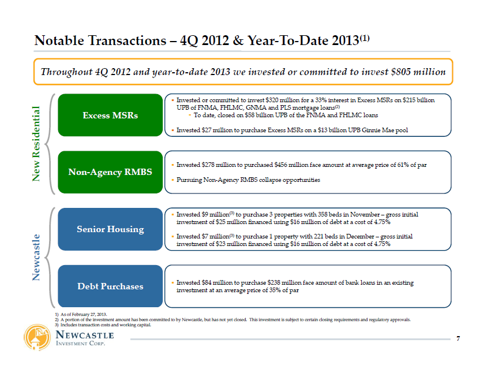 Conclusion
Newcastle seems like the perfect candidate for this kind of split. Once it is spun off, New Residential will probably be more of a high-yield, high-risk stock, with its exposure to non-performing loans and other sketchy residential assets. In contrast, the rump Newcastle will appear to be a more traditional commercial REIT, with its senior housing and CDOs.
The spin-off date was scheduled to occur during Q1 2013. However, it appears that the SEC has yet to 'greenlight' it. I would imagine that once the split occurs, that both stocks may increase in price, as the new companies would have a much more focused business model. I also suspect that Newcastle may be itching to soon do a secondary offering, most likely to fund its purchase of 30% of the $4.2B in unpaid consumer loans from HSBC.
Newcastle is not a stock for the faint of heart. While it has given its shareholders outsized returns, it carries way too much risk for my taste. I would however be interested in the rump Newcastle, once its residential assets are spun off.
Disclaimer: The opinions in this article are for informational purposes only and should not be construed as a recommendation to buy or sell the stocks mentioned. Please do your own due diligence before making any investment decision.
Disclosure: I have no positions in any stocks mentioned, but may initiate a long position in NCT over the next 72 hours. I wrote this article myself, and it expresses my own opinions. I am not receiving compensation for it (other than from Seeking Alpha). I have no business relationship with any company whose stock is mentioned in this article.