Citigroup, Inc. (NYSE:C) continues to take proactive strategic actions to return to a dividend growth story. The road will be bumpy. Michael Corbat, CEO, leads the corporate structure to clean up the balance sheet and decrease expenses. Management has plenty of work to do. Management must continue to reduce non-essential employees, decrease non-core expenses, and commit resources to core profit business segments. I'll focus upon why I believe Citigroup is on the road again to be a dividend growth story.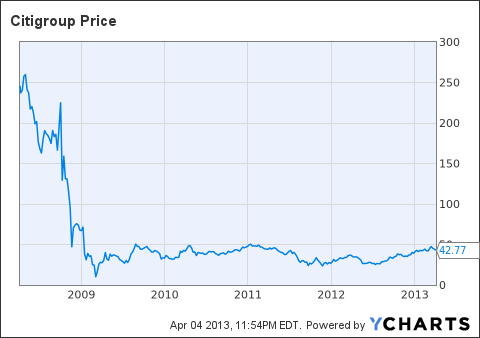 Citigroup CEO Michael Corbat Presents at the Citi 2013 Presentation
On March 5th, Mr. Corbat stated a clear goal to "accelerate (Citi Holdings) dispositions if or when economically rational." Citi Holdings has been a thorn in the side of the bank.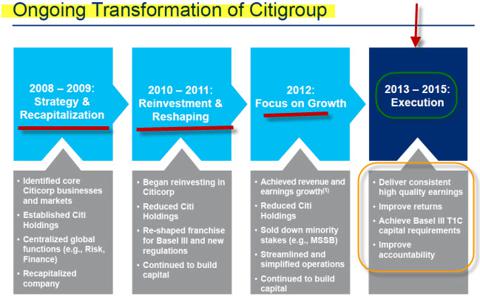 The presentation focused upon business execution, management's plans to dispose of business units when the values are appropriate. The goals are to provide shareholders with improving earnings, increasing return on assets, and provide financial results to create shareholder value.
Valuation
The stock's book value is $61.57. Thursday's closing price was $42.77. I believe Citigroup shares can trade at book value with a turnaround story in motion. The shares would need to increase by 43.95% to equal book value.

Background
Citigroup is among the world's leading global banks with a long-standing presence in about 160 countries and full-service operations that span consumer banking, institutional banking, investment banking and capital markets services. The company has two main segments - Citicorp and Citi Holdings. Citicorp focused on the bank's core operations while Citi Holdings has assets and businesses that are not core to Citigroup's future.
Citigroup's senior management consists of regional CEOs and global heads of operations that support Citigroup CEO Michael L. Corbat, a Harvard economics graduate who joined Citigroup in 1983 straight after college and has served in senior level positions across Citi's global businesses.
Citigroup needs further financial and structural improvement compared to its peers. This comparison is in contrast to the larger big banks. These include Wells Fargo (NYSE:WFC), Bank of America (NYSE:BAC), and JPMorgan (NYSE:JPM).

Dividends and Share Prices
Since 2009, Citigroup has been paying a nominal quarterly dividend of $0.01 per share ($0.04 annualized). With shares at $42.77 (near the top of their 52-week range of $24.61 - $47.92), Citigroup has a dividend yield of 0.1%, a price-to-earnings ratio of 18x and a market capitalization of about $130 billion.
As the company increases profit margins, the financial data will need to support the desire to increase dividends and employ share buybacks. The company did pass the Federal Reserve stress test.
Citigroup does have plans to dispose of its 35% stake in Smith Barney. This sale will require regulatory approval. The sale, when it happens, will generate cash for the balance sheet.
Financials
For its fourth quarter ended December 31, 2012, Citigroup reported total revenues of $18.17 billion, up 5.8% over the year-ago fourth quarter and up 30.3% sequentially (q/q). Revenue from interest income (interest revenue) was down 0.9% sequentially and down 5.7% over the year-ago quarter (y/y). However, steeper contraction in interest expense in the quarter resulted in net interest revenue that rose 2.0% sequentially and 0.6% year-over-year. Net-interest revenues of $6 billion were up 18.3% over the year-ago quarter.

Total operating expenses of $13.85 billion were up 13.3% sequentially and up 4.8% over the year-ago quarter. The bank also reported higher cost of credit of $3.2 billion, up 11.3% from the year-ago quarter. The company closed the quarter with net income of $1.2 billion ($0.38 per share, diluted), up 22.6% from $956 million in the year-ago quarter.
Citigroup paid $9.00 per share in preferred dividends in the quarter.
Citigroup's revenues were primarily delivered by Citicorp with revenues of $17.1 billion in the quarter, down 3.0% sequentially but up 6.4% over the year-ago quarter. Citi Holdings had revenues of $1.1 billion, down 2.7% from the year-ago quarter. Weakened credit and debt valuations reduced revenues by $485 million.

Latin America: 8.5% Year-over-Year Revenue Growth
Citicorp (Citigroup less Citi Holdings) revenue sources included Global Consumer Banking (59.6% of revenue), Securities and Banking (25%) and Transaction Services (15.4%). Revenues gained marginally (up 2.9%) in the Global Consumer Banking segment but were down substantially (down 36.2%) in Securities and Banking and marginally (down 2.5%) in Transaction Services. By geography, North America brought in 42.9% of revenue followed by Latin America (21.3%). Geographically, Latin America was the only region with revenue growth. Overall, Citicorp revenues were down to $17.2 billion from $19.4 billion in the year-ago quarter.

From an earnings contribution perspective, Citicorp delivered $3.2 billion in profits in the quarter, down 22.2% sequentially but up 37% over the year-ago quarter. However, Citicorp profits were partly offset by a loss of $1.1 billion at Citi Holdings and a loss of $831 million in corporate and other activities.

Financial update - Financial Year 2012 ended Dec. 31, 2012
For fiscal 2012, Citigroup reported total revenue of $70 billion, down 10.4% over 2011 on a marginal drop in interest revenue and a 24.5% decline in non-interest revenue. While total operating expenses were down 0.8% and total cost of credit was down 8.4%, revenue declines still led to an overall drop in profits to $7.5 billion from $11 billion in 2011.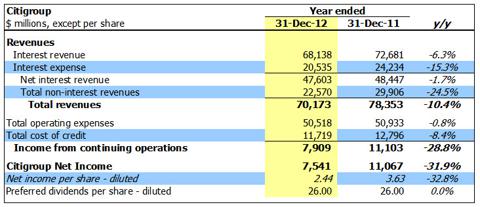 Balance Sheet
Citigroup closed FY 2012 with total assets at $1.86 trillion, down 3.5% sequentially and down 0.5% over the past year. Cash and cash equivalents were $36.5 billion, up 26% from last year.
In the quarter, customer deposits increased to $930.6 billion, up 7.5% over the past year. The bank reduced short-term borrowings by 4.4% to $52 billion and cut long-term debt by 26% to $239.5 billion. The bank continues to improve its capital ratio with sizable decreases in long-term debt. Overall, total liabilities were down 1.2% year-over-year to $1.67 trillion.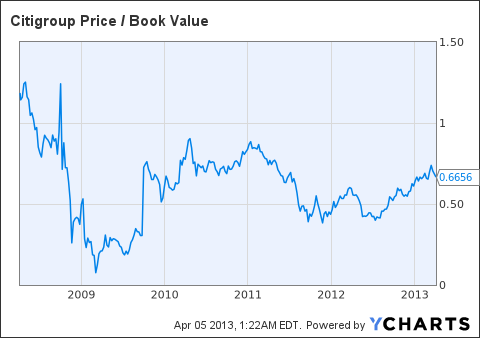 C Price / Book Value data by YCharts
The bank recorded a 6.4% increase in total equity to $191 billion. Book value per share was $61.57, up 1.4% from a year ago. Tangible book value per share, a non-GAAP measure, was up 2.9% to $51.19 (vs. Citigroup's closing price of $42.77).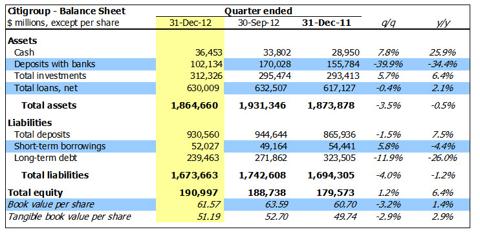 Segment Information
Looking at the bank's revenue by segment, Global Consumer Banking contributed the most, 59.6%, to revenue followed by Securities and Banking at 25% and Transaction Services at 15.4%.
Within Global Consumer Banking, North America performed well, up 4.8% over the year-ago quarter. Latin America and EMEA were up 4.3% and 3.2% respectively over the year-ago quarter. Asia lagged again with a 3.6% decline over the year-ago quarter.
Securities and Banking revenues were down 36.2% over the past year and, with the exception of Latin America, all regions recorded double-digit decline in revenues over the year-ago quarter.
Transaction Services, a 15% contributor to Citigroup revenues, saw revenues decline 2.5% over the year-ago quarter led by weaknesses in EMEA and Asia.
By geography, North America drove 42.4% of revenue, followed by Latin America at 21.3%, Asia at 20.5% and EMEA at 15.2%.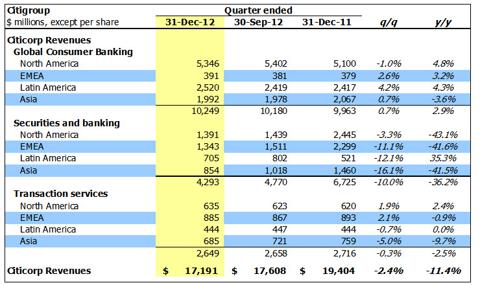 March 19th: Investor Lawsuit Settlement
Citigroup has agreed to pay about $730 million to settle a class action lawsuit filed by investors in Citigroup debt who were misled by omissions and misstatements in company disclosures.
The company also announced plans to redeem $3 billion in Trust Preferred securities by April 16, 2013.
Housing Recovery and Increased Lending Yields
As a worldwide global brand, Citigroup is benefiting from the housing rebound. The Federal Reserve Chairman Bernanke has stated plans to allow yields to expand. This is a sign of a healthy economic environment.
Management is focused upon increasing short-term return on assets (ROA) to prior levels. These goals were a ROA of 1.25% - 1.5%. The bank's ROA in 2012 was .40%. This was a decrease from a 2011 ROA of .59%.
Summary
Citigroup continues to make progress on putting the past behind it with lawsuit settlements and reductions in outstanding debt and preferred securities. Its core business is stable with declines linked to global economic weakness. Its dividend is nominal and likely will not climb in the near future until things clear up internally and globally. While shares have risen significantly in 2012 and trade below book value, uncertainties still abound but reflect growing investor optimism that the bank is on the right path to recovery.
The financial statements indicate progress is slow but steady. Latin America provided an 8.5% revenue growth.
Disclosure: I am long WFC, JPM, C, BAC. I wrote this article myself, and it expresses my own opinions. I am not receiving compensation for it (other than from Seeking Alpha). I have no business relationship with any company whose stock is mentioned in this article.