eBay (NASDAQ:EBAY) has committed to drive continued growth in its primary businesses: Marketplaces, PayPal, and GSI Commerce. The company is focusing on leveraging its global mobile ecommerce leadership and technologies for new customer and retailer experiences. To accomplish this, eBay is creating a new web-enabled retail interface that is intended to be a new seamless, multiscreen commerce experience. At the end of 2012, eBay had over 112 million active users.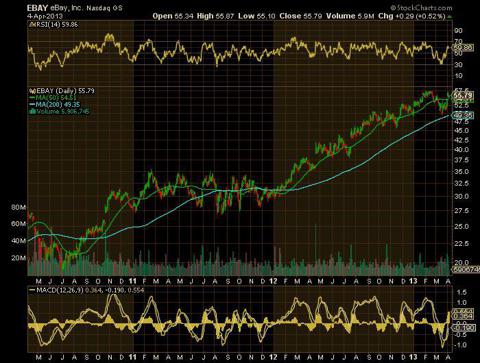 The company has a goal of enabling $300 billion of global commerce by 2015. eBay achieved a global commerce volume of $175 billion in 2012. All three business segments are included in these figures. The company expects revenue to grow to $21.5 billion in 2015, as compared to $14.1 billion in 2012. The use of mobile devices is a growing opportunity where eBay expects to generate $20 billion of mobile commerce in 2013.
The Marketplaces segment includes the standard and mobile app version of ebay.com. It also includes StubHub.com, Fashion, Motors, and Half.com. PayPal offers a practical way to pay and to be paid between the various eBay sellers and customers. GSI, which was acquired by eBay in 2011, enables companies to operate ecommerce businesses and integrates their ecommerce with other retail offerings.
Healthy growth is expected in all three of eBay's business segments. The company expects a compound annual growth rate of 14% through 2015 for the Marketplaces and GSI Commerce segments. PayPal is expected to achieve a compound annual growth rate of 22% through 2015.
From a valuation standpoint, eBay looks fairly valued with a forward P/E of 17.49, a PEG of 1.35, and a price to book ratio of 3.44.
eBay's gross margin of 0.70 for the past twelve months is higher than Amazon's (NASDAQ:AMZN) and Google's (NASDAQ:GOOG) gross margins of 0.25 and 0.59 respectively. eBay achieved a profit margin of 18.54% for the past twelve months, while Amazon achieved -0.06% and Google achieved 21.4%. The company has a healthy operating cash flow of $3.84 billion and free cash flow of $1.3 billion.
The largest risk to the company in my opinion is competition. Amazon is a huge force in the online ecommerce realm and could eat into eBay's market share. Ultimately, many other retailers, mail-order companies, shopping websites, search engines, shopping channels, etc. are competition for eBay. eBay does have a unique experience, however, with its bidding system. The company needs to continue to engage its buyers and sellers to further its growth for the future.
eBay beat its earnings expectations in all four quarters of 2012. It is expected to grow earnings annually at 14.7% for the next five years. This growth is significantly above the expected annual growth of the S&P 500 of about 8.9%. Therefore, eBay should outperform the market over the next five years if the company meets or exceeds its earnings expectations for the majority of quarters in that time period.
Disclosure: I have no positions in any stocks mentioned, and no plans to initiate any positions within the next 72 hours. I wrote this article myself, and it expresses my own opinions. I am not receiving compensation for it (other than from Seeking Alpha). I have no business relationship with any company whose stock is mentioned in this article.