A comment on my last article on memory shortages asked what happened to the stocks in a shortage?
With the caveat that correlation does not imply causation (see Prof. Schiller, I wasn't always asleep in statistics class...) here are two interesting charts and supporting news stories.
Micron (NASDAQ:MU) from the year 2000. Buckle your seatbelts when you read about the end-of-life of the mammoth 64MB chip and see its outsized price:
Even with the migration to 128 Mbyte DRAM, demand for 64 Mbyte DRAM continues strong with prices nearing $7.

American IC Exchange, the global market maker for commodity products, reports greater than normal requests from top-tier OEMs for 64 Mbyte DRAM.

Paul Meyers, commodity manager at AICE stated, "The move to 128 Mbyte DRAM has been widely touted; still it appears that OEM forecasts for 64 Mbyte DRAM were underestimated. Also, we're unsure of an actual shortage of the end-of-life product since historically we have experienced shortages that were manufacturer induced."
And here is a chart of Micron's stock which has a little spike in the same period: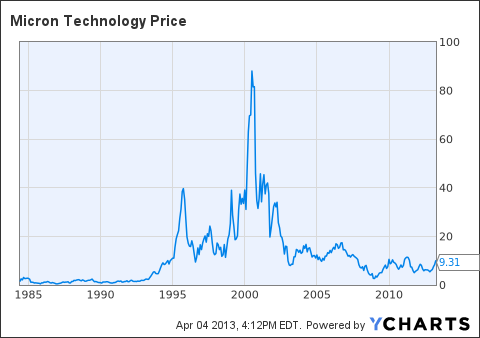 Intel (NASDAQ:INTC) shortages, in the year 2000. And here is an article about some Intel shortages for the powerhouse Pentium III from August, 2000:
"The 700-MHz Cascade (chips) are in really tight supply," Mike Fister, general manager of Intel's enterprise platforms group, said in a news conference yesterday at the Intel Developer Forum. "Cascade" is Intel's name for the Xeon chip, a high-end version of the Pentium III used primarily in multiprocessor servers, generally the most powerful and expensive Intel-based computers.
and here is the Intel chart: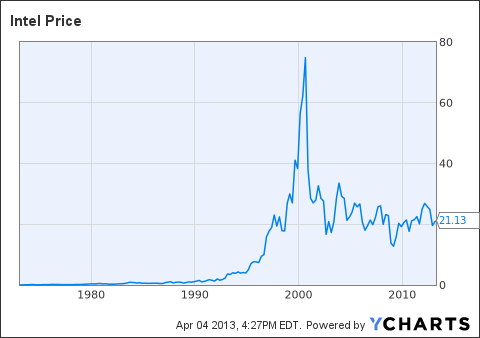 Conclusion. The two spikes shown for semiconductor stocks in 2000 were very brief. This time, with no new fabs on the horizon and plenty of demand, the spikes could be sharper, higher and longer. Read some of SA's Russ Fischer's articles on how this time smells different.
Disclosure: I am long MU, INTC. I wrote this article myself, and it expresses my own opinions. I am not receiving compensation for it (other than from Seeking Alpha). I have no business relationship with any company whose stock is mentioned in this article.