Lately, there has been a lot of heat but little light regarding Bank of America's (NYSE:BAC) valuation. Optimists point to the fact that BAC trades below book value, while skeptics like me suspect that the market is discounting book value for a reason. So I decided to delve a little deeper into BAC's loan portfolio to get a better sense of current value and things to come.
Loan Portfolio
The big money loser for BAC last year was the Consumer Real Estate Services division, as noted here. So this article will set aside the other parts of the business, assume they will continue to perform decently, and focus on how this business segment will perform in 2013. Here's the current state of the consumer loan portfolio: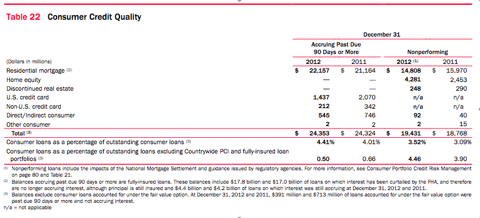 Accruing loans 90 days or more past due and nonperforming loans as a percentage of outstanding consumer loans both crept up last year to 4.41% and 3.52%. Not a pretty picture. Adding these two categories together indicates that 7.93%, or nearly $43.7 billion of the portfolio, has serious issues. This is significant considering that total common shareholders' equity for all divisions put together is about $217 billion but allocated equity to Consumer Real Estate Services is only $13.7 billion. It appears likely that this part of the business will drain profits from the others for some time to come.
Because the above table indicates that loan problems are concentrated within the residential mortgage and home equity segments, I decided to take a closer look at those: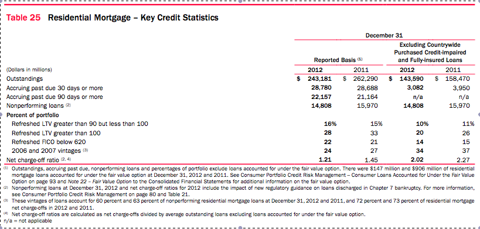 There was a bit of improvement on some of the credit metrics like loan-to-value and percentage of 2006 and 2007 vintage loans, but housing boom excesses remain a very real balance sheet issue. What is more troubling, however, is that delinquent loans actually increased a bit, which suggests that the pipeline of soon-to-be-non-performing loans is still gushing.
Home equity loan quality paints an even uglier picture: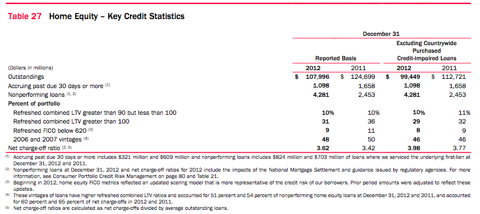 The total value of non-performing home equity loans jumped from $2.45 billion to $4.28 billion, and the combined total of delinquent and nonperforming loans increased by over $1 billion during 2012. There is probably more of the same to come considering that 31% of the loans have a loan-to-value ratio of over 100 and 48% of the loans were made in 2006 and 2007. Given these credit issues and performance history, I would demand a significant discount to face value to purchase this loan pool.
Loss Reserves
So how adequately has BAC reserved for such a poorly performing portfolio? The current allowance for total credit losses is $24.7 billion and for loan and lease losses is a bit more than $24 billion. While this number may seem large, it also has to be remembered that at the beginning of 2011, BAC had a $41.9 billion allowance for loan and lease losses and blew through nearly half of that amount despite setting aside an additional $22 billion. In other words, without additional provisioning since the beginning of 2011, BAC's massive reserve stockpile would have almost totally evaporated.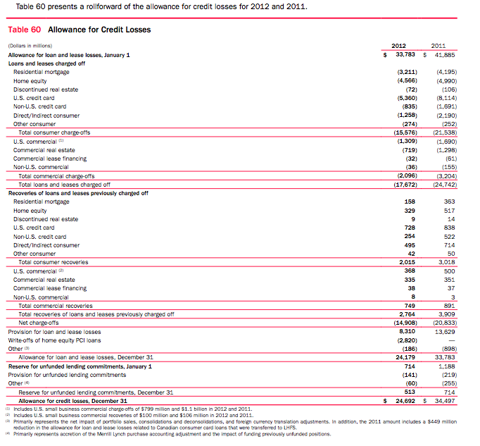 So the question is, given the loan portfolio's quality and current level of reserves, will BAC's performance improve in the medium term? I don't think so. Here's a snapshot boiling down the data above, comparing the financial fundamentals at the beginning of 2012 with the beginning of 2013 (in billions, including loans 30+ days late):
| | | |
| --- | --- | --- |
| | 2013 | 2012 |
| Accruing Past Due Loans at Beginning of year | $32.0 | $33.4 |
| Nonperforming Loans at Beginning of year | $19.4 | $18.8 |
| | | |
| Reserves at Beginning of year | $24.2 | $33.8 |
| | | |
| Subsequent Provision for Losses | Don't know yet | $8.3 |
| | | |
The dollar amount of problematic loans has barely budged despite nearly $15 billion of write-offs in 2012 while the reserves are dwindling. These issues in themselves would be problematic, but given the minimal improvements in the credit characteristics of the main loan pools, it is quite possible to see another jump in non-performing home mortgages or home equity loans next year. BAC shareholders are not out of the woods yet.
Conclusion
In my opinion, predictions that BAC's performance will rapidly improve going forward are overly optimistic. BAC should trade at a discount to book value, given that its loan book is so atrocious. I'm especially troubled by the home equity portfolio, which declined in quality during 2012 and probably has all sorts of problems lurking below the surface. There may come a day when BAC is a good bet, especially if the profitable divisions are spun off, but I predict that it will continue to bleed capital for years to come.
Disclosure: I have no positions in any stocks mentioned, and no plans to initiate any positions within the next 72 hours. I wrote this article myself, and it expresses my own opinions. I am not receiving compensation for it (other than from Seeking Alpha). I have no business relationship with any company whose stock is mentioned in this article.